**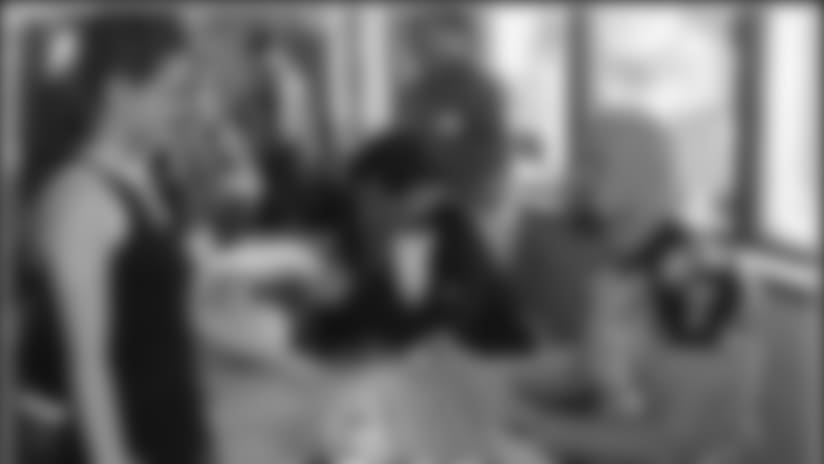 DE Kyle Vanden Bosch signs autographs for fans in Camden, Tenn. on the first day of Titans Caravan 2008.

NASHVILLE, TN, April 14, 2008 —** Titans fans continued to display why they are among the most dedicated fans in the NFL on Monday, showing up in force during the team's kickoff to Titans Caravan 2008 in Western Tennessee.
Hundreds of fans waited in line to meet Pro Bowl defensive end Kyle Vanden Bosch and "Voice of the Titans" Mike Keith as the caravan passed through the town of Camden Monday afternoon.  Fans of all ages patiently waited for their turn at the local Wendy's, which has historically drawn large crowds over the last 10 years. Vanden Bosch signed posters, posed for photos and shook hands with a multitude of fans that were happy to see him. David Johnson, from Holiday, Tenn. — about 10 minutes from Camden — was one of several local residents who came out to support the Titans. He brought his son, Tanner, hoping the experience would make a positive impression on him for years to come.

"With all of the negative publicity going on in sports now, I think it's a great thing for these guys to take time out of their busy schedule and show a good side to the sport, something positive that is a good example for our kids," Johnson said. "My son absolutely loves football. That's probably his favorite sport. I hope this encourages him to stay with it and hopefully he can go to college one day and be successful like Kyle Vanden Bosch."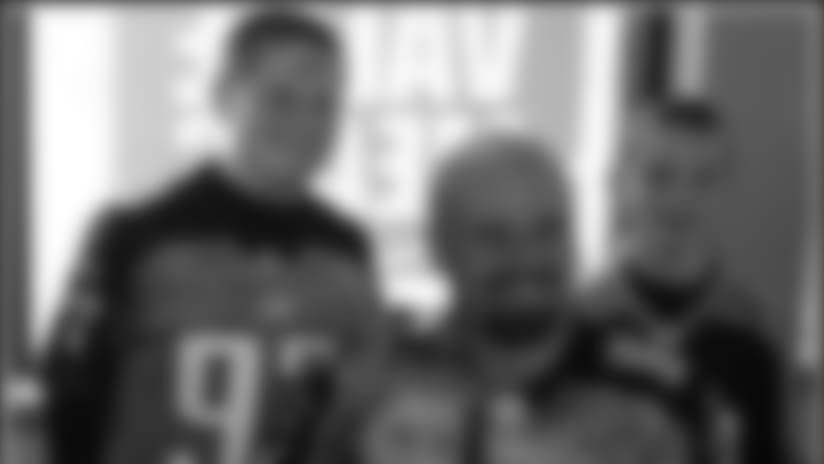 Vanden Bosh brought smiles to the faces of these young Titans fans Monday in Camden, Tenn.

"It was pretty cool to get him to sign my football and poster," said Mason Matlock, another young fan that was excited to meet the two-time Pro Bowler. "I'm going to lock it up and keep it in my room. This is pretty neat. I was so happy to see that big Titans bus out there. I'll remember this for the rest of my life."
Monday's Titanic crowd drew smiles from Ray Smith, owner of the Camden Wendy's who appreciated the visit from Tennessee's NFL team.
"This is kind of a double whammy for me," said Smith, who also has ties with WRJB/WFWL Radio, which reported live from Monday's event. "I'm very pleased with the turnout. We've been doing this for years and it's a great community effort that we're all very supportive of.
"I believe this is the largest turnout we've ever had," Smith continued. "Of course, when you have a first-class player of Kyle's caliber here, that certainly doesn't hurt, either."
Vanden Bosch appreciated the large turnout of support.
"It's nice to come out to these different communities in the state, places where we don't get to meet some of the people and they don't always get to Nashville," Vanden Bosch said. "I was excited when we pulled in here to see how many people were here in the middle of the day. People took off work just to meet us. That really shows how good our fans are and how much people around the state of Tennessee love the Titans."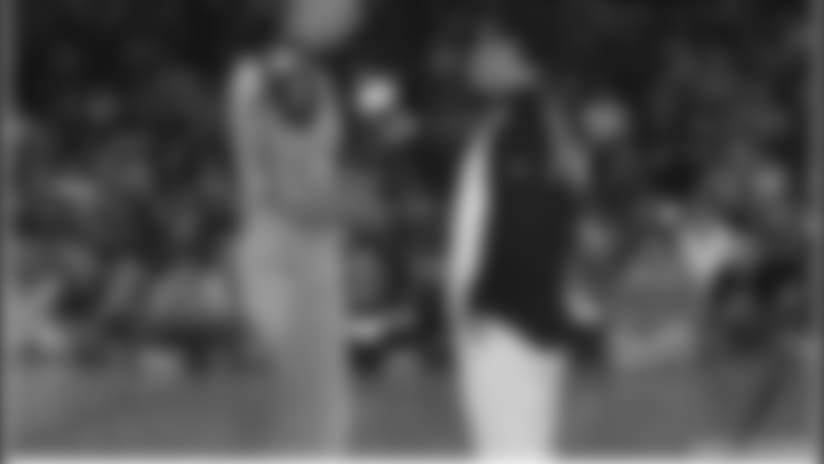 Along with "Voice of the Titans" Mike Keith, Vanden Bosch encouraged students to live an active lifestyle.

Vanden Bosch began the day visiting with students at Waverly Junior High. While Titans mascot T-Rac entertained a packed gymnasium full of students with his crazy antics, Keith and Vanden Bosch encouraged students to make good choices and stay healthy by exercising.  Through the "Play 60" program, the Titans and the NFL are campaigning throughout the 2008 season to get children to spend at least 60 minutes each day in active play or exercise.
"I think it's important that we encourage kids to get outside and live a healthy lifestyle," Vanden Bosch said. "It's becoming a problem, especially with kids in the U.S. not getting enough exercise. This is a good message, hopefully one that will help them make the decision to live a more active lifestyle."
It's a message Kristi Brown, supervisor of the school's health program, believes will get through loud and clear. "I think the impact is tremendous because when you talk to these kids and ask them who their role models are, nine times out of 10 if it's not one of their parents, it's a professional athlete," Brown said. "For someone like Kyle Vanden Bosch to come out here and take the time to talk to them about making positive choices is just huge."
 
Vanden Bosch and the Titans Caravan made stops in Paris and Martin Monday evening. On Tuesday, the caravan will feature guard Jake Scott and former Titans tight end Frank Wycheck as they make appearances in Dyersburgh, Dyer, Mayfield, Princeton and Paducah.