NASHVILLE – Well, the Titans needed that …
Sunday's impressive win over the Atlanta Falcons was a conversation changer, among other things. It also changed the AFC South standings, and it certainly changed the tone of the questions in here.
But we're only a quarter into the season, so there's a whole lot of football to be played.
And a whole lot of questions to answer in this Tuesday's Titans mailbag…
John Cox from Camden, Arkansas
Question: Wasn't that a well-played game by our boys in blue? I thought Marcus Mariota played well and Coach V's staff made some good adjustments since the Jacksonville game. I hate to see all the Mariota blamers......4 coordinators in 5 seasons, he can't do anything about that except learn all new stuff every year. This year's make-shift front line has just about got him done in this season already, but he showed vs. Atlanta that he can make things happen. Beat the Bills at home next week and we're tied for first place in the division at 3-2. Go Titans!
Jim: Hey John. Now that's the key. The Titans can't follow up a dandy with a dud, which is what happened last year in Week 5 when the team laid an egg in Buffalo after a win over the Eagles. It was the start of a three-game losing streak. The Titans can't let history repeat itself. The team needs to beat the Bills.
Micah Layne from Coalmont, Tennessee
Question: Hello Jim. Oh what a week will do for a fan base. Gotta say I was feeling a lil down last week myself. Proud of the O-Line stepping up this week with Nate Davis looking pretty good. Our DBs are playing out of this world if we had a pass rush to go with them we would be unstoppable. Congrats to DW82 on number 500.👏 I was wondering if you see us trying to make a move for a pass rusher or just waiting until the offseason as it's a quarter into the season? Also probably won't be many Mariota hating this week. Thanks Jim and as always Titan UP!!!
Jim: Hey Micah. Not a lot of great pass rushers just walking the streets right now. And I'd be surprised to see GM Jon Robinson trade away any more draft picks, although he's surprised before. What the team needs is for guys to continue doing what they did in Atlanta. Harold Landry's two sacks was an encouraging sign, and hopefully a sign of things to come as well. The Titans have recorded five sacks in two of their four games this season, so the talent -- and scheme -- is there.
Dustin Smith from Bridgewater, New Jersey
Question: Hey Jim. I love the Titans. I make sure I travel to a home game each year and recently I've been choosing an away game to make it to each year as well. Me and a buddy who is also a Titans fan are traveling down from Jersey for the Buffalo game this week. I'm wondering if there are suggestions for a tailgate we could attend? To your knowledge, do any fans meet up like they do for road games? Thanks for everything, Jim.
Jim: Hey Dustin. Hope you have a great trip. The heat is supposed to break by the end of the week and be nice on Sunday. I can tell you there will be a lot of gameday activities surrounding Nissan Stadium before the game. Here's a link to all the Gameday info: https://www.titansonline.com/stadium/gameday" target="_blank" title="undefined">CLICK HERE. I also saw on Twitter there will be a gathering put together by HangTN. Check out @HangTN on twitter for the info. And follow me on Twitter (@jwyattsports) – I'll retweet any gatherings I see during the week.
Tim Evans from Smithville, Tennessee
Question: Hello Jim. How did Nate Davis do in the game vs the Falcons?
Jim: Hi Tim. I thought he played well. He ended up playing 40 snaps, and I saw him moving folks around. Jamil Douglas, who has started the first four contests, played 28 snaps. It will be interesting to see what happens moving forward. I know the team didn't draft Davis in the third-round to be in a rotation, but Vrabel indicated on Monday that might continue for a bit. Nate's time is coming, and may in fact be here now.
William John from Harrisburg, Pennsylvania
Question: Not Really a question.. But whoever lit the fire under the titans a** this week (keep it pg for the kids) they deserve a raise. The titans came out against one of the hottest offenses in the NFL and put on a show and we were on the road. Mariota and the offense were clicking on all cylinders the defense was playing like its January solid performance all around pass the message on they keep playing like that we easily will win the division keep grinding fellas Next up buffalo
Jim: Hey William. There's a joke to be had here, but I'm not about to use it. But you're right – the Titans came out ready to play in Atlanta. Now the team needs to keep it going.
Josh Bomar from Knoxville, Tennessee
Question: Hey Jim. Avid mailbagger here. In last week's mailbag, there was a lot of hating on Adoree.. on 4th and 4, he was step for step with the best receiver in the league. He played shut down D all day. No questions here, just one comment. You said it the best Jim, it's a long season. The NFL will always be an any-given-Sunday scenario. These guys that play on Sunday are all pros. Marcus haters, go find another team to root for. I loved last weeks "positive vibe mailbag" and I hope it continues. It's a long season Titans fans. Don't be so quick to make Marcus and the coaching staff walk the plank.
Jim: Hey Josh. Good to hear from you again. Adoree' played well, and I thought Malcolm was outstanding. Logan Ryan has been consistently good all season. It is a long season, and I welcome the feedback in here, good and bad. It's not always rainbows and unicorns covering an NFL team. What is sometimes maddening, I'll admit, is the ups and downs that come with every win, and loss. One week the team is "trash" and folks are making fun of the "good to great" mantra, wanting coaches fired and players cut. And the next week many of the same folks are back on board and all-in. I understand the way for the Titans to cure this is to be more consistent and to win more games in a row. And that's the plan.
Rick F from Honolulu, Hawaii
Question: Love your style in answering questions from both over enthused and negative fans. I notice most play callers cover their mouths, but Arthur Smith doesn't. Why is that?
Jim: Mahalo, Rick. Not many folks know this, but Arthur also doubles as a ventriloquist. He likes to throw off lip-readers and it looks like it worked in Atlanta. On the TD passes to AJ Brown, if you watched his lips it looked like he was saying, "Pass to Quessenberry." … 😊
Seth Knott from Jackson, Missouri
Question: Hey Jim! Hope all is going well!
My question is more geared at you... i know i know, catching you off guard!
What is your opinion on Marcus Mariota and the future with the Titans? I'm a big Marcus guy myself! As you know a bunch of fans are jumping ship... Just wanted to pick your mind.
Jim: Hey Seth. Well, I'll put this in the TBD category. More games like Sunday, and he could have a long and bright future in Tennessee. But things can change quickly in the NFL. I said at the beginning of the season he's going to need to play well, and he's going to need to be available. We're four games in with a lot to go.
Ken Tripp from Newport, Rhode Island
Question: I am sorry that the mailbag has turned into a venting session for fans and you their therapist, rather than a place for fans to ask questions. I am wondering about a few things:
1. How is Jeffery Simmons coming along? We were happy to hear that he was at least on or ahead of schedule in his recovery, when is he able to play after IR?
2. Can JRob offer Logan Ryan a contract now before the thought of FA starts to creep into his mind in the off season?
Last thing I would like to say is my Grandfather told me in 1978 if I am going to be a football fan pick a team and stick with it! I saw Mr. Earl Campbell get drafted by the Oilers and I will be a Luv ya Blue fan forever. #TitanUp #staypositive
Jim: Simmons is coming along, and making progress. This is what Mike Vrabel said when asked about him last week: "He's working through the PUP process, and we'll make a decision after six weeks. Hopefully we can get him going as soon as the time arrives, that'll be at six weeks. I enjoy working with him, and I think he's progressing. We'll just have to see what he looks like when he gets pads on and stuff. That's a long time for a guy to not have had pads on and come back and play. We'll go through the process, and after six weeks, then we'll make a decision on where he's at and how he takes the next step." As for Logan, there's nothing that restricts a deal from being done. But keep in mind a whole bunch of guys have contracts set to expire at the end of the season. While a new deal now might give Logan peace of mind, what would it do to the mindset of others with expiring deals? I'm not saying that's on anyone's mind but mine, but I wonder about things like that.
Jana Alexander from Valrico, Florida
Question: Hi, I was wondering if there is any way the Titans team would be able to autograph my SMART car? It is totally wrapped with the Tennessee Titans logo and for 3 years now I am trying to fulfill my dream of over 25 years. I used to live in Tennessee when the Titans were the Oilers. Moved to FL 12 year's ago but was staying loyal to my TITANS team. I went to Miami where I was told the team would be able to sign my car after the game with a win. Unfortunately, they didn't win. (I drove) to Jacksonville hoping my dream will be coming true. I wish I could send you a picture of my car so you would have a better understanding how important this is for me. I would really appreciate your feedback and cooperation. I drive my car every single day with pride and I am willing to provide my lil titans car for any commercial you would like to use it for. Thank you so much. Hope to hear from you soon.
Jim: Hi Jana. Well, I wish we could somehow make this happen. Sorry it hasn't worked out on the last two trips to Florida. I will tell you the team is planning to be back at Hard Rock Stadium in Miami Gardens on February, 2, 2020 so maybe it can happen then. ... In the meantime, I'll include the pictures you sent me below so everyone can see this tiny beauty.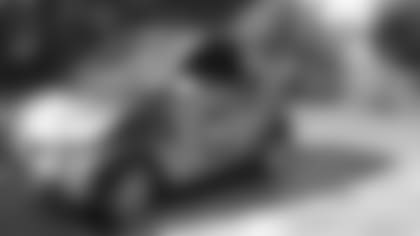 Darin Finkelstein from Chatham, New Jersey
Question: Hey Jim. Big victory! All of the longtime Titans fans are looking forward to the Bills to see if our team can show some consistency and maintain the momentum.
Kind of an off topic question. Did you notice any players, management, or coaches chatting with Mike Mularkey prior to the game? Mike did some great things for the Titans organization and left abruptly. Curious if there is any relationship left between our former coach and the Titans?
Jim: I have to be honest: I never saw Mularkey at the game. I was on the Titans end of the field in warmups, and in the press box during the game, so we never crossed paths. But I'm sure a lot of folks spent some time with him. He's a great guy and I know everyone respects him and wishes him well.
Jefferey Fradsham from Crewe, Virginia
Question: First off, I think the Titans coaching staff did a great job preparing our boys for this game, the coaches put the players in a position to make plays. The back-to-back back games against the Colts and Jaguars was a little much for Arthur to put together in his first year as O.C. Your thoughts?
Jim: Not subscribing to this theory at all. Playing two games in five days is a challenge for any team/player/coach. The Titans lost those games because they made too many mistakes and they didn't make enough plays, not because it was too much for Arthur to handle.
Benson Medina from Hilo, Hawaii
Question: Hey Jim, Good start for the Titans! But during the last three 9-7 campaigns, we have lost at least 2 games a year that we should have won (like the Bills and Chargers last year) and could have finished 11-5 and in the playoffs. My question: Do you see anything in this year's team that would lead you to believe that they could win every game they should win (we have several of them on this year's schedule)? Do we have better focus, better players, better coaching, etc. that could get us from "Good to Great"? Thanks!
Jim: Mahalo, Benson. Well, this answer will reveal itself in time. I do think the veteran leadership and the makeup of the team is better than it was last season, and the experiences from a year ago should help. Guys know they need to be more consistent, and they can't afford to have letdowns. Many would argue the team has already lost two games it should've won already, but on the flip side they've won two when they were underdogs. We're going to get some more clues this weekend about the 2019 bunch.
Michael Robinson from Chula Vista, California
Question: My question for you is more directed at the fanbase. Why are we constantly bashing our own team. Everyone has bad games and everyone in the NFL was pretty much an all-star in college. Anyone can win any day. Support the team lift them up. They will be back on top!
Jim: Thanks for weighing in Michael.
Mark Rivard from Byhalia, Mississippi
Question: Every week we see the publish of 6 things to look for. Here goes:
1. Watch Conklin perfect the look out block.
2. Watch Malcolm Butler get beat on 80% of the plays.
3. Watch A Humphrey continue his mediocre performance.
4. Watch Henry have fantastic carries early in game and not be used afterwards.
5. Watch Mariota hold the ball and assist with getting 6 sacks.
6. Be excited about reading Jim Wyatt's excuses for the team on Tuesday.
Jim: Hey Mark. Noticed this one came in about an hour before kickoff on Sunday. Well, it looks like the Falcons aren't the only ones who took the L this weekend ... 🎤👇🏻
Have a great week everyone!