NASHVILLE – Well, we can now officially say it: Training camp for the Titans starts next week.
Make sure to check Titans Online each day leading up to the start of camp for position previews. We kicked it off here on Monday looking at the quarterbacks, and we'll go all the way up until July 26, when camp begins.
But now, it's mailbag time…
Dr. Julie Coyle from South Bend, Indiana
Question: Good Day, Jim. My question is: What is your projections for the TE's this season? Seven is too many, and do you see Walker and Smith being at 100% by the beginning of regular season? And what was the thought behind bringing TE Ryan Hewitt over from the Colts?
Jim: Hello Dr. Coyle. Thanks for reading. A year ago the team finished with three tight ends on the active roster. My guess is we'll see three or four at the start of the season this year, but how the team gets to that number might be tricky. I do think Delanie will be ready for the start of the season. At this point, I can't speak as confidently about Jonnu. He hasn't practiced all offseason after last year's injury, and coach Vrabel hasn't provided any insight on his condition. Then there's MyCole Pruitt and Anthony Firkser. You mentioned Hewitt, who joined the team after the June minicamp after playing previously with the Bengals and Colts. Several others are in the mix, including Parker Hesse and Cole Wick. Hewitt has experience and I'm looking forward to seeing him in camp to see if he has a chance to contend.
Simon Aston from Leeds, England
Question: Hi Jim. Greetings from England! Counting down the days, the new season can't come soon enough. We have a magazine over here called Gridiron which has just brought out it's preview edition. Guess where the Titans are projected to come? Last in the division. We can also get our hands on Lindys Sports season preview edition & where are we expected to finish - third. So neither expect the Titans to trouble the playoffs. We've heard a lot of positive stuff coming out of the camp so far preseason, but Jim, what is your prediction - can we look forward to a good or great year? All the best Jim, please keep on keeping us far away fans up to date!! Cheers.
Jim: Hello again Simon! Well, I don't do predictions, not since I left The Tennessean. Hey, working for the team now, I can't come out and predict losses, and I don't want to be a total homer and predict a 16-0 record and a run to the Super Bowl. I'll just say this: I believe the Titans have the pieces in place to improve on last season, make the playoffs, and be in a position to make a run. But so much hinges on the ability to win close games, and on health. Cheers to you!
Hugh Gentry from Franklin, Tennessee
Question: Hi Jim! Hope all is well. Loving the Titans new uniforms. They are modern but still true to the original. My question for you is will there be an opportunity this season to see an all light blue jersey? This is one of my favorite combos and I'm pretty sure they have not used this combination yet. Thanks for answering and take care!
Jim: Hey Hugh. Well, it's an option. I usually don't hear of the combinations until the week of the game. While the jersey color for each game has to be turned into the NFL in advance of the season, teams can wait until the week of the game before deciding on the britches, as I like to call them. The team has the option of matching up the light blue jerseys with the pants, I mean britches, but whether it happens in 2019 falls into the TBD category. The team made a slight adjustment to the light blue jerseys this offseason, making the numbers a little bigger, and easier to read. Personally, I think the all light blue is a good look.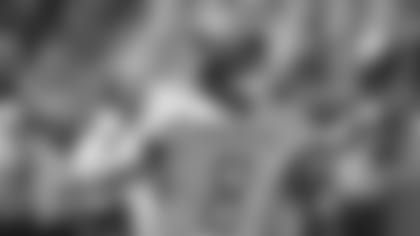 Eli Decko from Pittsburgh, Pennsylvania
Question: The last question asked and your answer for the mailbag got me going a tad bit. We as fans want to see more DH for sure. But not like we want to see 75% run. We want to See DH pound the crap out of teams. Why put Dion Lewis in the game unless it is shotgun and they are both out there? He's a given as to what the offense is going to do, and he's not going to make the plays DH is going to. Sure, he had a nice TD against Dallas.... But that was his only one all season. Marcus can pass and should pass as he did in Oregon, but establishing dominance physically is what DH does and that's what us fans want to see. Teams are literally afraid to tackle him. We saw proof of that second half last year. Now this year he's going to show the world he should have been picked 1st overall instead of round 2.
Jim: Hey Eli. Thanks for jumping back in. Well, both running backs are going to play. Dion has value, and he's proven it in the NFL. He was a hot commodity after some solid seasons with the Patriots. And while Derrick was phenomenal down the stretch last season, he wasn't very good at the start in 2018. While he had 238 yards and four touchdowns on 18 carries against the Jaguars in December, he had 57 yards and no touchdowns on 17 carries against the Jaguars in September. At the season's halfway point, he averaged just 3.3 yards per carry. Not bashing Derrick here, but those are just the facts. And Derrick himself called his play "trash" on several occasions last year. What I am saying here is if Derrick starts off 2019 like he ended last season, he's going to get a bunch of touches. If not – and it takes everyone to make it successful – you're going to see Lewis mixed in more, and probably more passing.
Rick Pinkerton from Terryville, Connecticut
Question: Since last season ended there has been different opinions on the success or failure of the team this year. There has been different opinions on the draft and FA this year. I am a huge Marcus fan and again different opinions on his future. Are we disrespected by the NFL? Do other teams take us lightly? Being from New England I see how the Patriots go about their business year in and year out. With all this said -- THIS IS THE YEAR this team has to perform very well whether it is running or passing. You made a great point about Marcus's TD passes. What is important are WINS (not total TD passes). How it comes about makes no difference as long as there is a W. Keep up the great work, and I look forward to a highly successful season for I see this team at the crossroads this year.
Jim: Appreciate the feedback, Rick.
Robert Conlon from Baltimore, Maryland
Question: Hey Jim. Last year the Titans were always near the top for scoring defense. My question is do they take out pick 6's, safeties, etc., when ranking the teams, or is it strictly all points allowed divided by games played?
Jim: Hey Robert. You're right – the Titans finished third in the NFL last season in scoring defense. That number is total points scored by the other team, which includes safeties and pick 6s.
Landon Branch from Buckingham, Virginia
Question: I have a question when are we as Titans fans going to start coming together and correcting these so-called professionals at NFL Network and ESPN? They are so bias and inaccurate with their predictions and the statements they make about the Titans and many other teams. It's frustrating that these people get paid for this. They don't do their jobs. They clearly only follow 5 teams and then they use raw stats to say who is good who isn't. I'm sure any reasonable fan knows what going on with this team. They're young and need consistency. How can they be 3-13 this year when they've been 9-7 three straight? Sorry for the rant but I would seriously like a job at NFL Network or ESPN lol. Seriously though we need better commentary.
Jim: Hey Landon. Thanks for chiming in. But hey, let's face it – the only way the Titans can "correct these so-called professionals" as you said, is by winning games. I said this last week, but the Jaguars were a popular Super Bowl pick for 2018, and they finished last in the division. Most folks are predicting the Titans to finish last or third in the AFC South. So the team has a chance to prove them wrong by winning games. But there's no sense in getting worked up about what other folks are saying, in my opinion. As Al Davis famously said: Just win, baby!
Have a great week everyone.