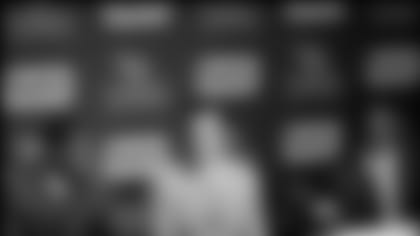 (on what the last 24 hours have been like)
For me it is like a little kid on Christmas. I'm really happy to be here and I'm blessed for the opportunity to live out my dream.
It has been life-changing, it the best call of your life. Me personally I have been blessed and a lot of other guys feel the same way. We have to except our blessing and keep moving forward.
(on the perception that his attitude is he always wants the ball)
I believe I have the receiver attitude when I'm on the field and the ball is in the air, I believe the ball is mine when it is in the air. Other than that I just want to do anything to help my teammates out. That is how I have been since I was a little kid and everything. It is more about winning the game and helping my team out than me personally.
(on if his attitude is different than typical Titans receivers)
No. He is just what he says he is. When he is out there and the ball is in the air, he is going to go get it. You don't see him kicking and scratching and stomping around when he doesn't get it. He is a competitor. That is a competitive situation out there. You are lining up against some good defenses and good corners, you have to learn how to win.
(on who he likes to pattern his game after)
No one really. I just like to go out there and play the game how it is. Every time I wake up, I see how I can do better whether it is in the weight room, on the field or off the field and stuff like that.
(on his biggest challenge in the NFL)
I know receiver is one of the hardest positions to translate from the college level to the NFL level so I'm willing to work 24 hours a day on my route-running and on the board stuff.
(on whether the learning process has already started)
Yes it started in January. I have been working out with Rod Smith in Arizona at API. He really helped me out with pointers on my game.
(on what Rod Smith helped him with)
Mostly running my routes and the top of my routes and stuff like that. Lining up and coming in and out of my breaks and just looking at the ground and seeing my breaks to looking at the corner instead of doing all that.
(on whether he has talked to Rod Smith since being drafted)
He actually called me right after I got the call. He called me up right they told me they were going to pick me.
(on what Rod Smith said about Mike Heimerdinger)
He said he was a great guy. They actually talked before they gave me a phone call. He really helped me out throughout the whole process. I take my hat off to him.
(on whether he gets a feeling what the Titans are looking for from him)
Definitely. Everybody is just coming in and doing their job and everybody wants to work hard and everybody is working toward that one goal.
(on the significance of his first name)
I really don't know. I'm the oldest of eight and the majority of my mom's kids have long names which have no meaning to them.
(on what they call him back home)
Some people call me Sen'Derrick, but a lot of people just call me Sen.
(on what his mom calls him when she is mad)
(on working with Coach Jim Washburn)
It is going to be crazy. I know a lot of you all know the type of guy he is. I knew the type of guy he is before I came, well I was told the type of guy he was. My introduction with him went just like people told me it would be. I like the way he approaches his job. I like the way he coaches his guys and everybody knows that every guy he coaches, if you buy into what he is trying to do, you become one of the best guys.
(on what the first meeting with Washburn was like)
I can't even say it over the media. I think he is going to be fun to work with. It is the type of coaching style that I have been working with since I was in high school, so I enjoy it and I'm ready to learn from him.
(on playing through two ankle sprains last year)
When you are growing up playing football it's just being tough. If you have a son then you want your son to play football because you think that is going to make him tougher. Once I got to that point and I had the ankle sprain, it wasn't that I was hurt and had to shut it down. I said I'm going to push through it. Sometimes I felt like I didn't want to go because I felt like I was going to let the team down by not being able to go 100 percent, but if the coach was counting on me and the team was also counting on me then I just had to go out and give it my all. I went out and I tried and I played on it. It shows toughness and it also shows that I'm going out for my guys and no matter what it is, if I have to go on the front line for them with a broken ankle, then I have to go on the front line for them with a broken ankle.
(on his Rutgers teammate Jason McCourty being drafted by the Titans)
That is wonderful for both of us because we played with each other for the last three years. I know what type of person he is and he is going to give his all when he comes in here and do whatever it takes to help out the team regardless of where he is playing at, special teams or on defense.
(on battling him in practice again with the Titans)
It is going to be great because we have been battling each other for the last three years on the field with Coach [Greg] Schiano and his crazy defenses and the stuff they do and everything. We used to go back and forth in practice, so to do it on the NFL level is something special.
He is a special player. He has natural talent, great footwork, great head. He can jam a person real good. He plays mostly with his head than with his body. That is one thing that is really going to help him out to the next level.
(on whether grad school has started yet with Coach Graves)
Yes actually when I walked into the meeting room with him, he showed me a couple of formations and how they call their formations and stuff like that. That really helped me out for Thursday.
(on one coach saying he is hard-nosed and one of the toughest receivers physically and where that came from)
That really just comes from me as a little kid. I used to be outside all the time getting hurt and everything and playing through adversity. Regardless of what happens, I'm going to go out there and play for my team. Regardless I'm coming out there with broken ribs or something. That has been me my whole life.
(on playing against older kids while growing up)
Actually I was the youngest out there playing football with everybody. Everybody was three years older than me because I have older brother that is two years older than me. I used to hang out with him and play football with him around the house. That really helped me out.
(on when he was completely healed from the ankle sprains)
It wasn't until after the season. The two ankle sprains, I was nursing one so that is when the other one got hurt because I wasn't paying attention to the other one. It was just something that I had to overcome. I couldn't really get full strength back on it because they were at a point where I was still out there practicing on them. I tried to wrap it up real tight. I had to go out and practice on it and then play go out on Saturday and play on it, so I never had enough time to get off it to let it fully heal.
(on whether he can still dunk)
Yes I can still dunk. No problem.
(on if he ever played against Charles Barkley)
No, I have never played Barkley. I believe I can take him. If I make that comment, you all are going to laugh at me. When you see, you are going to be amazed.
He was one of the better players on the board at that pick. We brought him in here to compete with the other guys on the depth chart. He is a really good inside runner, outside runner and has great quickness and change of direction and can find the goal line. He runs inside zone, runs the power and runs the same things we run.
(on whether he is a combination of Chris Johnson and LenDale White)
He has quickness. He will make you miss and he protects, but he'll still break tackles. We felt like it was a good pick. Kenny talked about our corner so I don't have to go into that. Dominique Edison we feel like is a height, weight, speed guy and at this point in the draft you are going to draft speed and that is what we did. He may be able to come in and do some things for us and help us out on special teams.