**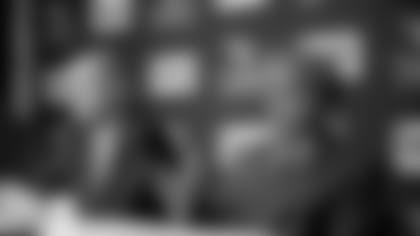 GM Mike Reinfeldt (left) and Senior EVP Steve Underwood (right) will lead the search for the next head coach of the Tennessee Titans.
NASHVILLE, Tenn. --** The Tennessee Titans might be a little rusty as they search for their first head coach since the end of the 1994 season.
First, they decided to trade or release quarterback Vince Young. Now, they've parted with Jeff Fisher after 16 full seasons as their head coach. Add in the fact that owner Bud Adams is impatient at age 88, along with a looming lockout, and this offseason looks like no other.
"Challenges do not translate into chaos," said Steve Underwood, the Titans' senior executive vice president. "All that means is that we have our work cut out for us."
Since the franchise promoted Fisher, there have been 110 coaches hired by the other 31 NFL teams through the end of 2010. And it makes for easily the biggest decision Tennessee has faced since relocation from Texas in 1997.
The search is being handled by Underwood and general manager Mike Reinfeldt, with Adams making the final decision, and the general manager said they have a long list of potential candidates they planned to trim down by Monday.
Reinfeldt calls prior head coaching experience a good thing but noted Fisher was defensive coordinator when promoted in 1994. Bill Cowher, Jon Gruden, Packers defensive coordinator Dom Capers and Jim Mora Jr. are being mentioned by fans, along with New Orleans defensive coordinator Gregg Williams, who worked with this team between 1990 and 2000.
The top candidate could be offensive line coach Mike Munchak. He was a Hall of Fame lineman for this franchise while in Houston, and he went from playing to coaching with 14 seasons at that position with this franchise. It doesn't hurt that Munchak also is a favorite of Adams and a teammate of Reinfeldt's for a couple seasons.
"He's a person, given his playing career and his coaching career, he's certainly a person that you'd have to consider," Reinfeldt said.
In-house possibilities include linebackers coach Dave McGinnis, a former head coach at Arizona, and offensive coordinator Mike Heimerdinger, diagnosed with cancer in November.
The Titans insist their only deadline for a new coach is "as long as it takes." The personnel department under Reinfeldt and the 13 assistants under contract for 2011 are handling the preparation for the combine in late February. The new coach will have the option to keep those assistants, or not, if he wishes.
Reinfeldt said they want the right person as head coach, and recalled that he wasn't hired as GM until mid-February in 2007.
"We were actually in the pre-combine meetings when I was hired, and everybody was nervous and it was so late," Reinfeldt said. "But the reality is we ended up taking Michael Griffin as our first draft pick, so we did OK in the draft and we'll be OK here."
Griffin has started since midway during his rookie season and was in Hawaii on Sunday to play in the Pro Bowl.
Underwood plans to retire later this year after 35 years working for Adams. He said his experience combined with Reinfeldt's should reassure fans that the Titans will make the right decision.
"What I hope is that our fans have confidence in us to arrive at the decision like that and come up with something that will lead us into the next generation of our franchise," he said.