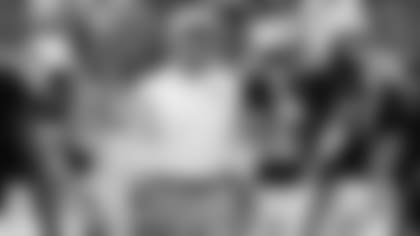 HEAD COACH KEN WHISENHUNT**
I know (Andrew) Turzill has an ankle, I don't know how serious that is going to be, we'll know more about it. We took DaQuan (Jones) out early, he could have gone back in, but we wanted to be conservative with it, not risk it.. We felt like we wanted to get (Angelo) Blackson some work in there too and look at some of our D-line, so we were good from that standpoint. So, basically we come out of it in pretty good shape.
I thought we got off to a good start. It was a great atmosphere tonight in our stadium. It was nice seeing all the fans in there and you know, it was good to get a win at home, so I think that was important for us.
(on Marcus Mariota's communications device causing problems on opening drive)
It went out. I don't know what happened, but it was tough. We just had to try to communicate to him what the play was. In those type of situations a lot of time young quarterbacks will panic, but he didn't. We had a couple of miscues, but that led to a couple of situations that put us in long yardage deals on those first drives. He still made some plays and handled himself well. It was actually something that you don't plan, but it was good to see him respond.
(on Marcus Mariota moving toward sideline to receive plays)
Half-way, yeah. Some of it was trying to yell it to him, so it was tough. Some of it was signal.
(on first team defense getting off to a good start)
Well, they did good against the run. It was nice to see Perrish (Cox) make that play and score. I mean I think one of the things we talked about today before the game in our team meeting, defensively was create turnovers. We saw Coty (Sensabaugh) do it last week on the one play, but in that situation when they were backed up to get that play and run it in for a touchdown it really ignited our team. We had a good drive with the first half offense but we didn't get anything out of it and that's something we have got to do better with, but that got us rolling and I think we played pretty good football.
(on the win making the team feel good about itself)
I think the team has worked really hard in camp. They have been physical and competitive and we have had some really good practices. You guys have seen that, but you can only get so much out of a practice. When you can translate that to the field, that's something that is really important. It was nice to see us do that tonight. It was a good energy with our team playing on our home field. Once again, the surface was outstanding. It was nice to play on a fast track like that and I thought our team responded really well. So, it was a good start for us here.
(on top two quarterbacks' play)
I didn't like the drops. We had two drops when Marcus (Mariota) was in there that one of them obviously would've been a touchdown, another one would've been a first down. Then he just missed on the one, getting a completion where that guy got his hand on it. I thought both of those guys did a nice job. Zach (Mettenberger) missed the two throws right there at the end of the two-minute situation which it was good to get one of those and he really did a nice job with that. They both ran the huddle well, threw it well, so it's nice to see two young guys play like that.
(on Chase Coffman's fate being determined by blocking)
That's a part of it. We are deep at that position and that's a good place to be deep because it's hard to find those guys. Chase (Coffman) has done a nice job in camp and we'll get a chance to see him do more things. Obviously, he's got to be able to help us with the blocking and contribute in special teams.
(on QB Marcus Mariota's poise on the dropped touchdown pass)
Looked a little bit like practice. That's what he's done in practice. They dropped to a prevent defense, dropped eight, rushed three, don't have pressure on it. So, he moved to his left, it was a good set-up, throw it back to an accurate pass, the middle of the field. He's worked hard at doing some of those things, but he's also a very good player. So, it's encouraging to see this.
You guys probably got a better sense for that than I do. There's so much going on during the course of the game. I thought we did some good things, we ran the ball fairly effectively, we had a lot of things going on. We had some misdirection that worked pretty good tonight, so I think we kept a pretty good defense off balance and I thought we protected pretty well, too. So until you really see the tape and get a chance to evaluate it, I don't know, but I'm certainly encouraged.
(on Jeremiah Poutasi's progress)
Well, that's the $64,000 question. That's why we've got to put them in there and play him and see. I told him tonight before we started, you're going against a good player and the most important thing for you to do is play fast, don't get bogged down, use your technique. So I asked him at the end of the game, "so Jeremiah, how did you do tonight?" What do you think he said? "I played fast, coach." So, we'll see.
(on throwing the ball if the Rams did not call timeout)
We had a debate about whether to throw it or to run it. In a situation, in a regular season game, I would've run the football, but in that situation with Alex Tanney, I wanted to give him a chance to try and throw the football, just because you're trying to get everybody snaps. I'm glad we threw it.
(on injuries to Phillip Supernaw and Josh Aubrey)
(Josh) Aubrey's hamstring was a little tight so we took him out. (Phillip) Supernaw could've gone back in, we just didn't put him back in. He had an arm. Unless something else pops up, I don't see anything other than (Andrew) Turzilli with the ankle that we'll have to see more about tomorrow. It's going to be hindering to these guys.
(on plan with Delanie Walker)
He wanted to play, but we didn't think it was good to let him play tonight. He'll play next week, I think, just to be sure, but he's worked. You guys have seen him in practice. There's nothing that really is restricting him, we were just being conservative with him.
(on what happened to the communication device)
Yeah, after the first two plays, it kind of went out and had to revert to Pop Warner. Just running over to the coach, getting the play and running back to the huddle. It worked fine after that. It's one of those things that happens and you just have to kind of work through it.
(on if he knew what happened immediately)
Well I could see him trying to yell the play out, and I couldn't hear it so I figured he was trying to call the play and I just kind of ran over and said 'I can't hear you and we just handled it that way.'
No, I'm not that good yet.
(on if he was confident he got the plays correct)
Yeah, for the most part. I think it went as smoothly as could be and I'm sure it's one of those things that just happens and you've just got to work through it.
(on his assessment of the offense's overall play)
You know our offense I thought played well. We were able to move the ball. We got big gains, big plays. At first we weren't able to finish, so obviously there are things we can get better at, but any way you can get points on the board, especially in this league, it's pivotal.
(on if Dexter McCluster apologized for dropping the ball)
You know that happens. I just tell him go ahead and catch the next one, and that's all you really can do. Dexter McCluster is a great player, he's going to make great plays all game. I'm sure we'll come back to him.
(on his first experience at home)
Special. You know the fans are so passionate, the community itself. You know the love for the Titans, it's awesome and it makes us as players extra motivated. I think it's a special moment for us.
(on the importance of the lack of turnovers)
It was huge. It was one of our keys to the game. I'm glad we were able to do that. It's awesome to see when you are able to be successful and not turn the ball over and score some points.
(on if he was expecting to pass the ball to Craig Stevens)
I went through my progressions as fast as I could. You know he kind of popped open and again, he made a great play, just kind of stuck it on him, so it was a good play.
(on if he was rattled getting hit early)
(on how he felt with the offensive line and the new starters)
They did a great job, for a lot of those guys they're all working through new starting lineups. For that entire unit to work together and build that chemistry, it is awesome to see, and I think they did a great job tonight.
(on the effectiveness of the running game)
Again the offensive line got a great push up front and Bishop Sankey ran the ball well. For any offense if you are able to run the ball well it is going to help your pass game, and it helped us out tonight.
(on if he saw from a Greg Williams defense what he prepared for)
They brought a few different looks, but again those guys up front did a good job handling it. We were able to move the ball and figure out how to combat some of those things. Again, hats off to those guys in the locker room, we were able to just figure things out, simplify it, and keep things going.
(on the energy of this year's Titans team)
I felt good. I felt tonight was a good night, and it's something to build on, moving on. I think everyone out there is playing with a chip on their shoulder. We all want to make an impression. We all want to play good together. And as long as we play, hard, play together, and play like a family, I think we'll be good.
I'm really fired up for this year, and even though it just started, I've got a good feeling about it, and I know the rest of the guys do, as well.
(on the improvement of the Titans offensive line) Everybody's been working hard. I think all those guys did a great job. And tonight, they were doing a really good job early on, opening holes. Not only for me, but for our other backs, as well. Tonight, I think we played really well together as an offense in all facets, through the air and on the ground.
(on scoring two touchdowns tonight)
The right plays at the right time, versus the right coverage. Mett (Zach Mettenberger) put the ball in a great spot on the first one, and (Alex) Tanney did a good job on the second one. I just have to make those plays when they come to me. The first one was bang-bang, but on the second one, I had a little room, so I got to see myself on the scoreboard.
(on the Titans preseason win)
A win is a win, and everybody feels better after a win. It was a lot of fun. It's always fun to play in this game, but obviously, two touchdowns help with that, and also a win. It's a blessing to be a part of it.
(on if the Titans new offensive line will gel by the season opener)
I think we will, you know, for the most-part.  But if it doesn't, we have to make the proper adjustments.  I think if it stays like this and we start learning, really I mean this for myself, learn how to play on the inside, I think we will be fine. Offensively, I feel we ran the ball real well, but we just need to build on that. 

(on the Titans defense playing well, early in the game)
You know it was a fast start today. Perrish Cox made a great read and made a play on the ball. From there, we were able to stop run. We did what we were supposed to do today, so that was a good thing, especially, being at home. It was great. A great atmosphere. We just played the tempo with the fans. The things we were supposed to do, came out today, and we did what we were supposed to do.
(on the outlook for this upcoming season)
Man, I feel really excited about this season. We've got a great group of guys. A lot of young guys, but a great group of guys we have here. Each and every week, we get better each and every week. Everyone played great today and we need to continue to build on this. Last year, was a bad taste in our mouth, to go 2-14. It was a long season. That's just one thing here that nobody wants to experience, ever again.
RAMS HEAD COACH JEFF FISHER
I guess first and foremost I have to extend my appreciation to the entire Titans organization honoring me like they did. It was moving. I heard about it this week but didn't know it was going to be to that extent so I appreciate their approach and their generosity.
Football wise, we played like we haven't played in 10 days. I felt we played real sloppy. Made a bunch of unnecessary penalties. We kept it basic but that's not an excuse. We should look at it and see some good things as well but we've got some work to do this week. We got through it and there's no one in the training room right now. I held Michael Brockers out today and I think he will return next week. That's good news going through a preseason game and not having anyone in the training room.
(on his concern with the first team offense's struggles)
No, not concerned at all. You would like to see them put 40 up on the board but we will get it sorted out. You see us doing different things on the practice field than we do in the games. I was impressed with their quarterback.
(on the interception for a return touchdown)
I think it just flattened out a little bit. There were some good things to learn from.
(on Demetrius Rhaney starting in front of Barrett Jones)
It was just his opportunity (inaudible). We just changed it up.
(on his first quarter interception)
It's just one of those things, I look at it as a learning opportunity. It's one of those ones where you learn from it, and next time you see that you throw it over their head. That's what the preseason is great for, situations like that. You can learn from them, move forward and stay positive.
(on whether Kenny Britt was at fault for the interception)
It was a bad decision by me. Kenny (Britt) is doing a great job. It's one of those ones, one of those situations where I've got to be smart.
(on how he stays positive after the loss heading into the next game)
I'll never panic as a quarterback just because you've got to keep working. If you panic, then you've given up. I would never give up as long as I play the game. We have great guys in this locker room, and I keep saying that we'll continue to put more things into the offense. We're really just trying to work on our stuff right now and they played us really well tonight. They did a great job, they played aggressively and they had more juice than us tonight and it showed.
(on how he feels about tonight's performance)
It was the second preseason game, we just still learning right now. Sometimes you're going to come out and have good days and sometimes you're going to come out and still look like you need some work. Now that's where we're at right now, we're still just getting ready for the season and we will keep taking it day-by-day and getting better.
(on his chemistry with Nick Foles)
I definitely believe we have chemistry. It's just about timing. Right now we don't really have a game plan, we're just going out there and playing to put it on tape.
(on how he hopes to progress this preseason)
I did a tremendous job this offseason and I am so much better and so much smarter. It's about repetition and keep on getting opportunities and taking advantage of it.
(on losing E.J. Gaines to injury)
Whatever this organization wants to use me for, that's what I want to do. We send our best out to E.J. (Gaines); we wish he could be here. That's not the way you want a guy to go out.
(on the Rams cornerback group coming together and stepping up following the injury to E.J. Gaines)
You see the success that E.J. (Gaines) had last year; he was a tremendous piece of the defense. With him being gone, we just have to tighten up as a group and strengthen the continuity that much more with a key piece like that gone. We send our well wishes to E.J., and wish he could be out there with us."
(on the play of the Rams defense)
There are always going to be kinks in the system early on, and that was certainly the case tonight. We were out of our gaps in some situations and we just need to sharpen up a little bit. But it's not an effort or technique problem; it's more of a focus issue. I think if we continue to tighten it down, we'll be just where we want to be.
(on the play of Titans QB Marcus Mariota)
Obviously, he's an athletic guy. He made some good throws and he can move the pocket, which causes problems for the defense. There were issues and we kind of gave him some stuff tonight, but I think he's going to be a good player and there is reason for excitement here with him behind center.
(on what the Rams defense can improve between now and its next preseason game)
There were a couple missed tackles and a couple of guys not in their gaps. This is the most a lot of the starters have played in a while and with the new CBA - the way the preseason is - you don't get a chance to rep these things as much and this is why these games are valuable. We'll take what we need to learn from it and, when it counts in a couple of weeks, we'll be even more tightened down.
RECOMMENDED: