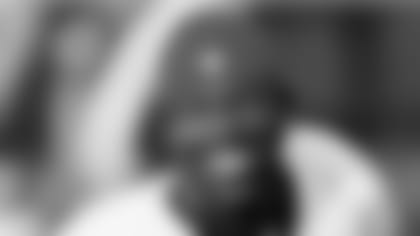 The Titans will face new Bills wide receiver Terrell Owens during Sunday's Hall of Fame Game.*
NASHVILLE, Tenn. --** With a full week of training camp in the books, the Tennessee Titans now turn their attention to Sunday's preseason opener against the Buffalo Bills in the Pro Football Hall of Fame Game.
The Titans will fly directly into Canton Saturday afternoon, then bus to the Hall of Fame where they'll receive a personal tour in the museum that features many of the NFL's legends from years past.
"It is an honor to be able to play in the Hall of Fame game," said wide receiver Justin Gage. "The season is underway and we get a chance to play in the first game of the year, so we are excited about that."
With this season being the 50th Anniversary of the Houston Oilers and Tennessee Titans franchise, it is an especially important year for team owner Bud Adams and the entire Titans organization. On Sunday, the team will wear throwback Houston Oilers uniforms for the first of four times this season.
"They understand the significance of the game and what an honor it is to be in the game to kick off the preseason a week ahead of everyone and what this particular Hall of Fame game means," head coach Jeff Fisher said.
This weekend's trip to Canton is an opportunity for players of all ages, from grizzled veterans like Kevin Mawae, to young rookies like Javon Ringer to see the history of their league and all of the greats who have come before them.
"Just to be able to walk through the Hall of Fame, not a lot of people get that opportunity, and as players I think we take that for granted," veteran linebacker Keith Bulluck said. "I think it's always great to go back and pay tribute to all the pioneers who made it possible for us to play today."
BRING OUT THE POPCORN: The Titans will face one of the NFL's better receiving corps Sunday, one that includes perennial Pro Bowler Terrell Owens.
"It's a great test. They have three or four receivers who are great players that can stretch the field and can go across the middle," safety Vincent Fuller said. "It's something we're going to see because we face great receivers week in and week. To start off with one is definitely a good test for us."
Cornerback Nick Harper has lined up against Owens before, but said Owens has always been relatively quiet.
"I've played against him a lot and I've never heard him say two words on the field, so who knows what you're going to get out of him," Harper said. "They have a good receiving corps, and by us having a good secondary, it's going to be a good test."
BRITT BACK AT PRACTICE: First round pick, wide receiver Kenny Britt returned to practice today after being removed from the Physically Unable to Perform list. Although the practice was mostly a walkthrough that focused on game planning, Fisher saw good signs from his #1 pick.
"The intention was to get [Britt] to work off the cards against the defense and he did fine," Fisher said. "I think he's right on schedule. We'll continue to condition him and make sure he gets exercise through the weekend and we'll get him on the practice field next week."
Even though it wasn't a full practice, Britt seemed happy to be back in the mix.
"It was a little lighter out there," Britt said. "It's something I wanted to get into just to get the feeling of the routes and quarterbacks and everything."
Britt's injury slowed down his progress on the field, but he tried to stay ahead of the game off the field, getting mental reps with the help of his teammates.
"The veterans are really helping me out, especially Justin Gage and Nate Washington," Britt said. "They sat me down and watched a couple of films and helped me on everything."
MAWAE TALKS TO LITTLE TITANS:  A youth football team, the Memphis Titans, traveled all the way down I-40 to make today's practice. Their coach, Craig Johnson, played with Titans center Kevin Mawae at Louisiana State University. Because of that connection, Johnson and his players came to Nashville to hear Mawae speak, and also allow the young players to get autographs from the 16-year veteran.
Mawae told the Memphis Titans a little bit about himself, and then gave them a short lesson on hard work, the importance of education and the necessary dedication it takes to live out one's dreams. All of the children seemed to enjoy simply meeting the NFL star, and were especially excited about the autograph session afterwards.