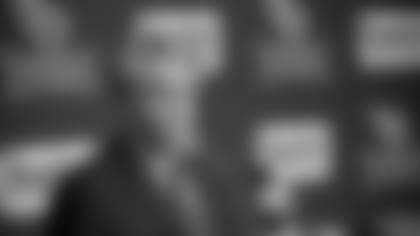 Long-time executive Steve Underwood retired Friday after more than 35 years of dedicated service to the franchise.
NASHVILLE, Tenn. -- Friday was the last day on the job for Steve Underwood, the team's senior executive vice president.
He announced in February he would be retiring by August.
Adams called Underwood "invaluable" during the team's relocation to Tennessee and during the lockout.
"Today was the final day with the organization for Steve Underwood as he enters retirement and quality time with his family," Adams said. "I want to thank Steve for his dedication to this franchise and his decades of work. He was invaluable during our move to Tennessee and more recently through this difficult time of the lockout. He will always be remembered for what he meant to this team."
Vice President/Assistant General Counsel Elza Bullock will be relocating from Houston to Nashville to help with the workload, but owner Bud Adams said that Underwood's role will not be filled.
"The group of Executive Vice Presidents, including Elza Bullock who will be moving to Nashville, will expand their roles and Steve's role will not be filled," Adams said. "Elza has been with us for 13 years and is an accomplished lawyer, who will be an asset to the Nashville staff."
Underwood spent 21 seasons with the franchise, including six as Senior Executive Vice President, General Counsel/Executive Assistant to Chairman of the Board. Overall, Underwood had registered 35 years of service with the Oilers/Titans franchise.
Since he joined the franchise in 1991, he served as General Counsel for the franchise, handling a myriad of responsibilities, including management of Titans' salary cap and related collective-bargaining issues; involvement in negotiation and preparation of player contracts and stadium, promotional and corporate agreements; and management of litigation.  He also served as General Counsel for KSA Industries, Inc., the private holding company of Titans' owner K. S. "Bud" Adams, Jr.
Prior to joining the franchise, Underwood was an attorney for the Houston firm of Caldwell & Hurst since 1977.  For his entire tenure there, he served as the Houston Oilers' primary counsel.  Underwood also served as a part-time business law/real estate instructor at Baytown Lee College from 1980-81, and at San Jacinto Junior College from 1981-85.
Underwood will return to his home state of Texas with his wife, Frances, along with his daughters Providence and Liberty.