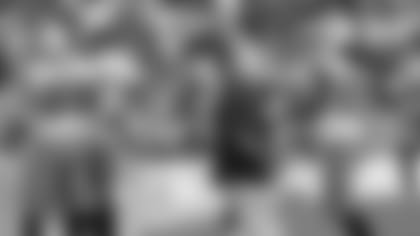 *(on the first half)
*
I thought we executed well on the first drive. It resulted in a very solid opening series. Then we had an exchange problem and threw an interception, so we still have some work to do. Defensively, I thought we got good pressure, which we needed to see. It was really good to see Ryan (Mouton) come back and get the interception after the missed tackle for a touchdown. That shows maturity. On special teams, we kicked the ball well and fielded the ball well in the return game. We're going to play a lot of players in the second half.
(on the starting offense's performance)
I feel like we did all right out there. I made a mistake on the one play, and I should have run for the first down. But as a whole, I thought we did good for the first time out there.
*(on how important it was to get off to a quick start)
*
We always talk about starting fast, and we did that on the first drive. Everyone was in the right position, we got great blocking, and we put points on the board. That was very important for us, to see how we would perform against someone else after facing each other all camp.
RB CHRIS JOHNSON
*(on how he felt in the first preseason game)
*
It felt real good to get back out there and get a few runs. It felt good to get hit a few times because I really haven't felt that since last year. We put it together on that first drive and got the touchdown.
*(on how in sync he felt with the offensive line)
*
We got a couple good runs in there, but we still have some work to do together. I think we'll get things going more and more as the preseason goes on, and we'll be ready to go when it matters.
*(on Javon Ringer's performance)
*
I thought he did a real good job out there. He had that nice run and made a few guys miss. He's been working real hard, and I think he's going to be a great back-up.
LB STEPHEN TULLOCH
*(on the starting defense's performance)
*
Overall, I thought we did a good job out there. We started the game the way we wanted with a lot of energy and with everyone running to the ball. We're a fairly young defense, and we were all out there having fun. The tempo was good, and we played well.
*(on the excitement level of the defense for tonight's game)
*
Our motto on defense this year is "give 100 percent on every down." Anything other than that is unacceptable. I thought we played with an attitude tonight, and it showed early out there.