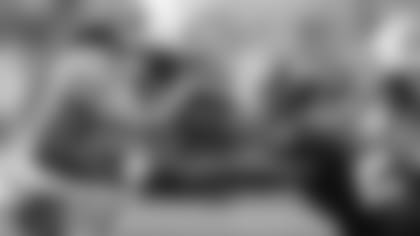 Titans-Seahawks Game Center](http://www.nfl.com/gamecenter/2010081457/2010/PRE1/titans@seahawks)**
FIRST-DRIVE SUCCESS: On the first drive of the game—and the preseason—the Titans offense drove 79 yards on 10 plays and scored on a one-yard run by Chris Johnson. On the drive, quarterback Vince Young completed all four of his pass attempts for 70 yards. The long play of the drive was a 28-yard gain on a screen pass to fullback Ahmard Hall.
SCRATCHES: Several players did not take the field in Seattle due to injuries: wide receiver Damian Williams; nickel defensive back Vincent Fuller; cornerbacks Tye Hill and Cortland Finnegan; safety Nick Schommer; linebackers David Thornton and Stanford Keglar; defensive tackles Kareem Brown and Tony Brown; and defensive ends William Hayes and Derrick Morgan. Quarterback Kerry Collins did not play but was not injured.
STARTERS' PLAYING TIME: Most offensive starters for the Titans played until late in the first quarter or early in the second quarter. Running back Chris Johnson played only the first series and carried five times for seven yards and a one-yard touchdown. Quarterback Vince Young played two series, completing five of six passes for 78 yards and an interception. The starting offensive line was in the game for three drives, including one series with Chris Simms at quarterback. Defensively, the starters' playing time varied from three series to the entire first half.
BABIN SACK IN FIRST APPEARANCE: In his first appearance in a Titans uniform, defensive end Jason Babin notched a sack, dropping Matt Hasselbeck for a seven-yard loss in the first quarter. Babin was acquired during the offseason as an unrestricted free agent.
LONG RUN BY RINGER: Second-year running back Javon Ringer made the most of his opportunity after entering the contest early in the first half. The second-year running back totaled seven carries for 60 yards, including a long of 46.
MOUTON INTERCEPTION: Cornerback Ryan Mouton provided one of the highlights of the first half by the defense, snaring a Charlie Whitehurst pass deep in Tennessee territory.  The second-year cornerback was also credited with three tackles and a total of two passes defensed in the first half.