**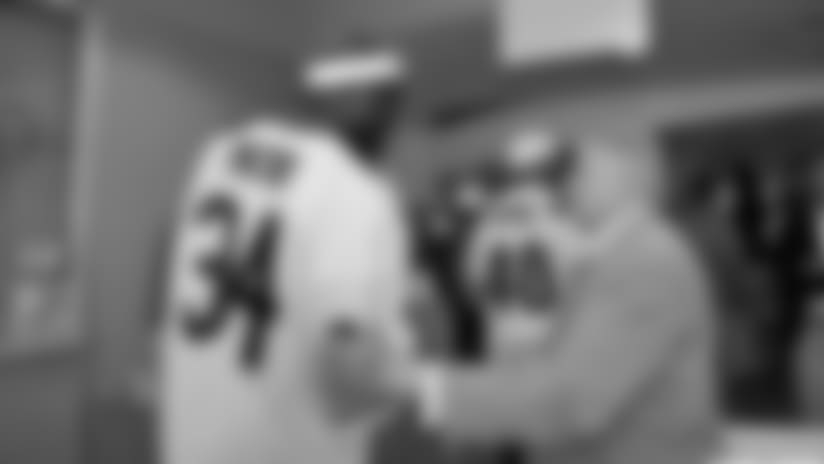 CANTON, Ohio, --** Some players had video cameras, others snapped photos. It was a special day, a unique moment in time as the Tennessee Titans experienced the rich NFL history that the Pro Football Hall of Fame has to offer.
Wearing a throwback Walter Payton jersey, linebacker Keith Bulluck was in awe as he entered the facility. Team owner K.S. "Bud" Adams, Jr. was there to greet the team, shaking each player's hand and wishing them luck for Sunday's preseason opener vs. Buffalo.
"It was neat having Mr. Adams there," Bulluck said. "I'm sure it meant a lot to him being that he is one of the founders of the AFL. His team is still going and it's one of the strongest teams in the NFL."
The NFL's amazing, rich history was apparent to each player, rookie or veteran.
"As soon as you walk in, they hit you with tradition – old and new. It was cool when I walked in and saw all the busts up there," Bulluck said. "There's so much information here about the game that we've been blessed to play because of the people that came before us. It was definitely very interesting and a cool experience."
Adams wanted to be here for his team as part of the 50th celebration of his franchise and founding of the American Football League. Early on, he was taking in an exhibit that featured two trophies from the Houston Oilers' pair of championships from 1960 and 1961.
"It means a whole lot because of this being the 50th anniversary of the original American Football League," Adams said, glancing at the showcase. "This case represents all of the years back then. We've had a lot of good teams over the years. We were in the playoffs 21 out of the 50 years. We also lost some close games. The original league – the AFL – deserves a lot of recognition. That's what we're celebrating here this weekend."
Adams, originally part of eight-person group called "The Foolish Club" that founded the AFL, was on hand to also honor Bills owner Ralph Wilson, who was enshrined into the Hall of Fame Saturday afternoon.
"Of the original eight owners of the Foolish Club, there are only two us left, Ralph Wilson and myself. He's 92 and I'm 86," Adams said. "It's good that we're playing this game to recognize the 50th anniversary. We've had some close games with them. I'll never forget the one game we had in Buffalo when we were ahead 34-3 in the third quarter and ended up losing. I couldn't get out of my seat afterwards. I was so worn out thinking, "It can't be, it can't be.' It was a terrible loss for us, but then years later we had the 'Music City Miracle' play in Nashville and won it back that time."
While Adams later made his way in the room featuring all of the enshrined members, his players continued taking in all of the rich history, including Oilers and Titans exhibits.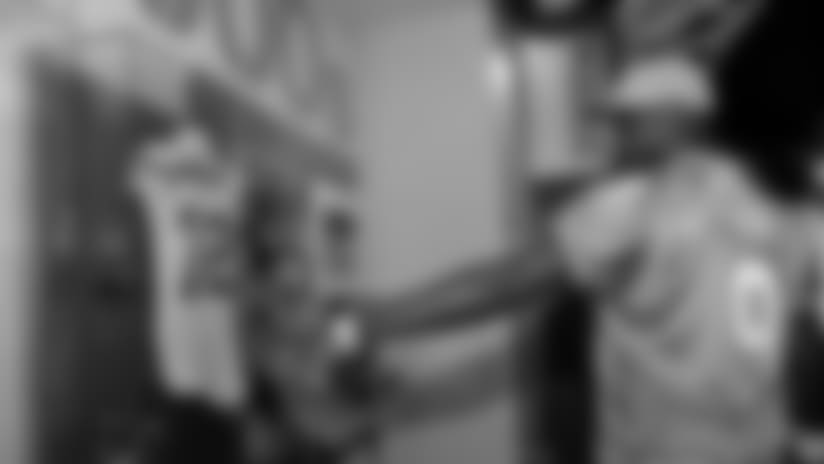 Quarterback Vince Young checks out one of the exhibits during his tour of the Pro Football Hall of Fame.
"It's beautiful here," said quarterback Vince Young, wearing a Houston Oilers #9 Steve McNair jersey. "There's a lot of history and some things I didn't know about. It's like a dream come true.
"I was looking at my man (Mike) Munchak, Warren Moon, and Earl Campbell. There's a lot of history with the Oilers. I used to watch the guys a lot, so being a part of the team and seeing a part of that history is great to see."
Young said witnessing the Hall of Fame makes him want to work even harder to one day be mentioned among the all-time greats.
"It's somewhere I want to end up being at, hopefully one day," Young said. "All I can do is pray about it, keep playing hard and take care of my responsibilities."
It marked the first trip for veteran center Kevin Mawae, who passed on the opportunity to come years ago while playing with the Seattle Seahawks.
"Looking back on it, I wouldn't change anything. I think I appreciate it more now that I'm older," Mawae said. "This place is pretty cool. It's like the chapel of football. It's a reverent place to be around those who spent their entire career doing this.
"I've seen more guys that I've played against that are enshrined. In fact, I saw four guys that I played against and there are four guys I was in the league with that are getting enshrined today, so that's pretty special."
Mawae took photos of all the centers that have been enshrined. Former Cowboys quarterback Roger Staubach was Mawae's hero growing up. As a college player, he always looked up to former Bengals offensive lineman Anthony Munoz.
As Mawae wrapped up his tour, he couldn't help but feel in awe as he acknowledged all of the NFL greats that have made their way into the Pro Football Hall of Fame.
"I just hope one day that I can leave my mark like those guys did," he said.