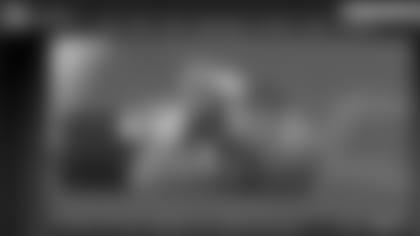 ](http://www.nfl.com/videos/nfl-videos/09000d5d81b80962/Player-safety)
This video, now available on NFL.com (click to view) was sent to NFL players, showing examples of both clean and illegal hits.
NASHVILLE, Tenn. --** Everyone in the NFL got the memo Wednesday, but whether the message was received remains to be seen.
NFL Commissioner Roger Goodell sent a memo to all teams stating that "more significant discipline, including suspensions" will be imposed on players who violate rules designed to prevent the striking of the head and neck areas. The memo was accompanied by a video of legal hits and illegal hits and was delivered one day after the NFL fined three players (Pittsburgh linebacker James Harrison, New England safety Brandon Meriweather and Atlanta cornerback Dunta Robinson) a total of $175,000.
Harrision balked at his $75,000 fine incurred after a hit on Cleveland receiver Mohamed Massaquoi, skipped Wednesday's practice after talking it over with Steelers coach Mike Tomlin and said he was pondering retirement.
Meriweather received a $50,000 fine for a hit on Baltimore tight end Todd Heap that Heap said was "one of those hits that shouldn't happen." Robinson was also fined $50,000 for a hit against Philadelphia receiver DeSean Jackson that sent both players to the turf and out of the game with concussions. Jackson is likely to miss this Sunday's game against the Titans.
Tennessee players said it is good the league is concerned about the safety of players but added that football is a tough game with no guaranteed prevention of injuries.
"You know there's going to be hard hits," Titans wide receiver Nate Washington said. "That's why we wear the shoulder pads and the helmet. At the same time, certain things need to be watched after. This is a gruesome sport. We all know what we're getting ourselves into. It's important that you pay attention to detail."
Washington said receivers can't think about getting hit if they want to do their job. He said there are some instances where receivers make bad decisions in response to coverage or fail to pay attention.
The memo states that football includes "hard contact" that carries an "obligation" to protect players "from unnecessary injury caused by dangerous techniques from those who play outside the rules."
The memo said teams should be clear on the following points:
"1. Players are expected to play within the rules. Those who do not will face increased discipline, including suspensions, starting with the first offense.
Coaches are expected to teach playing within the rules. Failure to do so will subject both the coach and the employing club to discipline.
Game officials have been directed to emphasize protecting players from illegal and dangerous hits, and particularly from hits to the head and neck. In appropriate cases, they have the authority to eject players from a game."
Kerry Collins, a 16-year NFL veteran quarterback who replaced Vince Young after Young suffered a sprained knee and sprained ankle early in Monday's 30-3 win at Jacksonville, said quarterbacks try not to make a mistake with a pass that places a receiver in harm's way.
"Inevitably, it's going to happen," Collins said. "Unfortunately as quarterbacks we (sometimes unintentionally) place receivers in bad spots. I think what the NFL is trying to say is 'Recognize you have that shot and don't take it. If you do, it's going to be a big fine.' Linebackers, corners, they're taught to give them a shot. More times than not, I'd say it's on the quarterback."
Collins said he made a bad throw when he played for the New York Giants that led to an injury for receiver Ike Hilliard.
"I hung him out … collapsed lung, the whole deal," Collins said. "You feel terrible."
Collins said it is a "great thing" for the NFL to try to protect players with rule enforcement but said "some things happen in the course of the game where there's going to be big hits."
"It's always been part of it," Collins said. "It's going to be real interesting to see what constitutes a big fine and a not-so-big fine, see what kind of criteria go into that determination. We all know the stories of people who have difficulty later in life because of concussions but at the same time we all kind of know what it's about. I think the real obvious ones are the things they're trying to avoid. I can't see guys scaling back the aggressiveness."
Titans linebacker Will Witherspoon said defenders need to remain aggressive.
"You can't play the game tentatively because that's how you get hurt," Witherspoon said. "You've got to play the game you've been taught. Everybody, I think, tries to play a clean game but sometimes things happen that are beyond your control. There's parts of (the memo) I agree with—the safety of players."
Defensive end Jason Babin said rules seem to be shaped toward offensive results. Babin said he would like to see the fine system revisited when a new agreement is reached between owners, league officials and the NFL Players' Association.
"I want it clarified more," Babin said. "Now, when you get a fine, on your appeal, it's just one guy. He says, 'Yes or no.' When I've been fined I've said, "Can you read the rule to me?' He said, 'Well, I didn't do that.' Well, you still get the fine."
Babin said the fine system, as well as the determination of the flagrant hits, could benefit from a third-party evaluator or committee.
"Some of the highlights, you have a split second," Babin said. "I hope they get some clarity on this with the new collective bargaining agreement. It doesn't have to be a former player. A third party that's not affiliated with the NFL or the NFLPA. Maybe more than just one guy, because who knows, maybe he woke up that day in a bad mood.
"A couple of years ago I got a fine for tripping (against Oakland) and (former Raiders coach) Art Shell turned it in, and the guy I had to appeal it to was Art Shell," Babin said. "I asked for him to be removed, and the NFL said 'No, there's no conflict of interest.' I was perplexed by that."
The memo states that suspension will be a possibility for first-time offenders. Goodell said the enhanced policy is designed to protect players from "needless injury."
"In recent years, we have emphasized minimizing contact to the head and neck, especially where a defenseless player is involved," Goodell said in a statement. "It is clear to me that further action is required to emphasize the importance of teaching safe and controlled techniques, and of playing within the rules. It is incumbent on all of us to support the rules we have in place to protect players."