NASHVILLE, Tenn. — Mike Mularkey scored nine touchdowns during his nine-year playing career.
As a member of the Vikings and Steelers, the former tight end admittedly had a pretty low-key celebration.
"I did the Gronk, but maybe not to that extent,'' a smiling Mularkey said on Thursday, referring to Patriots TE Rob Gronkowski. "It was just a spike. I was happy to be there, and then celebrate with your teammates."
Mularkey saved his best idea for a touchdown celebration for his days as a head coach. In his first full season as head coach of the Titans, Mularkey came up with an idea that's been getting Titans fans – especially kids -- involved after touchdowns, while also raising money for ALS.
Maybe you've noticed: After touchdowns this season, Titans players have been giving the footballs to children in the crowd, both on the road and at Nissan Stadium.
Mularkey is keeping track, and at the end of the year he'll make a donation to the ALS Association. The Titans Foundation will match Mularkey's donation. Already, a five-figure total has been raised for ALS.
"Pretty cool, huh?,'' Titans tight end Delanie Walker said. "It is something good to do as a team, and I think the fans are loving it, too. They are able to get a game ball, and they feel a part of it. And Mike and the team are doing something good for ALS, and Tim Shaw."
A former Titans linebacker, Shaw was diagnosed with ALS in 2014. During training camp, the Titans signed Shaw to a contract, making him a "Titan for Life." Since, Shaw has been a frequent visitor at Saint Thomas Sports Park, where he has a locker. He's also attended games.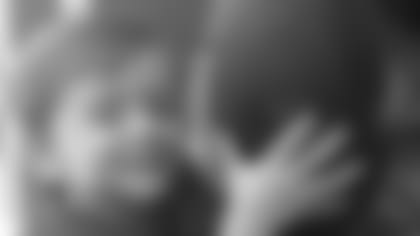 Mularkey said on Thursday he had no intentions of making the team's post-touchdown routine known publicly. But when told his players shared the story, Mularkey shared the background. He said the routine has been part of his history as a head coach, dating back to his days with the Buffalo Bills in 2004-05.
Back then, Mularkey made a donation to the Ronald McDonald House for players who gave the footballs back to officials after a score to avoid an excessive celebration penalty.
Mularkey said he wanted to do something in Nashville to reward Titans fans, while also bringing attention ALS. According to the ALS Association, amyotrophic lateral sclerosis is a progressive neurodegenerative disease that affects nerve cells in the brain and the spinal cord. Also known as Lou Gehrig's disease, ALS eventually leads to death. Patients in the latter stages of the disease may become totally paralyzed.
"I wanted to do something for Tim, being around him as much as I have,'' Mularkey said. "I want to look classy, I want to make our fans happy, and I want us to be able to celebrate. What the players are doing, there is nothing negative about it. It has really been for a good cause.
"It's a great gesture by our players, who want to celebrate with our fans. Everybody is a winner when we score touchdowns."
Delanie Walker scores a touchdown against the Dolphins in Week 5. He handed the ball to offensive lineman Quinton Spain, who ended up giving it to a fan in the crowd.
Walker got plenty of attention when he gave a football to a young Lions fan in Detroit in Week 2. The boy's mother posted a note about Walker and the Titans on Facebook. In last week's game against the Browns, tight end Anthony Fasano delivered the football to fan after his score.
Skill position players have routinely handed the football to offensive linemen after scores. Guard Quinton Spain has been busy. Running back DeMarco Murray gave the ball to Spain after one of his recent scores. As a team, the Titans have scored 15 touchdowns.
"Every time we score, we give the ball to a kid,'' Spain said. "It is great. I love to be a part of it. Kids have been excited. I got a notification on Twitter about what a good thing I did, giving it to a kid. And to see the kids loving it, I just want to keep it up."
Rookie lineman Jack Conklin has taken part of the action as well.
"I got to do it once,'' Conklin said. "It's raised quite a bit of money so far. It is fun, and it's great for ALS and Tim Shaw, and the fan getting the ball."
Mularkey said the he's received some nice letters from fans in recent weeks, thanking the team for the kind gestures each week.
Mularkey, of course, wants to keep it going.
The more touchdowns, the better.
"It is fun for a lot of reasons,'' Mularkey said. "Plus, we can raise money and awareness for ALS."