NASHVILLE, Tenn. — Michael Roos welcomed multiple new players to the offensive line last season and is embracing significant changes made by the Titans this offseason.
The left tackle has a new head coach in Ken Whisenhunt, new position coaches Bob Bostad (offensive line) and Mike Sullivan (assistant offensive line) and a new bookend on the line in right tackle Michael Oher.
Oher signed as a free agent after five seasons in Baltimore to replace David "Big Country" Stewart, a 2005 draftmate of Roos who battled injuries the past two seasons and was released because of a failed physical.
"I think he's going to fit in well," Roos said of Oher. "We've all been working out together and in the classroom, and so far, we're all learning stuff together and are talking about it. It's been good, and we're just building that camaraderie there during conditioning and lifting."
Roos recently took an annual golf trip to Ireland that added visits to Prague, Czech Republic and Munich, Germany. He said he expects that Stewart will hunt quite often in his expanded free time.   
"I'm guessing a lot of things in the woods around here are going to die since he's free to roam the countryside," Roos said. "It will be different to not have him there in the meeting rooms and weight room joking, but it happens. I'm sure it will happen to me at some point and I'll handle it when it comes."
The 2014 season will be the first in the past six that Roos will not be blocking for a backfield that includes Chris Johnson, who was released earlier this month and signed this week with the New York Jets. Roos said the line will look forward to blocking for running backs Shonn Greene, Dexter McCluster, Jackie Battle and Leon Washington.
"It's been a fun six years (with Johnson) and it's been a lot of good times. He's done a lot in the six years that not many people have. I don't know if he's ever gotten as much credit as he deserves for really never missing practice and never missing a start," Roos said. "It will be, in a lot of ways, good for us and good for him. Sometimes change is good, and it will give him a fresh start and I'm sure he'll have a pretty good year."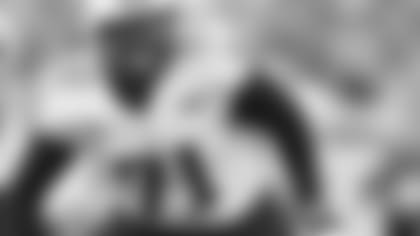 Michael Roos, a constant on the Titans' offensive line since his selection in the 2005 NFL Draft, is embracing the changes that Tennessee is making this offseason.
Roos has been as permanent as a player can be in nine NFL seasons. The 2005 second-round pick started his first 119 career games. The streak was halted because of an emergency appendectomy in 2012, but Roos returned the following week and hasn't missed a game since.
This time a year ago, the Titans had signed left guard Andy Levitre in free agency and were preparing for the 2013 NFL Draft in which they selected right guard Chance Warmack in the first round (10th overall) and center Brian Schwenke in the fourth round (107th overall). Warmack started immediately, and Schwenke battled through injuries in training camp to make his first start in Week 7.
Roos said it helps to already have the projected starters in place as Tennessee is taking advantage of a two-week extension that is added to the start of the offseason program for NFL teams with new head coaches.
"We can all learn together and talk about it together however we need to scheme-wise," he said. "I think it's a new offense to everybody, so it's good to be able to bounce ideas off each other.
"The bad thing for (Warmack and Schwenke) is they had to learn a new system at this time last year and now they have to learn a new one," Roos said. "I think for Brian, knowing he's the guy, he's the center this year, it will give him that much more chance to lead the huddle and at the line of scrimmage. For Chance, it's getting stronger and keeping his weight where it should be and taking that next step."
Roos said there are similarities in the run game to previous seasons, but the offense will implement a "completely different language" where some of the same words remain but have different meanings. He said there will be more changes to the passing game. "There's definitely, in areas, a lot more pieces to the puzzle, a lot more terminology," Roos said. "I think it can be good in a lot of ways. It adds more confusion and complexity for the defense to have to deal with. It's just a matter of us learning a new language, and who doesn't want to learn a new language at 31 years old?"