NASHVILLE, Tenn. – Many scores and seven years ago, the Titans were looking for a new long snapper.
Titans punter Brett Kern still remembers being called in by former special teams coach Alan Lowry to watch tape of a rookie by the name of Beau Brinkley, and then giving his endorsement.
Brinkley ended up being signed in May of 2012, and he's played in every game for the Titans over the past seven seasons. This past Sunday, Brinkley played in his 100th career regular season game.
Over the years he's been a teammate, a friend, a jokester, a golf partner, and a reliable pro in the eyes of Kern and Titans kicker Ryan Succop. In Brinkley's mind, the 100 games went by in a snap. He's had a ball, he said.
"It has definitely flown by," Brinkley said. "It seems like just yesterday when I came in. … But it's been great. And I thank the good Lord for every time I get the opportunity to play this game. We all know that on any given play something could happen and it could all be over. So I try and take advantage of every game I get."
Brinkley, whose father, Mike, was an All-American defensive end and long snapper at Missouri Valley College, learned the skill of long snapping from his father at the age of seven. Growing up, he watched others at the position – his idol growing up was Chiefs long snapper Kendall Gammon.
After making Missouri's football team as a walk-on, Brinkley earned the job as long snapper. He appeared in 50 games at Missouri before arriving in the NFL, where he's started every game of his career. In addition to handling all of the team's long snapping duties, Brinkley has also been credited with 40 special teams tackles since 2012.
"Just watching him grow on and off the field and seeing how he's gotten better every year -- he's so consistent," Kern said of Brinkley. "I think he is the best long snapper in the league."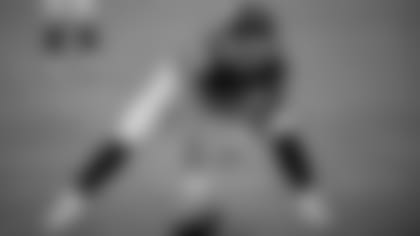 Brinkley's consistency helped Kern set franchise records for both gross and net punting average in 2017, and he helped the late Rob Bironas (2012-13) and Succop (2014-18) combine to make over 86 percent of their field goals. In addition to the 100 regular season games, Brinkley has also played in two playoff contests.
"He continues to get better and better on the field, which is hard to believe because he is already so good," Succop said. "I am super proud of him. … I really believe he is the best long snapper in the league, and I have thought that for a while. He does everything so well."
Brinkley said he treasures his friendship with Kern and Succop, two guys he said are like brothers. He credits the veteran specialists for inspiring him, and making him better on the field and in life.
Brinkley, Kern and Succop are deeply religious, and regularly take time to pray on the sideline. They spend time with one another off the field. Kern took Brinkley on an all-expenses paid trip to the Pro Bowl last season in Orlando. Kern said his kids think it's a treat to FaceTime with Brinkley.
"Just being around them has made an impact on me," Brinkley said of Kern and Succop. "You see their families -- they are great husbands and great fathers and they are good around other people. They treat others with respect, and are very Christian based and I am happy to have been around them and learn from them and pick up what they do and put my own twist on things.
"They have brought me back on my Christian roots, and they've been really key people to me, really like older brothers to help me develop as a person on and off the field. I don't think I could ever repay Brett or Ryan for that."
Brinkley also credited Kern and Succop, both scratch golfers, for also helping him improve on the golf course, where he's gone from a "18 to 20" handicap to an "8 or 9."
Brinkley has bragging rights over Kern and Succop when it comes to hole-in-ones, however – he aced the par-3 eighth hole at Gaylord Springs Golf Course back in 2015 -- and he's not afraid to bring it up.
"Sometimes when we all go out there (on the field), he'll make a joke about how he's the only one who's gotten a hole-in-one," said Kern, shaking his head. "He won't let us forget about it."
Kern and Succop credit Brinkley for bringing humor to the group.
"He definitely keeps it light, even on game days," Succop said of Brinkley. "It is not unlike him at all to crack a joke or something, even as we are running on the field. That is just his personality, and it has been great for all of us. It helps take the pressure off."
Said Brinkley: "I guess I am kind of the goofball of the group."
One-hundred games into his NFL career, Brinkley said he feels blessed, for a number of reasons.
It's safe to say Kern, Succop and the Titans feel the same way.
"It has been cool to see Beau grow as a player, and grow in his faith," Succop said. "He has just improved in all areas of his life, in my opinion. He has grown in his faith, and he is a great teammate. And he continues to get better and better on the field, which is hard to believe because he is already so good.
"I am super proud of him."