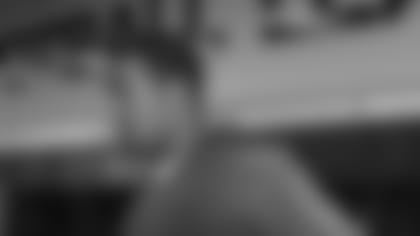 Defensive end Derrick Morgan clears out his locker a day after Tennessee's season came to an end. The Titans finished 9-7 in Mike Munchak's first season as head coach, surprising most everyone outside of Baptist Sports Park.
NASHVILLE, Tenn. — The Titans will look inward as part of the team's plan for moving upward, Mike Munchak said a day after his first season as Tennessee's coach ended.
Munchak said Titans coaches will meet and evaluate each other, and he wants to have conversations with each of the teams' 20-plus players whose contracts are up.
"I think it's good that they know what our plans are for them so it doesn't become a 'We haven't talked to the Titans situation.' I hope they want to be back here," Munchak said. "I hope it's because they think we're heading in the right direction and we've got something special happening here and even though we didn't get as far as we hoped to get, I think they feel it, I think they see it, (but) I know business comes into this."
Tennessee defeated Houston 23-22 Sunday and finished the season 9-7 but will be the only team in the NFL with a winning record to miss the playoffs. The Titans' 24-17 home loss to Cincinnati on Nov. 6 gave the Bengals the advantage in the head-to-head tiebreaker matchup.
Players went through year-end physical evaluations and dealt with emotions that ranged from disappointment of coming so close to the postseason, slight satisfaction from exceeding experts' expectations and an overwhelming desire to continue building on the progress made this season with several rookies mixed in with veterans.
Ten-year NFL veteran linebacker Will Witherspoon said players wanted to lay the foundation for the building project that Munchak envisions. Witherspoon finished his second season with the Titans and has a year remaining on his current contract. He said he's not surprised that defensive backs Cortland Finnegan, Chris Hope, Jordan Babineaux and Michael Griffin (whose contracts are up) expressed an interest in coming back.
"It's a testament to what he's done," Witherspoon said. "He's done a great job of manufacturing himself as a head coach. Everybody looked at it and said, 'We're not sure exactly how he's going to come at it,' but 'Munch' has done a great job. He's really been able to put his stamp on it. He's really done everything he needed to as a head coach. We've all played hard to make sure that we're living up to that standard. To get all those guys back, and have all those guys want to come back, that's saying enough right there."
The hiring of Munchak, offensive coordinator Chris Palmer, defensive coordinator Jerry Gray, multiple assistants on both sides of the ball, the departure of two quarterbacks and the lockout that prevented offseason workouts and condensed the signing period created low expectations outside the locker room.
"I think for a lot of teams it limited the mobility," Witherspoon said of the lockout's effect. "There weren't as many transactions that happened. A lot of teams that were good teams did not have to worry about going into the offseason and saying, 'Who are we going to sign? How are we going to get that? How are we going to get these guys back?'
"You see some good teams that were all together and had none of the changes that we had, you saw where they got to continue their path and grow from there," Witherspoon continued. "With a team like ours, we had a change. We've had, from top to bottom, a lot of things that were moving, changes all over the place. To end up where we are is a good point, but I think we all feel that we could have done better."
The Titans managed their first winning season since 2008, ranked eighth in the NFL in points allowed and put up passing and receiving statistics that Tennessee hasn't posted in several seasons.
"Coach Munchak is doing something really special around here," Finnegan said. "He plans to talk with everyone, so we'll see what the future holds. In five months, this team came together and did something not a lot of people thought we would do and that was have a crack at the playoffs."
Finnegan started at cornerback and moved to nickelback in Gray's defensive scheme. Finnegan has played each of his six seasons with the Titans. He said Monday that he enjoyed being part of a "three-headed monster" with cornerbacks Jason McCourty and Alterraun Verner and believes Tennessee's defense will only get better.
"I think it would be huge for guys to come in and really know the scheme and we'll be able to do a lot more," Finnegan said. "I think we were limited in what we could do because some guys were learning it on the run."
Tennessee's 2011 draft class contributed significantly throughout the season, with four defensive rookies accounting for 39 starts this season. Linebacker Akeem Ayers started every game, defensive tackle Jurrell Casey started 15 games, linebacker Colin McCarthy started seven games and Karl Klug made one start at defensive tackle and led the Titans with seven sacks on the season.
"It's going to be great working with those guys in the future," Casey said. "We all told each other that everybody was going to be working hard and dedicated to winning. Everybody did their part. Everybody made plays, fit into their roles and made significant plays throughout the year. (We're not veterans yet), but have the upper hand that we can come in without the nervousness and play."
The early success wasn't limited to defense, however, as Jake Locker filled in at quarterback when Matt Hasselbeck was injured. Locker completed 34 of 66 passes for 542 yards and four touchdowns in five game appearances.
Munchak said he expects Locker and Hasselbeck to push each other in the offseason as they compete for the starting quarterback job next season. Hasselbeck started all 16 games this season and threw for 3,571 yards becoming only the second player in Titans/Oilers to throw for more than 3,500 yards in a season (Warren Moon 1989-91).
Free agency will begin on March 13, and Tennessee will have the No. 20 pick in NFL Draft in April. Munchak credited Titans' personnel and scouting departments for the success of the 2011 draftees.
"If we could do that again, we're going to be pretty darn good," Munchak said. "We hit on a lot of guys that contributed in a big way, so I think it's exciting. I know we're excited about that. I think the players are. They didn't hit any rookie wall. These guys got better as the season went on, especially the defensive line. You expect those guys to get kind of worn out or beat down, but they did a great job of getting better every week. The veterans saw that and were excited by that. You've got a nice little core here—something we can build on and I think that's part of selling it to the guys that were in (the final team meeting)."