**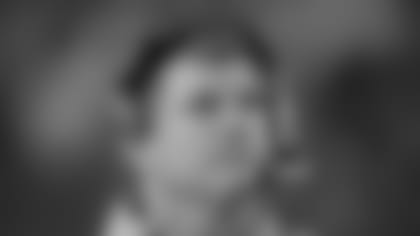 Offensive line coach Mike Munchak was interviewed for the team's head coaching vacancy on Monday.
NASHVILLE, Tenn. -** The Tennessee Titans have started their search to replace Jeff Fisher as head coach by staying in-house for their first interview with Hall of Fame lineman Mike Munchak.
The Titans confirmed they completed the interview of the offensive line coach Monday on Twitter. Munchak is considered the top candidate for the head coaching vacancy.
Munchak, who turns 51 in March, has worked for Titans owner Bud Adams since the then-Houston Oilers made him the eighth overall draft pick in 1982 out of Penn State. As a player, his career spanned blocking for fellow Hall of Famers Earl Campbell in a pounding run game to the run-and-shoot with Warren Moon.
Offensive coordinator Mike Heimerdinger also is expected to interview.
Munchak played in 169 games for the then-Houston Oilers before he retired in 1994. He became the fifth player from this franchise inducted into the Hall of Fame - the first who spent his entire career with this team.
Munchak had the club record with nine Pro Bowl berths when he quit playing, and Adams retired the lineman's No. 63 in 1996. Only Earl Campbell, Jim Norton and Elvin Bethea had that honor previously.
He immediately went to work as an assistant coach, helping the offensive staff and working as a quality control assistant. He held that job through 1996 when Jeff Fisher promoted him to coach the offensive line, a job Munchak has held the past 14 seasons.
As offensive line coach, Munchak has been involved with both the running and passing offenses.
"He is one of the candidates,'' Adams told The Tennessean on Sunday before the interview. "I think he would be a good coach, but we have to go through a procedure and interview different coaches and there will be some good ones we talk to.''
Munchak's offensive lines are why the Titans lead the NFL with most 1,000-yard seasons with 14 since 1996, a span that includes Eddie George, Chris Brown, Travis Henry, LenDale White and now Chris Johnson. That included Johnson's performance in 2009 as only the sixth man in NFL history to run for at least 2,000 yards.
Under Munchak, the Titans have had the luxury of spending few high draft picks on offensive linemen with his ability to groom them into top players. Michael Roos is the highest lineman drafted, taken in the second round in 2006. All he's done with Munchak is start every game, sliding from right tackle as a rookie to left tackle.
His other starters this season included center Eugene Amano, a seventh-round draft pick in 2004, with right tackle David Stewart a fourth-round pick in 2006 who has missed only one start since joining the rotation later that season.