NASHVILLE, Tenn. — The Titans used an aggressive approach in free agency, adding projected starters and depth at positions across the team, and look forward to being decisive in the 2013 NFL Draft.
The free agency frenzy brought in 12 players from other teams since March 12 that the personnel and coaching staffs believe will be helpful in the fall, but assistance may come before that in the form of helping Titans leaders avoid pigeonholes during this week's draft.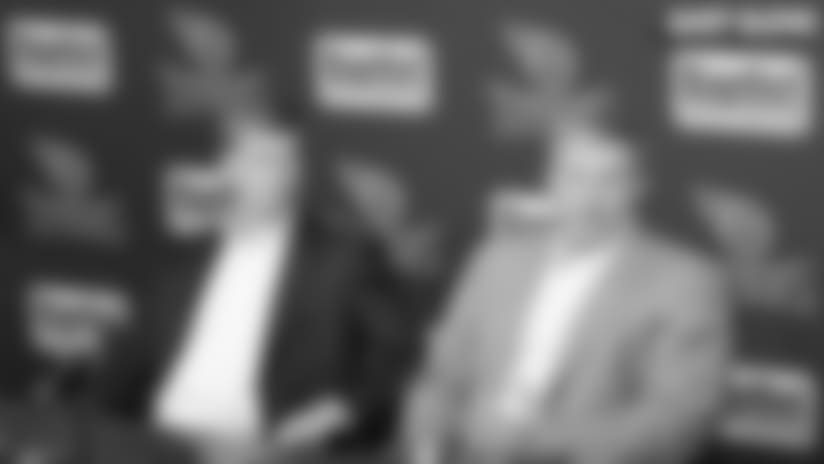 Ruston Webster is preparing for his second draft as Titans general manager, and Mike Munchak for his third as head coach, but each has decades of experience with drafts in different capacities. Both spoke Tuesday about keeping their options open with the overarching goal of building a team that will improve on a 6-10 mark in 2012 and challenge for a playoff spot.
Current players began the team's offseason conditioning program Monday as scouts and executives continued their draft preparations. Tennessee has the 10th overall pick in Thursday's first round and is scheduled to have nine selections during the three-day event. Click here to visit Titans Draft Central.
"It just gives us a little more versatility on what we are doing," Munchak said. "When you add the guys we were able to add and to have them in the building the last couple of days, it has been nice to see these guys interact with each other and get to know each other. 
"It makes you feel even better about the guys we have brought in already," Munchak continued. "I think you go into the draft now just trying to find nine more guys that can come in and compete and make this even a stronger roster. You can pick and choose who you want as you go through the draft and what is best available and who is the best athlete, who gives you the best chance to win as we go through the different rounds."
The Titans/Oilers franchise has never picked a player from the 10th spot in the NFL Draft. Tennessee used the 20th pick last year to select receiver Kendall Wright and the eight pick of 2011 to choose quarterback Jake Locker.
There are fewer teams in front of the Titans' first spot this year, but that doesn't mean it's been easier to project what those teams will do with the first nine picks.
"I think it's more difficult this year," Webster said. "I think it just changes from year to year. Sometimes you have a great feel for what's going to happen. Other times you don't. I would say this year is one of the years that's a little more unpredictable."
Mock drafts fired up in January with experts predicting the player that the Titans will select in the first round. The projected opinions have multiple variables that have shaped them and have periodically changed. Most projections have forecasted an offensive or defensive lineman, but some have predicted a player in the secondary.
Webster said he's learned it's best to have about five or six players in mind for each pick. He has said in the past that offensive line and defense would be good options for the Titans' 10th pick but added Tuesday that the team will look for opportunities to get better anywhere on the roster.
"I think what we are looking for is to add competition everywhere, and so I don't see there being many positions where we feel like we are set or we are done," Webster said.