NASHVILLE, Tenn. — Removing one or two points can really change viewpoints.
This is not in reference to a scoreboard but what can be seen by players in different defensive stances.
Titans outside linebacker Shaun Phillips has known this for quite some time. It's been a while, but Kamerion Wimbley agrees, and Derrick Morgan has quickly learned this.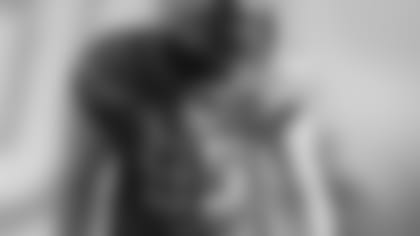 Shaun Phillips is excited to play more in a two-point stance like he did most of the time in San Diego.
The points refer to number of connections a player has with the ground before a snap: both hands and feet is a four-point stance, one hand and two feet is three points (which is quite common for a 4-3 edge-rushing defensive end), and standing upright is two points (quite common for an outside linebacker in a 3-4).
Phillips signed with Tennessee as a free agent this offseason and expects to play more from a two-point stance this fall (as he did his first nine pro seasons in San Diego) than last season when he played defensive end in Denver's 4-3 scheme.
The Titans are installing a hybrid system with elements of a 3-4 and 4-3 under new defensive coordinator Ray Horton, and that includes adding LB responsibilities to the DE position titles that Wimbley and Morgan have held in previous seasons in Tennessee.
Phillips is excited to reprise the role in which he's excelled.
"I feel like I can make a lot more plays when I stand up and I can see everything and play linebacker as opposed to defensive end, where I played last year," Phillips said. "It was just, 'Rush the quarterback.' I didn't get a chance to use my brain. It was more braun than brain, and now I get to use my brain and my braun and I'm looking forward to it."
Phillips played defensive line in college at Purdue but was drafted by San Diego in the fourth round of the 2004 NFL Draft. The number of 3-4 base defenses in the NFL has increased, and so has the amount of information to process before the snap.
"When I first came in, teams used to line up in a formation and go," Phillips said. "Now, everyone shifts, runs motions, quick snaps, and when I first came in, it was lined up in a formation, this was what they were going to do. There was not much shifting and motioning, so the game has changed in that way and it's a lot faster."
Wimbley also has played well as an outside linebacker in 3-4 pro defenses before signing with the Titans in 2012, but it is a new experience for Morgan. Wimbley and Morgan were able to work as outside linebackers during last week's voluntary minicamp. The Titans opened Phase II of their offseason program Monday, which involves three weeks of on-field work between assistants and their positions without helmets or any team periods.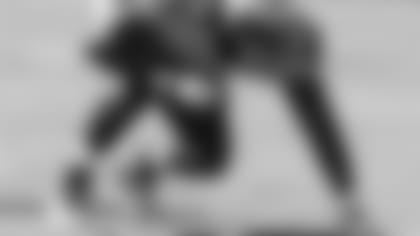 Kamerion Wimbley, above, and Derrick Morgan may play less from a three-point stance in 2014 than they have so far with the Titans. Both said they like improved visibility of an offense that is available from two-point stances.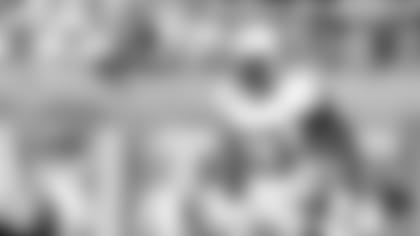 Titans coach Ken Whisenhunt said Morgan and Wimbley "had a good week" and the minicamp gave coaches better insight into what they can ask all defenders to do in the scheme.
"They looked good in whatever we've asked them to play," Whisenhunt said. "They played a lot of different positions for us. It's really been good to see two guys like that work the way they do, two veteran players. I feel like they're good players. We're going to ask them to do a lot of different things to see them. You can watch last year's tape, but to see them do some of the things that are intrinsic to our defense … it's good to get that work."
With the 2014 NFL Draft scheduled for Thursday through Saturday, there could be instances in which teams will make decisions based on their evaluations of whether a prospect is capable of switching from the 3-4 or 4-3 system from college to the other in the pros. NFL media analyst Mike Mayock spoke about this at the 2014 NFL Combine in February. He recalled conversations he had with Kansas City's Tamba Hali and Philadelphia's Trent Cole and demonstrated the differences in eye levels during a podium session with members of the media.
"(Hali) said when your hand is in the dirt ... you're looking at that tackle, and that's basically all you see," Mayock said. "When your hand is in there, that's all you can see. When you're standing up, now I see all of you guys. Tamba Hali said the hardest thing he had was day one, saying, 'Oh, my goodness, I'm seeing the whole game right now, whereas before I only saw the left tackle.' I think the first thing is your eye level and your eye discipline.
"I asked Cole from the Eagles the same question and he doesn't like seeing the whole field," Mayock continued. "Some guys want to see more players, and other guys want to narrow it down so it's just one-on-one, so I think when you stand up, everything changes. I think when you drop back, think about it, you've spent your whole life going forward, now I've got some coach telling me I've got to drop back, and some guys can and some can't."
Wimbley and Morgan noticed how much more of a formation they can see from a two-point stance.
"When you're in a three, you basically have to key your guy on the ball and don't really see it until after the snap," Wimbley said. "You don't see what your opponent is doing until after the snap. Whereas, when you're in a two-point stance, you definitely have better vision and you can see everything."
Morgan said he thinks being able to gather information from the different formations to reveal opponent tendencies is "going to be a lot more beneficial to me."
"Standing up and being able to see the whole offense and see what's going on gives you an advantage as a defensive player," Morgan said. "I like it so far and I'm ready to keep getting more comfortable in the new scheme and keep getting better at it."
Wimbley and Morgan also said there is more potential to perplex offenses with use of a two-point stance than a constant three-point look.
"I think it helps out disguise-wise. In a three-point stance, you pretty much know this guy is coming," Wimbley said. "You can switch it up a little bit and keep the offense on their heels or the tackle, so being in the two-point stance gives you more of an advantage as opposed to a three in certain situations."
Added Morgan: "You don't want to give offenses keys on, 'Every time he's in a two-point he's going to be dropping and every time he's in a three-point he's rushing,' so we're just going to mix it up to keep offenses off balance and kind of disguise it a little bit. We'll game plan and go from there."