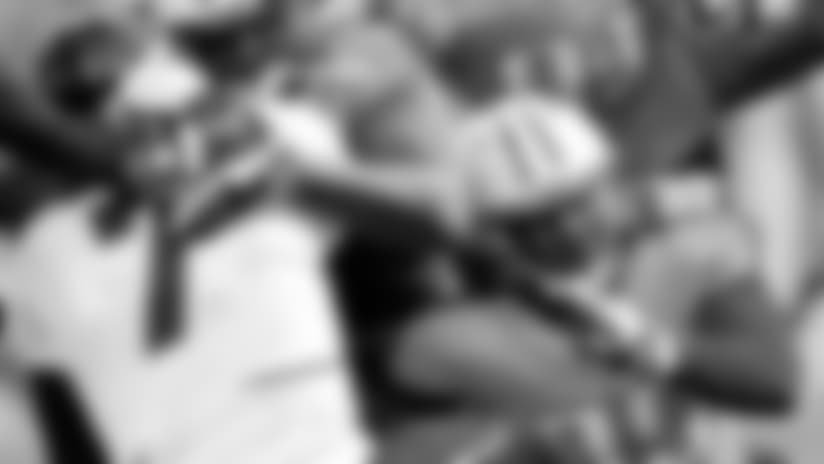 NASHVILLE, Tenn. --The Tennessee Titans insist they will not overlook the winless Jacksonville Jaguars.
Now they just have to prove they mean what they say.
The Titans became the first team to lose to the previously winless Colts in 2011, a loss that kept the Titans out of the playoffs by virtue of a tiebreaker. In 2012, they became the first team to lose to the Jaguars in Jacksonville as they dropped four of their final six slumping to a 6-10 finish.
Now the Titans host the Jaguars (0-8) on Sunday with an AFC South showdown with Indianapolis looming four days later.
"We know we can't overlook nobody," Titans running back Chris Johnson said.
The Titans (4-4) snapped a three-game skid last week with a 28-21 win at St. Louis and see their chance to make a move toward this franchise's first playoff berth since 2008. Bud Adams, the man who hired Mike Munchak as his coach, died Oct. 21, but a winning season remains the goal of the late owner's family.
"We need to have our best effort if we're going to win this one and have to play Indy next," Munchak said. "We have to be getting better every Sunday, or it's not going to happen."
The Jaguars are coming off their bye, a much-needed break following their trip to London and a 42-10 loss to San Francisco. First-year coach Gus Bradley lost receiver Justin Blackmon last week to an indefinite suspension for violating the NFL's substance-abuse policy, but he sees his team responding to a challenging season.
"We feel like it's heading in the right direction to ultimately where we trust enough that those things come."
The Jaguars have won three of the past five in this divisional rivalry. Both Maurice Jones-Drew and quarterback Chad Henne have had big games against the Titans. So what would a win now mean for Jacksonville?
"It would be awesome," Jones-Drew said.
---
Here are five things to watch Sunday between the winless Jaguars and Titans:
JOHNSON IN NOVEMBER: The Titans running back is at his best in November averaging 108.5 yards rushing per game in his career, the best for any back in the NFL for this month since 2008. Johnson kicked off November with his best game this season running for 150 yards in St. Louis, and now he goes against the league's worst run defense. The Jaguars have given up more than 150 yards in three games and more than 220 twice.
STACKING UP SACKS: The Titans had seven sacks in each of their games with Jacksonville in 2012. The Jaguars already have allowed 28 sacks this season, allowing six in two games. Titans defensive tackle Jurrell Casey has a team-high six sacks himself, tied for second among defensive tackles in the NFL.
MJD ROLLING: Jones-Drew has 1,000 yards rushing and nine touchdowns in 12 career games against Tennessee. In his last five meetings against the Titans, he has run for 620 yards with four TDs on the ground. He has carried 112 times for 678 yards and five TDs at LP Field — the most by any opponent on the Titans' home turf. And while he's still recovering from a serious foot injury, Jones-Drew is coming off his best performance of the season — a 75-yard rushing day against San Francisco in London.
LOCKER AT HOME: Titans quarterback Jake Locker is playing very well in Nashville this season. He's 2-1 completing 64.7 percent of his passes for 774 yards with six touchdowns and only one interception. That gives him a 103.1 passer rating.
EPIC SEASON: The Jaguars played the toughest first-half schedule of any team in the league and also became the first NFL team since the 1984 Houston Oilers to lose its first eight games by double digits. The Jags have lost by an average of 22 points. According to STATS LLC, the only team to fare worse was something known as the Chi-Pit Cards-Steelers, a 1944 amalgamation of two franchises because of World War II. The Cards-Steelers went 0-10, losing by an average margin of 22 points.