TITANS GENERAL MANAGER RUSTON WEBSTER
(on the depth of this year's draft class)
It is always deeper in some positions than others, but as a whole, when you have as many juniors come out as came out – I think over 100 – that is going to add depth to the class for sure.
(on his impressions of Missouri's Michael Sam)
I think Michael Sam is an effective outside pass rusher. He has some strength at the point. But his main thing is getting up the field and rushing the passer and putting pressure on the quarterback. He was obviously very productive doing that.
(on how he would rate the contributions of Delanie Walker and Justin Hunter)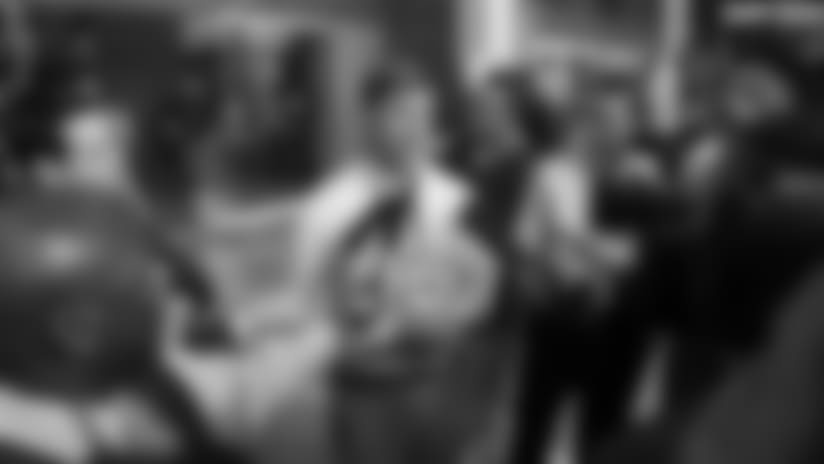 ](http://www.titansonline.com/media-center/photo-gallery/Titans-Photos-from-the-2014-Scouting-Combine/82dc0215-a859-4950-b3dc-76d05ffe59ef)
Titans GM Ruston Webster speaks with reporters Thursday at the NFL Scouting Combine. Click here for a slideshow.
I think Delanie will be in a similar role this year, and he was really good for us on third down, he's a good matchup in those situations. Delanie is a very competitive guy and he really stepped up for us. I would say Justin, for somebody that came in, is an improving player. He flashed. He made some big plays, had some big games for us. And he'll just continue to develop and get better. He has a boatload of talent.
(on the biggest needs for the Titans)
I think we'll continue to look both offensively and defensively. Offensively, we'll continue to work on our offensive line and building that and getting better, and defensively, I think there's nothing that we can't add that could help us.
(on if the Titans need to adjust what they're looking for on draft day with the plan to play more 3-4/hybrid defense)
I think it opens things up for us, I really do. I think it opens things up for us for those in-between rushers. Maybe they are not a 4-3 end exactly, but in a 3-4 and the way we're going to play in this hybrid defense, they'll fit that and will give us something. Defensively I think it has opened things up and created some nice avenues for us.
(on the maturity level of juniors)
Any time you are talking about juniors, that is a concern. Young players, players that may only be 21 or whatever. So we have to do our research and any of those guys that we draft, we have to feel good about, that they're mature enough that they'll be able to come in and handle playing on an NFL team, being in an NFL city, and being high profile.
(on how difficult it has been to evaluate Jake Locker's progress)
The only thing we can really evaluate for us with Jake is how he has been in practice when he's been healthy and how he has played when he's been healthy. And he's played well. Last year, I think we were 4-2 with him as a starter and we were playing pretty well before he got hurt. So from that standpoint, the view we have is good. It is really about him just staying healthy and he knows that.
(on how the Ken Whisenhunt pairing will be with Jake Locker)
I think that is going to be good. Jake is his kind of guy from the standpoint of his work ethic and the way he attacks the game from a mental standpoint. Jake is going to be around the office all the time watching film and trying to get better and I really think that is the first thing coach Whisenhunt wants.
(on making a decision on Chris Johnson)
I think you just work through the process and go through all the pieces of the puzzle, one of them being this right here, seeing what is out there at that position and all that. And Ken has to take some time because he has never coached Chris Johnson, so he is going through the evaluation process himself. We are not going to push it. If we did make a decision, it would be whenever we felt comfortable.
(on how patient the Titans can be with that decision)
We can be as patient as we want to be.
(on the juniors being added to the draft class)
The pros are that it adds depth, and most of these guys that come out are talented players. They might not be fully developed, and that would be one of the cons. Just their maturity level, what is that? Are they ready for the NFL? What were the reasons why they came out? Do they need another year or two to develop? It is very difficult to take developmental players. Everyone wants to win now. So if you take a guy that is two or three years away, he may be playing for the next GM, or the next head coach. So I think those are some of the issues. And also you don't have the body of work. When you go into a school and are scouting, in the fall, you are focused on the seniors. So you don't get quite the same look. You are playing catch-up.
(on his impressions of Titans DT Mike Martin)
Mike is a hard-charging, quick, athletic nose who plays very well for us against the zone stretch type teams. Mike was always a very good player for us against Houston because he stays on his feet and is able to work laterally very well.
(on linebackers Khalil Mack, C.J. Mosley and Anthony Barr)
They are different. Mosley would be more of a true, off-the-ball linebacker, the other guys are a little more of the on-the-line pass rusher.
I think obviously you are always chasing the leader, which at this point and time is the Colts. But I think in all our games with the Colts, they have been close and tight games, and it will continue to be that way. I do feel like it has been proven in the league you can make quick steps and improve in your division and that is our goal. But the Colts are the leader right now and that is where you need to get to.
(on whether the team is talking with cornerback Alterraun Verner's agent)
We have been talking and we'll continue to talk.
(on how important the interview process is at the Combine)
I think it is like anything else. If you come here and watch the guys that work out, there is a group that stands out, there's a group that might struggle and there is a big group in the middle. In those interviews we are looking for the guys that stand out or the guys that might struggle. It is helpful, but it is not the end-all, be-all, just like the workout is not the end-all, be-all. You do your research on players and try and do as much background as you can, and that has to weigh into it to. Somebody just may not be a good interview, but that doesn't mean they're not going to be a good player and it doesn't mean that they don't have the right make-up that you want for your team.