Andy Levitre stood in awe.
He gazed at the Great Wall of China with appreciation for its engineering marvels and the amount of work it took to bring it to fruition.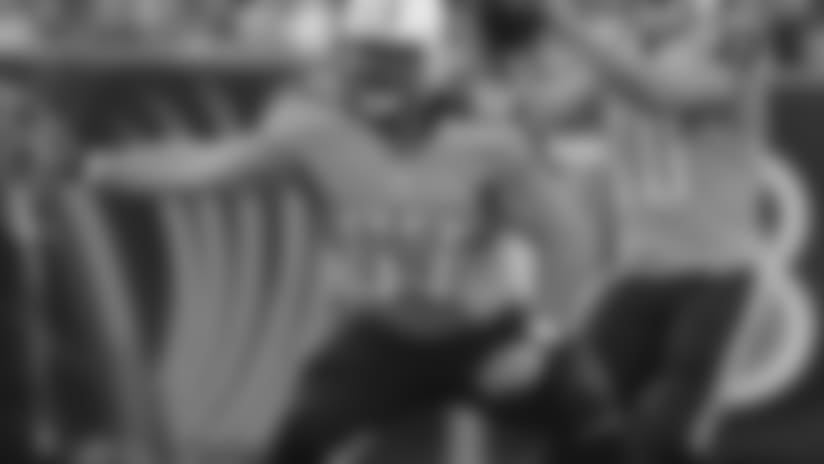 Guard Andy Levitre is part of the Titans' overhaul of the interior of their offensive line. He signed with Tennessee as a free agent after four seasons and 64 starts with the Buffalo Bills.
"When you actually get there and see how big the stones are on that wall and how, back then, they moved stones that large up this mountain and built this wall, it's unbelievable to think how it was built," Levitre said. "They still fix it up every once in a while but it's just mind-boggling to see and actually be able to climb on it."
Levitre's trip in March 2012 included a toboggan ride down the mountainside that catered to his adventurous appetite. He feeds that side of his personality by seeking unique experiences during his free time, but takes a blue-collar approach to improving his game that enables him to move defenders on run plays and wall off rushers on pass plays.
This March, Levitre became a keystone in the rebuilding project undertaken by the Titans, who signed him to a multi-year contract as a plan to boost their offensive line. Multiple teams were interested in the 6-foot-2, 303-pound guard, who started all 64 games (59 at left guard, four at left tackle, one at center) during four seasons in Buffalo after the Bills executed a trade to draft him in the second round with the 51st overall pick of the 2009 NFL Draft.
"He's probably, if not the best, one of the best offensive linemen in the league at using his hands," Titans offensive line coach Bruce Matthews said of the demand for Levitre. "He does a really good job of fitting up with his hands, which in our world, that's one of the most important things, if not the most important."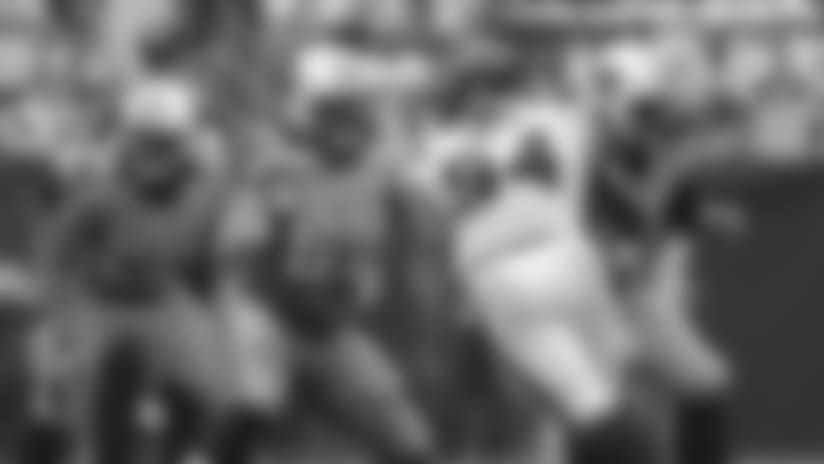 Levitre prepares for a pass rush by Texans defensive end Antonio Smith during Tennessee's visit to Houston in Week 2.
Matthews said Levitre's combination of that technique with footwork, God-given athletic ability and motivation was why he was so appealing to multiple teams, and it showed "every game" as Matthews watched all the game film from Levitre's 2012 season.
Levitre's improvement as a professional has occurred block by block and level by level.
The second oldest of five brothers grew up in Felton, California, just north of oceanfront Santa Cruz. He considered playing collegiately with his older brother, Erick (a guard at Arizona from 2002-06) but decided Oregon State would provide the best opportunity. He appeared in every game as a redshirt freshman and closed his career with 35 straight starts, primarily playing at tackle but also logging playing time at guard and tight end.
After training and participating in the NFL Combine, Levitre heard he could expect to be selected in the second through fourth rounds of the NFL Draft and Buffalo was interested. The Bills selected Jairus Byrd earlier in the second round, then traded with Dallas to get the 51st overall spot and picked Levitre, who was one of four rookie offensive linemen to start each game that season. He said it was important to him to make the Bills glad they traded to get him and improve with every opportunity.
"I don't think I played well my first year but I played as hard as I could, trying to finish and stuff like that just to show them that I have those qualities about me," Levitre said. "I think my third year I was picking up technique and the game was starting to slow down for me. I could see things happening a lot better than in years past, so I feel I made my biggest stride between my second and third year."
Matthews, a Hall of Famer who played offensive line 19 seasons, said it's quite common for a player to need an adjustment period "for that proverbial switch to be thrown."
"For me it was like from year four to year five when I really felt I can play this and do it well," said Matthews, who began a streak of 14 straight trips to the Pro Bowl after his sixth season.
Matthews said Levitre is hitting his "peak years" physically and his versatility has been an asset because the Titans are able to run more plays that put him in space, but he's also "a very good matchup for those inside rushes."
Guards often play in confined space between a tackle and the center, but Levitre's footwork allows the Titans to "pull" him away from that area so that he can become a lead blocker on run plays. Levitre said the experience he gained from playing tackle in college taught him about angles at the point of attack on such run plays or screen passes. Levitre also made one of the key blocks for Jake Locker's 7-yard touchdown run against San Diego.
"I don't know if it necessarily prepared me for guard, but I think it helped at tackle, being able to move around a lot and in space," Levitre said. "Guards are usually pretty confined in the line, but at tackle you have more space to work with, so (it helps) when we run screens and need to get up on the linebackers. The guard can pull and have that space between you and the linebacker, and being a tackle helps that closing distance in space and understanding angles to attack people."
Levitre said he's benefitted from the opportunity to block for C.J. Spiller in Buffalo and Chris Johnson in Tennessee because of what both backs are capable of doing in space.
"They're pretty similar: both fast, quick; they've got great moves and get in the open field, speed," Levitre said. "I guess I've been lucky to have two running backs as good as they both are. It makes our job a little less stressful. Obviously you don't want to mess up, but if you do, they're good enough to be able to get away from things like that at times, so it helps build confidence."
Levitre enjoyed his time in Buffalo, where a "Levitre Land" flavor (strawberry cheesecake ice cream with chocolate covered pretzels) created by Lake Effect Artisan Ice Cream was available. He inspired the flavor after meeting the company's owners (two teachers who make unique ice cream in their spare time).
Aside from the heat and humidity he encountered during training camp, Levitre said he's liked his time in Nashville, including the opportunity to find barbecue joints and his experience with the Titans.
"It's been good," Levitre said. "There are really nice people out here, and it's as laid back as you want it to be."
The prospect of coming to Nashville and becoming a Titan "popped up every time" he thought about free agency and he wants to help build something special here.
Levitre said he had always admired the Titans since making his NFL debut with Buffalo against Tennessee in the Hall of Fame Game to open the 2009 preseason. The teams met again in the 2009, 2011 and 2012 regular seasons.
"I really had a lot of respect for them from playing against them," Levitre said. "Defensively, they're aggressive, they're relentless and every time you play them, preparing for them and watching them on film, they were a lot different than most teams. They're a little more unconventional in the way they play and play with a lot of passion.
"I wasn't sure how the rest of the team was, because I was watching the defense, but there was just something that got me fired up every time we got to play them," Levitre continued. "To be able to be on the same team and get that feeling from the guys in the locker room is proof that they are what I thought about them."