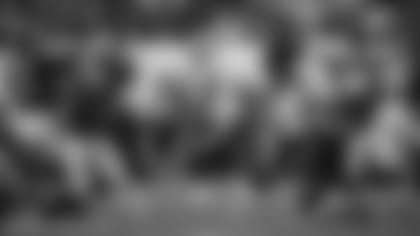 PHILADELPHIA (AP) — Zach Mettenberger passed for a career-high 345 yards and two touchdowns and Delanie Walker had one of his best days as a pro, but the Titans ran into trouble from the opening kickoff and never fully recovered in a 43-24 loss to the Philadelphia Eagles on Sunday.
Josh Huff returned the opening kickoff 107 yards and LeSean McCoy rushed for 130 yards and a score, dropping the Titans to 2-9 on the season.
"That's not the way you want to start the game off," Titans coach Ken Whisenhunt said.
The Eagles sacked Mettenberger five times, including 2 1/2 by Connor Barwin and two for Trent Cole. Delanie Walker caught five passes for a career-high 155 yards for the Titans, the second highest total by a tight end in franchise history.
Mettenberger's 345 passing yards set a new single-game franchise record among rookie passers, breaking the previous mark set by Jacky Lee, who passed for 331 yards against the Boston Patriots on Nov. 25, 1960. The total was also the most by a rookie QB in 2014, passing the previous high set by Jacksonville's Blake Bortles (336 yards) at Tennessee on Oct. 12.
The Titans, who didn't allow any sacks in last week's loss against the Steelers, could never sustain a serious rally against an Eagles defense that swarmed Mettenberger. Tennessee got within six in the second quarter on a 40-yard touchdown pass from Mettenberger to Justin Hunter and Shonn Greene's two-yard touchdown run, then watched the Eagles (8-3) pull away and put a a 53-20 loss at Green Bay behind them.
"This is a pressure team. They bring it after you," Whisenhunt said.
The Titans have lost five straight games and nine of 10 after beating Kansas City in the season opener. Up next, at Houston against a Texans team that beat them 30-16 on Oct. 26.
"It's not looking real good for us for the playoffs," Mettenberger said. "It's about pride. The work is there. The extra time put in is there. We just can't seem to get everything going at once."
Walker's return after a one-game absence from a concussion suffered against Baltimore was one of the highlights for the Titans.
"It was a good day, just to have a concussion and come back to do what I did," he said. "But I'm not really happy about it."
After the first of four straight three-and-outs to start the game by the Titans, the Eagles went up 14-0 on a 4-yard TD run by Darren Sproles.
LeSean McCoy had a 2-yard TD run in the second quarter. Mark Sanchez, who threw for 307 yards and one touchdown in his third start for the injured Nick Foles, fired a 14-yard TD pass to James Casey in the third quarter.
The Titans didn't get a first down until Mettenberger's 40-yard TD pass to Hunter on their fifth offensive series. Brandon Ghee intercepted Sanchez at the Eagles 30 to set up the score that cut it to 17-7.
Mettenberger tossed a 68-yard pass to Walker to start the next drive to set up Greene's 2-yard TD run, cutting the deficit to 20-14.
Cody Parkey kicked field goals of 36, 26, 35, 40 and 50 yards but his 49-yard attempt hit the post at the end of the first half to snap his successful streak at 17.
Walker said the first four series hurt the Titans.
"It was a big killer," he said. "Their crowd was into it, they were jumping around very excited. When you get that type of momentum at your home field, it can go a long way, which it today."
The Eagles beat the team once known as the Houston Oilers for the first time in the Titans era. They were 0-4 against them after their move from Houston to Tennessee.
"We just weren't able to protect the ball like we wanted to," Mettenberger said. "We needed more points, more first downs."
NOTES: The Eagles are the first team since the Packers in 1970 to have two players with kickoff returns of 100-plus yards in the same season. Chris Polk had one for 102 yards in Week 3 vs. Washington. ... The 10 touchdowns on special teams and defense are a franchise-record for the Eagles. ... Mettenberger's 345 yards passing a rookie franchise record. ... Sanchez was intercepted twice and has six picks in four games. ... Donovan McNabb, Michael Vick and Nick Foles also had three straight 300-yard passing games for Philadelphia. ... Eagles LB Emmanuel Acho injured his groin chasing Walker on the long catch and didn't return. ... Titans C Brian Schwenke caught a batted pass for a 6-yard gain before he fumbled it away. ... Eagles Barwin has a career-best 12 1/2 sacks. ... Parkey broke a team record with his fourth 50-plus yarder in a season.
The Tennessee Titans take the field for a 2014 Week 12 game against the Philadelphia Eagles at Lincoln Financial Field. (Photos: Donn Jones, AP)