**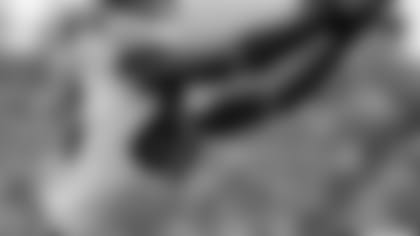 Nate Washington's 8-yard touchdown catch gave the Titans a 21-7 lead in the second quarter.
NASHVILLE, Tenn. --** Don't call the
Houston Texans
a finesse team. Not after standing toe to toe with the Tennessee Titans and pulling a victory out of a slugfest.
Matt Schaub trumped Chris Johnson's career day by throwing for four touchdowns to go with 357 yards. Kris Brown kicked a 23-yard field goal in the closing minutes, and the Texans ruined the Titans' home opener with a 34-31 victory Sunday.
Johnson scored three touchdowns and ran for 197 yards.
The Texans spent the past week answering questions about their toughness after being embarrassed by the New York Jets 24-7 in their home opener. Coach Gary Kubiak said the win didn't answer any questions about Houston's toughness, though what he liked best Sunday was how Houston battled back after trailing 21-7 early in the second quarter.
"It says a lot about what your guys stand for," Kubiak said.
The celebration inside the Texans' locker room easily could be heard outside before the doors opened. Schaub said there will always be questions from outsiders.
"This shows what kind of team we are and what we're becoming and what our mentality is. We had to go out and play four quarters against a very good football team," Schaub said.
The Texans (1-1) won their first game in the month of September since Sept. 16, 2007, and just their second ever in Nashville.
"It started off ugly, but we talked last night as a team and we said all we have was each other," Pro Bowl receiver Andre Johnson said. "No one was giving us a chance to win this game."
They also sent the Titans (0-2) skidding a different direction after starting 10-0 last season.
"We've got some work to do," Titans coach Jeff Fisher said.
After Brown kicked the go-ahead field goal with 2:55 left, the defending AFC South champs had one last chance -- until Kerry Collins dropped the ball with 1:32 left and Jeff Zgonina recovered for Houston.
That ruined Chris Johnson's career day. He also had 87 yards receiving.
The game was a shootout with the score tied four different times -- and a slugfest with Titans defensive tackle Jason Jones ejected for throwing a punch in a sideline scrum in the fourth quarter. He left to cheers from fans upset with the officiating.
"I was told he went into the bench swinging, and if he does he should be kicked out and should be fined substantially if he did it," Fisher said. "I have to find out. I didn't see it."
Houston sacked Collins once and intercepted him once. But Collins bobbled the ball all by himself trying to help the Titans answer back. The Texans earned their second straight victory -- and just fourth overall -- over the team they replaced in Houston.
"You hate to let these get away," Collins said. "We all had a part in this one, including myself. ... There at the end I needed to make a play, and I didn't do it."
Tennessee kept Steve Slaton from reaching 100 yards on its defense for a third straight game, holding him to 34 yards on 17 carries. But the Titans couldn't get to Schaub enough, and he repeatedly found open receivers downfield. Schaub threw two TDs to Andre Johnson and was 25-of-39 as Houston looked like the offense that was the NFL's third-best in 2008.
The Titans outgained Houston 449-420 but couldn't move the ball when it mattered most in the fourth quarter.
They thought they had come up with a big turnover when Jacoby Jones bobbled a punt off his chest and rookie Jason McCourty recovered in the air inside the Texans 10 at the end of the third quarter. But Jones had signaled for a fair catch, and with the ball bouncing off his chest, officials ruled interference and gave the ball to Houston.
That brought fans to their feet, furious. Almost unnoticed was punter Craig Hentrich hurting his left calf on the play.
Tennessee forced Houston to go three-and-out. With Hentrich the holder on field goals, that might be why the Titans went for it on fourth-and-6. Collins' pass to Justin Gage was caught out of bounds.
The Titans had to punt midway through the fourth deep in their own end, and kicker Rob Bironas came through with a 40-yard punt.
Schaub responded with a nine-play drive over 63 yards in which he converted a fourth-and-inches by running himself. Then Brown's field goal gave Houston a lead it wouldn't lose again.
The Titans threatened to blow Houston out of the stadium early, jumping ahead 21-7 after Chris Johnson scored 57 yards up the left sideline untouched on third-and-19. Then Collins tossed a short pass to Johnson, who lined up out left and was waving for the ball he was so open. No one came close as he went 69 yards, and he added a 91-yard TD in the third.
But Houston bounced back with 17 straight points.
NOTES: LG Chester Pitts sprained his right knee and will be evaluated in Houston. ... This was Houston's second-largest come-from-behind victory. Both have come against Tennessee and in Nashville. ... The Texans improved to 3-9 in September under Kubiak. Their last September win had been at Carolina. ... Andre Johnson had needed only 10 catches to reach 500 for his career. He finished with 10 for 149 yards. ... Johnson's 91-yard TD run matched the franchise record set by Sid Blanks on Dec. 13, 1964, against the Jets.