GENERAL MANAGER RUSTON WEBSTER
We're obviously very happy to have drafted Chance Warmack with the 10th pick in the first round. He's a player that we had a great consensus on; all liked and put a lot of work into this offseason. We're very happy to have him as a new Titan.
(on Chance Warmack's strengths)
I just think it's his physical style of play, his power. These guys can talk about it a little bit, but the right guard position — that's what it calls for. He fits that mold.
(on if the Titans would have picked Chance Warmack over Jonathan Cooper if both were available)
Chance (Warmack) was our guy all along.
(on if the defensive tackles were tempting and if he expected to see them remain on the board)
As time went on, not really surprised. We pretty much got the guy we were looking to get.
(on what sets Chance Warmack apart)
For us, Bruce (Matthews) and I, obviously we met him at the Combine and then we went down to Alabama, the campus, and worked him out. We got a chance to spend a lot of time with him, worked him out for about an hour and a half. We wore him out pretty good. We watched a lot of tape together. We spent the afternoon, which I think really made us feel very comfortable with him. Like Ruston (Webster) said, even in the NFL you don't see the kind of power he has, the way he moves the line of scrimmage. To me, he is the complete package. He loves the game; he has a passion for it. Spending time with Bruce and I, he loved hearing the stories of linemen of the past, talking about the history of the game. For a young guy, that's rare, that he's interested in those types of things. Obviously, we all hit it off pretty well. Obviously, he's a great size. He's played against some great football players during his time at Alabama, played well, played well in the big games, knows how to win, he enjoys the game. The power he has at the line of scrimmage we felt was something I haven't seen in a long time on film, the way he moves the pile. He enjoys, like I said, the game. He wants to get better. We were all excited thinking we could help him get a lot better than he is. Obviously, when he comes in the league, he'll get stronger, all those things. Just really excited it worked out this way. We talked about being more physical as a football team, this is a physical guy. That's what it's all about. It starts up front in games, we know that. You just saw us go out and get (Andy) Levitre, we signed some other guys in free agency and now we draft Chance (Warmack). I think everyone knows what we're trying to do. Real excited about the pick.
(on having to face a player like J.J. Watt on the interior twice a season)
You look at your division all the time. We have to win our division. You look at things like that. You have to have answers for different people and different positions. That's part of it. There's no doubt that at right guard (Chance Warmack) is a guy that can match up well against anybody. He's a great football player, that's something he can worry about in the future. There's a long time to worry about that. But definitely, you want to build something strong up front. We know the type of teams we have to beat and contend with. There's a certain type of guard we were looking for. It was real obvious that he was the guy we thought could match up against those type of players.
OFFENSIVE LINE COACH BRUCE MATTHEWS
(on how much Bruce Matthews worked with Chance Warmack)
Myself, (Mike) Munchak and Arthur Smith, we made a visit with a bunch of guys throughout the spring here. Actually, Chance (Warmack) was the last guy, and it worked out perfectly. Really for me, I go in very skeptical on linemen that I've heard about because typically, they're a product of the team they've played on — Alabama, having such a great tradition, such a hot streak. You kind of think, 'Well, they've got a bunch of other guys on the team that are pumping him up.' I went in very skeptical, wanting to shoot him down at every turn. Really, what sold me on him was every time I was with him, I got excited about the opportunity to watch him play and coach him. I echo everything Munchak says. He has the demeanor and the mindset, and he plays a style that we're looking for and what we want to accomplish up front. Even today, just to confirm it, I went back and looked at the tape again. I'm very confident that he has a great opportunity to be a real good player in this league for a long time.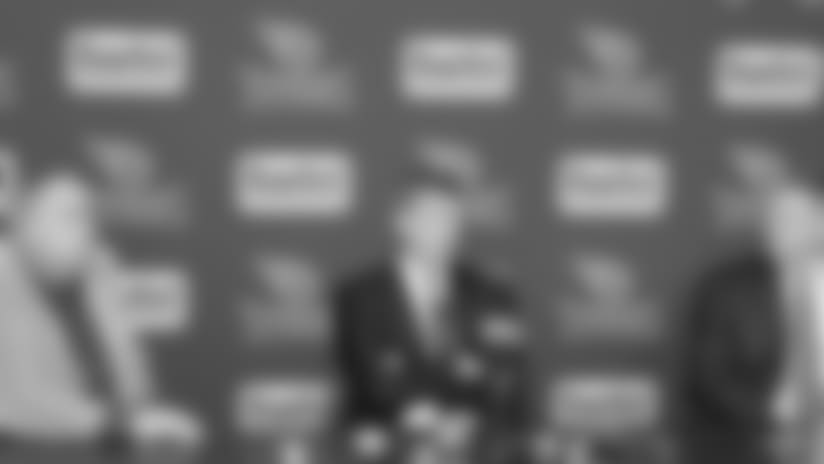 (on if it had been too long since the Titans spent money or high picks on the offensive line)
Well I think what caught up to us just a little bit was guys got hurt. Last year we didn't expect that many guys to get hurt. I think we had the most change on the offensive in the league last year. That doesn't happen very often. The last couple of years injuries hurt our development in our offensive line. Last year in the draft, we tried to draft the best guy available and that's what happened. We felt comfortable with the guys that we had, but unfortunately they all got hurt, especially all the inside guys so it made things a lot worse than they were. We all got together at the end of the season, Ruston, (Webster) and myself decided where the need was and obviously it was there. You can't fix it all in one spot just by drafting and we knew free agency would be a big part of it and it was. We did a great job by adding three guys there in free agency and adding in the draft. If the board fell right, then we thought this was a guy that we couldn't pass on and there it was, so it worked out real well for us. I don't think we have drafted a lineman in the first round in 20 years, since (Brad) Hopkins maybe. It's been awhile then. We are just excited to have a great player on our team and obviously like (Michael) Roos, when its and offensive lineman, and hopefully he can play somewhere between 12 and 19 years. We feel like he is that kind of guy because he loves the game. He loves to compete. When all of you meet him that's what you are going to take from the conversation. He loves to play and he loves what he does and he has been successful with what he does. He has worked very hard for what he has accomplished at Alabama and we see that being contagious to our group and our offensive line.
(on if he seen Chris Johnson's quote 'Thank God' after drafting Warmack)
No, I'm sure he would be excited. Any running back should be when you are addressing the offensive line. And the quarterback, I think Jake (Locker) is going to be thrilled also because this allows him to do more things.
(on what Chance Warmack said on the phone)
He is excited. We laughed about it because I think he wanted to be a Titan the whole time and he didn't hide his feelings on that. He didn't realize that you had to go through the draft process and he couldn't sign a letter of intent. We knew it was a good match and a good fit. We didn't know if it would work out or not and obviously, it did. He is real excited and he can't wait to get here tomorrow. Obviously, he is in New York and I told him to enjoy himself and I told him that we would take it easy on the running tomorrow.
(on what he sees in Chance Warmack)
It's just so rare to get a power dominate type of guard. In Seattle we had Hutch (Steve Hutchinson). Obviously, there are those kinds of guys in the league and they have been a real impact type player for their teams because it allows you to do everything that you want to do. It opens up the whole playbook. It was rare because he was the best lineman I saw in my area and not only for what you see on the tape with his power and his ability to hit on the move and open up the running game, but his character. All of the guys at Alabama would talk to us about his influence on the team and how hard he worked. You rarely hear about a guy who worked so hard in the film room really studying the game and trying to get better. I was able to communicate that with the guys and it was a total team effort here. Every step of the way people did something different to add a piece to the puzzle. This is the culmination.
GENERAL MANAGER RUSTON WEBSTER
(on if there is a new value on offensive guard in the NFL)
I think that one thing is that the strength of this draft through the first round was the offensive line. It wasn't quarterback or receiver or running back, it was offensive line. When you are up there and picking in the top 10, you want to get the best player that you can get. All of those players were solid guys with no real issues, which helped the situation. This was an offensive line draft and that's pretty obvious and there will be more to come. There will be players in the second and third round that will end up being good NFL offensive linemen.
(on if they took or made any calls about trading)
 We didn't take any calls and we were OK.
 (on if the plan is to make a defensive splash tomorrow)
No, we will take a look. The thing about the second round is you never know who is going to drop. Who drops out that you think might be a first-round player that drops, especially when you are picking the upper part of the second round. I always feel like the second round is a great value if you are picking in the upper part of it. I think as much as anything, that's a good of a round to trade up in if you are down lower in the second round. There are some good players that just dropped out and they might have first round type talent. We will see what happens as the rest of this draft goes. 
(on what makes Warmack stronger than most players)
It is a lot of things particularly, but he can explode with his hips and he can get in and get movement versus bigger people.  He played against so many good defensive linemen that were strong and stout.  We didn't see a lot of guys moving those guys, but when you watch Chance, he was able to get movement, he was able to seal run lanes – that kind of power.  It's the power to anchor, it's the power to explode and get movement versus bigger people, which is something we always look at.  It just sets him apart from the normal offensive linemen that you tend to look at.  That is what got our attention and then it is aggression, the aggression and the want to and to sustain and finish the block.  Coaches always talk finish.  This guy has finish.  It is a big thing that seems simple, but it is a big deal.  When you see it and the combination of what he has, I think it is a rare trait.
(on how Warmack compares to him when he was that age)
He is a lot bigger than both of us (Bruce Matthews) at that time when we came out.  We had him and (D.J.) Fluker with us, the two of them and we worked them both out at the same time.  Those guys were so competitive that is what made it fun.  Those guys are such good friends, kind of like Bruce and I.  We were kind of watching the same thing happen.  These guys were trying to out-do each other in the workout when we were teaching them drills.  We were telling stories in between it and they were competing and they were sweating.  It was one of those fun workouts.  We were probably out there 90 minutes with them and I think they just got drafted back to back, so it is just an interesting relationship they have and how competitive they were.  They had had their pro day a couple of days earlier and we asked them if they wouldn't mind us coming down, so we could spend more private time with them.  I think we were one of the few guys who were able to spend time with them.  They worked out as long as we wanted them.  It was a good 90-minute workout and I think Bruce and I walked off feeling this guy could be real special for a lot of reasons.  Then we watched tape with him and had him on the board and did all the things, watched their tape, watched Titans' stuff and just got a great feel for how he learns and what is important to him.  He wants to learn.  He was picking our brains.  He wants to learn the game within the game, all the little stuff and the tricks of the trade.  He already had a couple he was showing us on tape that he was doing.  It was interesting to hear his perspective and I think that is what kind of helped sell us.  The whole thing was there, not just what we saw on tape.  We knew he would adjust very quickly to what we are doing because their offense is a pro-type offense.  They do a lot of the same things we do, a lot of the same protections we do.  There is a lot of similarities for him in what we do and what is expected of him.  I think a lot of those things make it easier for his transition to what we are going to ask him to do.  The guy already plays square, he's big, he moves well.  His technique is pretty solid to where you don't see him getting beat very often.  He'll have things to learn obviously, he is going to play against some great football players and that is a challenge that Bruce and I will enjoy doing is working with a guy like him.
(on if Chance Warmack is the starting right guard for the 2013 season)
We're not sitting here naming starters. We're happy he's here. We assume he's going to come in here and play right guard. We'll go through the process. (Michael) Roos didn't start for a week when he came here. It took us a week for us to officially put him there. Obviously, we drafted him because we know he's ready to play.
GENERAL MANAGER RUSTON WEBSTER
(on the deepest positions remaining as he looks ahead)
I think offensive line is still deep. I think it's still good. I think defensive backfield is strong, whether it's corners or safeties. I think those are probably, in my mind, the two deepest that are left on the board. There are some good receivers and things like that, but I would say those are the two deepest. 
(on if the draft is still deep at defensive tackle)
It's got pretty good depth. There have been better years to be honest with you. There are still some good players on the board. 
(on if the Titans are looking to trade back into the first round before the night is over) I don't know. I wouldn't expect anything, but we'll see.