**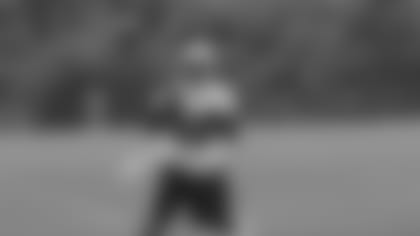 Tight end Bo Scaife hauls in a pass during Sunday's practice. The Titans practice three times this week, breaking camp on Wednesday.
NASHVILLE, Tenn. --** After their trip to Dallas to open up the Cowboys' new stadium, the Titans returned to practice on Sunday for their final week of training camp at Baptist Sports Park.
The Titans will practice Monday at 3:30 p.m., Tuesday at noon and Wednesday at 3:30 p.m. The team plays its fourth preseason game on Saturday (Aug. 29) at Cleveland before closing the preseason schedule at home Thursday, Sept. 3 against Green Bay.
The first roster cutdown to 75 players comes Tuesday, Sept. 1. The Titans must trim their roster to the final 53-man roster by Saturday, Sept. 5.
Head coach Jeff Fisher said plenty of work remains during these last three days of training camp with specific emphasis on the running game this week.
"You take it one play at a time," Fisher said of improving the team's offensive production. "There are times when the defense wins. That's the nature of the National Football League. It's nothing that we're too awfully concerned about. We had some opportunities to make plays and we just didn't convert third downs. There were some good things that we did see. We've got a full week of practice and are working to get better."
After racking up 2,199 rushing yards a year ago, the Titans have been less effective running the ball during the preseason. However, Fisher said the nucleus is intact from last year's prolific rushing attack, citing the lack of detailed game planning and overall number of reps of his starters as primary reasons for the low numbers.
Titans players are not concerned.
"We know that when we crank this thing up and we know we're going to get the opportunity to run the ball, everything is going to be okay," running back LenDale White said.
With a team that is returning its entire starting offensive line, two successful running backs and one of the league's best fullbacks, Fisher knows what his team is capable of. The head coach said he wants to continue to make corrections and adjustments throughout the preseason in preparation for the regular season opener Sept. 10 at Pittsburgh.
"We've won two ballgames in the preseason, and we've got two more and we're going to continue to work through camp," Fisher said. "There are always issues that you address throughout training camp. We have things specifically that we have to work on this week."
RINGER CONTINUES TO IMPRESS: Rookie running back Javon Ringer made another strong showing at Dallas, returning a kickoff for a big gain and making enough big plays on offense to gain the notice of his teammates.
"He looks pretty good," guard Jake Scott said. "The kid can run the ball. He sees holes and he hits them well."
SCAIFE SHINES IN PRACTICE: During Sunday's practice, tight end Bo Scaife made a number of athletic and acrobatic catches, one of which he made from the back of the end zone for a touchdown. Throughout practice, Scaife managed to slip in between the holes of the zone defense and haul in passes for gains of 15 yards or more. Many of those passes came from quarterback Vince Young, his former teammate at the University of Texas.
"Bo's having a good camp," Fisher said. "Vince was at the other end of those throws and it's good to see them hook up again. He's got his legs under him and has been making plays for us."
INJURY UPDATE: Defensive linemen Jason Jones and William Hayes, offensive linemen David Stewart and Doug Datish, cornerbacks Nick Harper and Ryan Mouton, linebacker Josh Stamer and wide receiver Chris Davis sat out of today's practice.
REMAINING AUTOGRAPH SCHEDULE
Monday, Aug. 24: Michael Griffin, Patrick Ramsey, Stanford Keglar, Rocky Boiman, Sen'Derrick Marks
Tuesday, Aug. 25: Tony Brown, Jake Scott, Quinton Ganther, William Hayes, Javon Ringer
Wednesday, Aug. 26: David Thornton, Eugene Amano, Ken Amato, Vincent Fuller, Jason McCourty