**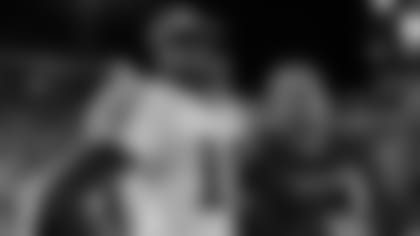 Offensive coordinator Mike Heimerdinger has dialed up opening drive success for Vince Young and the Titans the last two weeks.
NASHVILLE, Tenn. --** The Titans wanted the ball. Jacksonville won the toss and wanted to defer.
The combination worked out well for Tennessee Monday night as Vince Young led the Titans on a six-play, 79-yard scoring drive in just 2:26. The execution included a completion of 10 yards on a third-down-and-8, followed by a 28-yard toss to Bo Scaife — the longest pass play of the entire game. Young capped the drive with a 23-yard touchdown pass to Kenny Britt. 
Titans coach Jeff Fisher said Tuesday that the scoring drive in Monday's 30-3 win and the game-opening touchdown drive at Dallas on Oct. 10 were critical components of returning home with a pair of wins.
"It's huge when you talk about it all week," Fisher said. "Each of the drives had significant penalties that changed field position for us and we went down there and made the plays. It's good for your offense and it's good for your football team as opposed to the other option, which is a three-and-out and a punt. Vince did a great job on that drive."
Tennessee has taken the first lead in all three of its road games (all wins) and has relinquished the first lead in all three of its home games (one win, two losses). The Titans rank second in the NFL in scoring offense (27 points per game) and fourth in the league in scoring defense (16.3 points per game). They lead the league in net point differential (64).
Young was especially sharp on the opening drive, but left Monday's game on Tennessee's next possession. He suffered a sprained knee and sprained ankle while trying to recover a fumbled snap. Young did not return, but reserve Kerry Collins stepped in with savvy decisions and accurate throws.
Tennessee has a short week of preparation before hosting Philadelphia at noon Sunday at LP Field. The Titans will only do a short walk-through Wednesday as opposed to their normal Wednesday practice because of the short week. Young's status will be unclear for most of the week, Fisher said.
"We completed the testing, and he'll be day-to-day," Fisher said. "I don't know whether he'll be able to practice (Wednesday)."
Fisher added that Young and the Titans are fortunate that Young's injury was not more severe.
"If you look at the mechanism and what happened during the game, I can stand up here and say he's lucky," Fisher said. "He's got just a mild knee sprain and he's got an ankle sprain. He's sore. As he said, he's typically been a quick healer."
Collins completed 11 of 16 passes for 110 yards, including a two-yard touchdown pass to tight end Bo Scaife. The 16-year veteran QB also completed seven of eight third-down pass attempts which resulted in four first downs, the touchdown and improved field position.
"Kerry understands what we're doing," Fisher said. "He's ready to come off the bench and play without much practice time. You can only assume with more practice time this week, he'll be more effective."
Britt's practices help game success
Britt has pulled in a touchdown catch in each of the past four games. Fisher said it's the result of good practices from the second-year pro, who moved up the depth chart to replace Justin Gage (hamstring injury) as a starter in the Dallas game.
"The ball is getting there on time and he's always had run-after-catch potential," Fisher said. "He's making acrobatic catches, tough catches and has been very consistent with his hands. The safety took a poor angle (Monday). Kenny runs over a couple of guys, breaks a couple of tackles and gets in the end zone. He's improving as one would expect him to."
The Titans sacked Jaguars backup QB Trent Edwards two times Monday and lead the NFL with 24 sacks on the season. Tennessee's defense forced four Jacksonville turnovers — three interceptions and a fumble. Fisher said pressure applied by Tennessee's defensive line and tight coverage by the Titans' secondary have helped the team go from minus-five in turnover margin after the Steelers game to plus-four.  The Titans are tied for second in the NFL with 10 interceptions.
"Both groups are helping one another," Fisher said. "The defensive line, by putting pressure on the passer, is causing the ball to come out a little early or a little erratic. The same thing is true when you 've got guys in effective coverage with no place for the quarterback to go, that's creating the sacks and tackles for loss."