**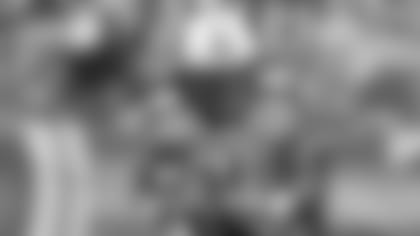 Running back Chris Johnson is expected to be present when the Titans hit the field for their first training camp practice of the season.
NASHVILLE, Tenn. -** It's time for Jeff Fisher to open his 16th straight training camp with the Tennessee Titans, and that first practice Saturday will be a welcome return to football after a busy offseason.
Fisher expects Chris Johnson to show up, happy the Titans reshuffled some money to pay him more for 2010. Vince Young will be available for all 16 games, and Fisher hopes maybe more, with the NFL not punishing him for a Dallas strip club tussle in June.
And Fisher had to reshuffle his coaching staff after Kennedy Pola bolted for Southern Cal, which has the team suing the university and Trojans coach Lane Kiffin.
Now the Titans can focus on trying to move on from becoming the first NFL team to finish at .500 after starting 0-6.
"There's going to be a tremendous emphasis on getting started fast, on a fast start. It's going to be very, very important,'' Fisher said Friday.
The Titans also hoped to avoid a couple more distractions by wrapping up their draft class.
Fisher said they were busy trying to sign their top two draft picks before practice Saturday afternoon. By Friday afternoon, the four players taken after defensive end Derrick Morgan of Georgia Tech at No. 16 overall all had contracts.
Receiver Damian Williams from Southern California, their second pick taken in the third round, also remained unsigned. Morgan tweeted Friday afternoon he and Williams were sitting and waiting.
The other big question is whether starting middle linebacker Stephen Tulloch will be here Saturday. Tulloch signed his one-year tender for $2.52 million in June as a restricted agent, but stayed away the entire offseason in protest as he looked for a long-term contract.
"I have no reason not to expect Stephen here,'' Fisher said. "I have not talked to him. He signed his tender, so yeah.''
Fisher sounds eager to see exactly what shape Johnson is in after the All-Pro also stayed away from Tennessee all offseason, lobbying for a long-term deal of his own. Johnson didn't get it, but the Titans did turn money the running back already had earned under his original contract but not due to be paid until 2012. The Titans had not commented on that until Friday when Fisher said the Titans "got creative.''
"CJ's happy. We're happy. I'm expecting him to be in great shape, come in and really pick up where he left off. I have no reservations whatsoever about his conditioning level. As far as our plans for CJ for the preseason, just to get him back to where he was and pick up where we left off,'' Fisher said.
Fisher moved Craig Johnson from coaching quarterbacks to running backs Wednesday to replace Pola and promoted two others to handle new duties.
Offensive coordinator Mike Heimerdinger has drawn up some new plays to take advantage of having both Johnson and Young in the same backfield, something that happened only in the final 10 games of last season. Johnson ran for 2,006 yards, and Young is coming off his best passer rating yet of 82.8 going into his fifth NFL season.
"I believe we have surrounded him with the best players, skill players, to date that he's been on the field with so that simply points toward and helps his improvement,'' Fisher said. "He's got room to improve.''
The defense has lots of work ahead in training camp with three starters gone needing to improve a unit that was 31st against the pass and 28th in total yards allowed.
Tackles Tony Brown and Jason Jones didn't practice with the team during the offseason as they recovered from surgeries. Neither did Morgan as he dealt with first a strained hamstring, then a pulled calf, nor linebacker David Thornton (shoulder surgery).
Fisher said only that they might start camp with a player or two on the physically unable to perform list. The Titans also must find a starting cornerback opposite Cortland Finnegan with four candidates vying for the job before the preseason opener Aug. 14 at Seattle - where Tennessee wrapped up last season.
NOTES: All Titans must take the conditioning test before the first practice of camp. Fisher lets veterans take the test early if they're already in town, and those who took part in part of the offseason program get a slight edge of breaking the shuttle runs into 50 yards instead of 25 yards. All rookies take the test Saturday morning after a mandatory team breakfast...The Titans put approximately 3,000 single-game tickets on sale Saturday morning, a sale delayed by three weeks to help Tennesseans cleaning up from May floodwaters. The team has sold out 114 consecutive games since moving into their current stadium.