Jurrell Casey is all about pushing his body to the limit.
On a rainy Sunday, the Titans defensive lineman hosted high school linemen for his Tennessee Big Man Challenge inside D1 Sports. And the group worked up quite a sweat.
"It is really about the mental thing with these guys,'' Casey said. "We're working these guys, and they're going to be tired, they're going to be exhausted, and they have to push through it.
"When you get into the fourth quarter it is all about who is tough mentally, and I want to do my part to bring that to these kids so they can be ready to go. I'm going to push them."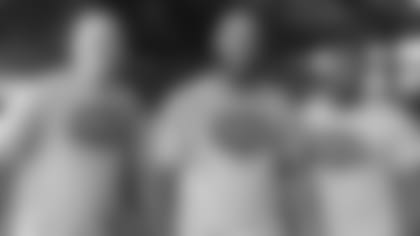 (L-R) Jacquail Knight, All-In-One Sports Management; Jurrell Casey; and Riley Howard, founder and president of Elite3 Foundation
Casey, a sixth year pro who is coming off his second straight Pro Bowl season, has held camps back home in Long Beach, Calif., in previous years. His camp on Sunday was his first in Tennessee, and it was attended by high school linemen from area schools, coaches, and a half-dozen of his teammates from the Titans.

In addition to Casey, defensive linemen Karl Klug, Antwaun Woods and Mehdi Abdesmad were all there, along with linebacker Derrick Morgan. Titans center Ben Jones was also on hand to work with the offensive linemen.

"You don't find many camps for o-linemen and d-linemen," Casey said. "It is not just about running through these drills, it is about teaching them and how to play the position. A lot of these guys have raw talent and you are just out there throwing moves or just bulldozing over somebody because of the size difference. When you can really perfect your skill level at a young age, then that is going to take you to the next level when you get to college."

Roughly 20 high school athletes took part in the camp, including Tavi McLean, a junior defensive end from Marshall County.

"It helps a lot, having some pro guys teach you,'' McLean said. "It means a lot for them to be out here doing this. (Casey) is a really good player and I learned a lot from him, stuff I hope I can use on Friday nights and later on."

Casey was hands-on during the camp. The linemen went through drills, and later 1 on 1s. The offensive linemen worked on run blocking and pass blocking, and the defensive linemen focused on ways to use better hand placement and overall technique.

Riley Howard, founder and president of Elite 3, played a key role in putting on the camp, along with Jacquail Knight of All-In-One Sports Management.

"What we were doing was ripping, swinging your hips, and getting to the quarterback as fast as you can,'' said Elijah Simmons, a 6-foot-2, 338-pound sophomore lineman from Pearl-Cohn. "It is cool to me. I want to go to the next level. I'm hoping this helps me."

Casey said he hopes to hold the camp annually in the Nashville area.

He wants to do his part to help the big guys, he said. On Sunday, Casey was physical, and vocal.

"A lot of times you head out (of high school) with a lot of raw talent heading into college, and you want to be able to sharpen your craft before you get there, that is how you get ahead," Casey said. "So I want to try and teach life lessons and try and help you physically and mentally.

"And you can see I don't take it easy on anybody. My thing is when you step in between these white lines you are a competitor, and you have to be able to take tough criticism. If I see them doing something wrong I am going to be up in their face about it. I just want to help them out."