**
Chuck Cecil refers to Tennessee's 0-6 start in his first season as defensive coordinator as "the perfect storm."
NASHVILLE, Tenn. -** Chuck Cecil's first season as the Tennessee Titans' defensive coordinator couldn't have been more memorable - and for all the wrong reasons.
The Titans started 0-6 and hit a low point with a 59-0 rout in New England, giving up a franchise-worst 619 yards in the loss. A defense that returned 10 starters from one of the NFL's best units in 2008 lost three defensive backs to injury during the skid. Cecil took much of the blame as furious fans flooded message boards and radio shows demanding that he be fired.
Cecil looks back now a few months later and calls it a trying time.
"It was quite the perfect storm, I guess you'd say in a bad sort of way. If that doesn't kill you, it makes you stronger so we survived it and learned a lot from it and moved on,'' he said.
That can only help as Cecil pulls together a defense that could feature as many as four new starters in 2010 thanks to the Titans' youth movement.
Cecil faced plenty of questions when coach Jeff Fisher decided to promote him from coaching the secondary to coordinator when Detroit hired away Jim Schwarz. Cecil, who played safety in the NFL and was selected to the College Football Hall of Fame last year, had coached eight seasons with the Titans before getting the promotion.
He took over a defense that had ranked seventh in 2008 and fifth in 2007 in total yards allowed. The only other change on defense was the departure of tackle Albert Haynesworth to Washington in free agency.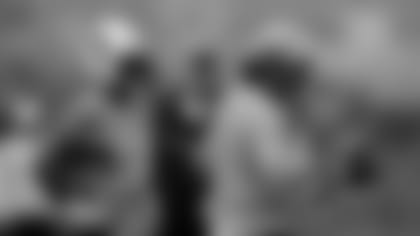 With a year under his belt, a wiser and more experienced Cecil returns for his second season at the defensive helm.
So as the losses mounted and opposing quarterbacks piled up the yards, the criticism mounted on Cecil. The Titans allowed 357 yards passing to Houston's Matt Schaub. Jacksonville racked up 442 yards. Peyton Manning threw for 309 yards on Oct. 11 in a game cornerback Nick Harper broke his forearm.
Then came the season's low point on Oct. 18 in the snow in New England. The Titans allowed the Patriots to score on nine straight possessions and Tom Brady to throw for 380 yards and six touchdowns.
"Once you give up 59 points and you give up 600 yards of offense, basically statistically it's just devastating for the rest of the year. That was one game,'' Cecil said. "Does that mean we were a Top 10 defense other than that? No, we're not delusional here.''
Safety Chris Hope said Cecil was an easy target as the biggest change in the defense.
"But Chuck only calls the plays, and we have to play whatever he calls to the best of our ability and try to win. ... Everybody has to take responsibility for that, not just Chuck,'' Hope said.
The Titans ranked 11th in points allowed, giving up an average of 20.4 points, 15th in net yards allowed (341.6), third with 16 interceptions and ninth for lowest opponent passer's rating at 74.1. They allowed more than 283 yards passing just once - in a 27-24 overtime win Dec. 20 against Miami when the Dolphins threw for 347 yards.
Tennessee finished 8-8 and just missed the playoffs.
In the offseason, free agent end Kyle Vanden Bosch left for Detroit and cornerback Nick Harper's contract was not renewed.
Linebacker David Thornton has spent the offseason recovering from pectoral/shoulder surgery, and free agent linebacker Keith Bulluck is recovering from ACL surgery.
Tennessee signed linebacker Will Witherspoon, and Gerald McRath has worked in Thornton's spot. McRath will sit out the first four games for violating the NFL's performance-enhancing substances policy. The Titans also used six of their nine draft picks on defensive players, including end Derrick Morgan at No. 16.
One of the first things Cecil did this offseason was remind his players of the Titans' defensive mentality: Hustle and focus.
Fisher said Thursday that the injuries, dropped balls and non-calls that contributed to that 0-6 start can't be predicted. He believes Cecil overcame a lot, showed creativity and had the Titans ready to play.
"Coaches that I've had over the years, the number of coordinators, the second year's always easier than the first year,'' Fisher said.
For the Titans, it couldn't be any tougher.
NOTES: WR Nate Washington had his left wrist checked after colliding with CB Jason McCourty going up for a deep pass. Fisher said he was fine. ... The Titans hosted 70 coaches as part of Fisher's ninth annual coaching clinic Thursday with high school coaches coming from as far away as Georgia, Alabama and Mississippi.