NASHVILLE, Tenn. — The first jersey Alterraun Verner wore in tackle football was No. 80.
The Titans cornerback was 7 years old and picked it because of his favorite player, Jerry Rice.
Verner is on the verge of participating in his first Pro Bowl, and on Wednesday will either be picked for a team captained by the Hall of Fame receiver or by Hall of Fame cornerback Deion Sanders. The first ever Pro Bowl Draft will be televised on NFL Network at 7 p.m. (CT) on Wednesday, Jan. 22. The game will be played Sunday, Jan. 26 and air live on NBC at 6:30 p.m. (CT) from Aloha Stadium in Honolulu, Hawaii. Click here for the roster.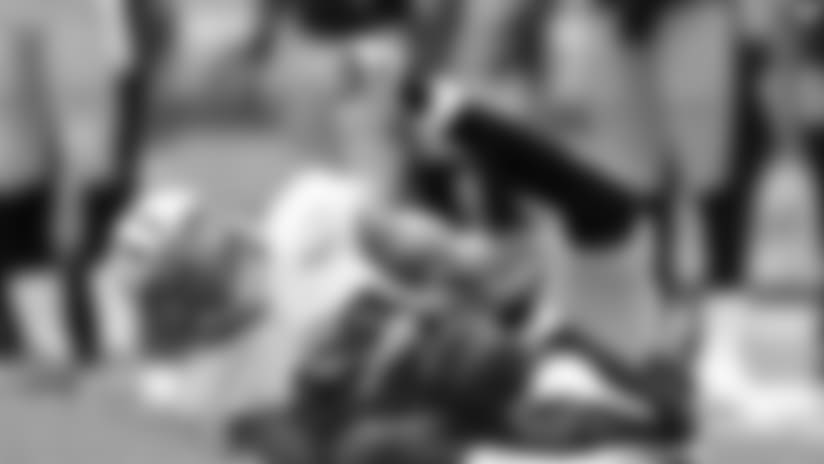 Alterraun Verner records the first of his five interceptions in 2013.
Verner recently talked about his excitement for being the first player to represent the Titans in the Pro Bowl since 2010. He kind of hopes to be selected for Rice's team but will be happy and honored to play for either captain.
"I grew up a Jerry Rice fan, so I'm not going to lie about that. I would probably be hoping that he picks me up, but it really doesn't matter," Verner said. "I mean they're both great players, great people and great personalities, and I'm excited to be able to be picked for one of their teams, but if I did put in my two cents, I would say, 'Team Jerry Rice.' "
Verner, a native of Southern California, said he watched Rice as much as he could and used those opportunities to learn from the 13-time Pro Bowler and 10-time All Pro.
"I think it was a combination of him being in San Francisco, so it was a West Coast team and I saw them a lot," Verner said. "I liked his work ethic. There were a lot of people telling him he was too slow and not big enough and things like that, so I think I used a lot of what he dealt with in that respect, even though he was a first rounder (16th overall in 1985), but just how hard he worked, and I've used that for myself, saying, hard work can get you a long way, so he was inspirational in that sense."
Playing for Rice would come in second only to ever having an opportunity to play against him, Verner said. Rice is 51 and Sanders is 46. Neither plan on suiting up.
"I definitely wish I could guard him to see how it would have been because it seemed like he was always open every time against everybody, even Deion when he was at his prime, even though Jerry says (Sanders) was tough, so I definitely would look forward to that," Verner said.
Verner, a fourth-round pick in 2010, said he's also drawn from the career of Sanders, an eight-time Pro Bowler and six-time All-Pro defensive back.
"His confidence was definitely something that not too many people could mimic or imitate. He was a trendsetter," Verner said. "A lot of people would do his little famous dance when scoring and just his swagger. That's probably something you can learn from because he was very confident and you've got to have confidence at the position.
"I feel like I've said it before. More than likely you're going to get beat or something bad will happen at some point in the season, so having that confidence to bounce back and realize you can still make a play (was a great lesson)," Verner continued. "That's something that Deion was probably the best at. He might get beaten for two touchdowns but make the game-winning interception run back for a touchdown. That was the type of player he was."
Verner, who led the Titans with a career-best five interceptions in 2013, is hoping the game will feature a considerable amount of passing and looks forward to talking with peers about their teams and careers.
"I'm pretty sure they're going to air it out with the receivers they have and things of that nature," Verner said. "I'm looking forward to it. I know I'm going to get some action, so I'm excited for the time I'm going to be out there."
It will be the second time he's ever visited Hawaii. He took his wife there in June to celebrate their anniversary, but she is unable to make the trip this time because she is so close to her due date for their first child, a son. Verner said the anticipated due date should allow him to return in time for that special moment.
"It's an exciting time in both respects," Verner said. "Hopefully it will work out. If not, we're going to make things work."