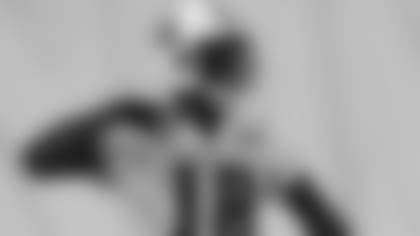 Kenny Britt reacts after scoring on a 64-yard touchdown reception during Thursday's training camp practice.
Quick Hits from Camp**

• Thursday's practice was forced inside the indoor practice facility due to inclement weather conditions; it was the first practice of this year's training camp to be moved into the indoor practice facility.

• Wide receiver Lavell Hawkins saved an interception when he made a hard fought catch during 7-on-7 red zone drills.  Moments later, rookie safety Myron Rolle made a nice pass breakup in the end  zone.

• Veteran safety Chris Hope made an attention grabbing interception during a two minute 7-on-7 period; he made a diving catch on a deep ball for the pick.

• Rookie quarterback Rusty Smith connected with receiver Kenny Britt for two long touchdown passes, both within a few plays of each other.  The first was a deep fade down the sideline for 64 yards and the second was down the same sideline for a 40-yard score.

• The offense was seen running a few option plays during a team offense vs. defense period.

Off the field Q&A with Damian Williams

What's your favorite thing to do in Nashville?

"My favorite thing about Nashville is the Titans.  Sometimes I just like driving around downtown Nashville and seeing what's going on.  Seeing the people walking around, Nashville has a big country bar scene and I'm not really used to that so I like to drive around and see what's going on."

What are some of your favorite hobbies?

"I like to play video games and hang out; I don't really go out a lot so I usually just kick it at my spot."

What are your plans after football?

"Hopefully I'll have a family by then and I'll get to be with my family and raise my kids.  I definitely want to do some charity work, like a mentor program for kids."

What's your favorite video game?

"Right now, I'd say NBA 2K10."

Which one of your teammates or coaches can always make you laugh?

"There are a lot of them, but Kenny Britt is always good for a laugh and Justin Gage is pretty good for a laugh too."

Do you prefer Facebook or Twitter?

"Twitter (you can follow Damian on twitter at DwillOne7)."

Who was a role model for you growing up?

"Both of my parents. My mom has worked her whole life and was always there to provide.  My dad has always taught me the value of hard work.  Even if he couldn't afford to buy me something, he always wanted me to go out and work and find a way to get it myself. "

What was the best piece of advice you've been given?

"My mom always told me 'what's for me is for me' and that God has a plan and nobody is going to be able to take that from me, so to go out and do the best that I can, do the right things and I will receive what's meant for me."

What's something that most people don't know about you?

"I was a pretty good baseball player in high school, I was a pretty good second baseman."

(on coming inside the bubble because of the storm)

"We're very fortunate to be able to do it.  We had planned on going outside.  I thought they handled the heat and recovered well the last couple of days but, you know, we got the work done."

(on Rusty Smith's improvement)

"He's picked up things.  This offense is not an easy offense to learn initially.  He hasn't struggled with it whatsoever.  He's spent the extra time and has made good decisions."

(on whether the offensive line is up to speed on Vince Young's running packages)

"It's just timing.  It's all timing.  The defense is ever-changing so you just have to practice those things and you have to be able to react and respond.  A lot of it is timing and I think the offensive line … You know when Vince (Young) is in the pocket and he decides to go, they don't have any control over it.  He just goes.  They try to keep the pocket as clean as they possibly can for him.  They know where he's going to be.  That's one of the things that he's done much better.  Whether it's a three-step or a five-step or a full drop, they expect him to be in a particular area.  Over his career he wasn't or he drifted or things like that and when you're trying to keep a clean pocket, but all that is coming around."

(on whether there will be less running plays for Vince Young this year)

"He made a lot of plays with his legs.  That's the added dimension to our offense.  We've got CJ (Chris Johnson), we've got a good group all around, but we've still got his legs.  He just makes better decisions now and he's throwing with better accuracy so there's improvement all around."

"He's picking things up and he's happy and he's powerful.  He's a powerful inside runner and he's got some move.  A lot will be determined on how he does at this level on how he does in the preseason."

Daily Trivia Question(answer on Friday, August 6)

Which of the automatic qualifying BCS conferences has produced the most members of the current Titans roster?

Who are the only current Titans players who are originally from Tennessee?

Answer: Jacob Ford (Memphis) and Tony Brown (Chattanooga).