NASHVILLE – Nipsey Hussle's mentality in life focused on it being a marathon – not a sprint – while dealing with the ups and downs, and adversity.
The late rapper named two mixtapes, his clothing line, and a store around this mentality.
When Hussle was murdered in March, it made Titans safety Kenny Vaccaro rethink some things himself.
He has a tattoo on the back of his neck – like the one Hussle had on the front of his neck – to remind him to keep fighting through adversity.
"A big thing for me this offseason was when Nipsey Hussle died, his whole thing was "The marathon continues" and whatever you have in life, basically you have to fight through adversity," Vaccaro said. "It really hit home with me. It means a lot to me, and I wanted to carry that with me."
On his bottom of his neck, Vaccaro has Hebrew words that mean, "Faith in God."
Just above that tattoo is one with the two checkered flags. Vaccaro got the tattoo this offseason after Hussle's death.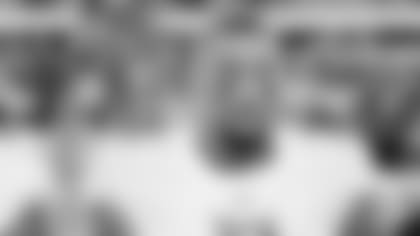 Vaccaro, in his second season with the Titans, beat the odds coming out of Brownwood, Texas. He became a star performer at the University of Texas, a first-round draft pick by the New Orleans Saints, and now one of the leaders of the Tennessee defense.
He said on Wednesday Hussle's death inspired him to be a better player, and person.
Prior to the team's game against the Browns, Titans safety Kevin Byard paid tribute to Hussle on his cleats in pregame at Cleveland. Byard said Hussle "was one of my favorite artists."
Hussle was shot and killed in March at the age of 33.
"I've tried to carry myself in a different way, and I've tried to be a better father, teammate, player, and just try to do everything every single day to be better," Vaccaro said. "If ever I want to quit, or when there is something maybe I don't want to do, I think about that tattoo.
"Whether it is an injury, maybe even something family-related or any type of adversity, you have to keep fighting because the marathon continues."