ORLANDO, Fla. —** They're not shy. They're not small. They're not always politically correct.
And they're not afraid to stir things up with a physical style of play that oftentimes rubs players on other teams the wrong way.
What Titans tackle Taylor Lewan and Bills guard Richie Incognito are: best of friends. And they're living it up together here at the Pro Bowl.
"I think we are kind of kindred spirits,'' Incognito said after Friday's practice. "We are both hard-working guys, both tough guys, and we both play at a high level and I think we just hit it off because we enjoy working out so hard. We both push each other all offseason. We've spent a lot of time together. Now, we're best of friends."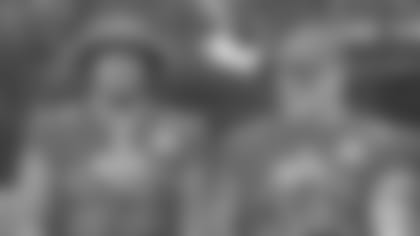 "We are pretty similar, I am not going to lie,'' Lewan said of Incognito. "I am more of a louder persona than he is, but he definitely lets it out a little bit. He is a funny guy. He is really just a great friend. He is a guy that is there for you no matter what. He is just an awesome dude."
Lewan, in his third season with the Titans, is making his first Pro Bowl appearance. It's the third Pro Bowl appearance for Incognito, who entered the league in 2005 when he was drafted by the Rams. After a controversial ending to his career with the Dolphins in 2013, Incognito has resurrected his career with the Bills. He also made it to the Pro Bowl in 2015, his first season in Buffalo.
Lewan and Incognito hit it off last year when they met through a common friend, Gabe Ikard, a fellow offensive lineman who joined the Bills after spending time with the Titans.
"Gabe texted me and he was like, 'You and Richie are the same guy,'" Lewan recalled. "That's either a really good thing or a really bad thing based on history. And after that I met with Richie (before we played the Bills last year)."
Since, they've been fast friends.
Lewan and Incognito trained together for three months last offseason in Arizona, and they've already made plans to train together again this offseason for a few weeks in San Diego.
Incognito joined Lewan and his fiancé for a Las Vegas trip. They talk, and text, often. Lewan said he leans on Incognito for advice.
"We actually traded helmets and he wrote on my helmet, 'I made you. You own me everything. Love Richie,'" Lewan said with a smile. "He is really just a great friend."
Incognito, who is eight years older than Lewan, said the two have spent a lot of time together at the Pro Bowl.
"We are two outgoing people, man,'' Incognito said. "We can talk to anybody in the room. We are fun-loving guys, we like to have a good time. We are good people. No matter what people say about us, we are good people. That's what we see in each other. We are loyal. Taylor is a great friend."
The two are also competitive, and neither likes to lose – especially to the other.
Incognito doesn't like to concede much, but he gave Lewan props for his tattoos. Incognito loves the ink himself, but he thinks Lewan might've outdone him.
"We are constantly competing, always racing and lifting weights,'' Incognito said. "He may have me on the tattoos right now since he went on to the hand, which is a huge commitment. So he may have me. That Frank Sinatra on his hand, now that's impressive."
Titans players join other NFL stars in preparation for the 2017 AFC/NFC Pro Bowl in Orlando, Fla. (Photos: Amber Harding, AP)