NASHVILLE – Remember those colorful cleats Titans running back Derrick Henry wore on his record-breaking night against the Jaguars in December?
Yes, the ones designed by Special Olympic athletes, that went up for auction as part of the NFL's "My Cause, My Cleats" campaign.
Well, you'll never guess who bought them, and why.
"I asked the question: Who Won? Because I'd like to send a Thank You note," said Adam Germek, CEO and president of Special Olympics Tennessee. "I know a bunch of people wanted those cleats.
"When I heard it was Derrick, well, it was amazing. Derrick wanted to make sure we raised as much money as possible, and he wanted to support as many folks as possible. And Derrick couldn't live without those cleats, and I don't blame him. It couldn't have worked out any better."
Henry said the cleats meant so much to him, he wanted them for himself. In the process, it was also a chance for him to make a big contribution that would go right to Special Olympics Tennessee.
So when the Special Olympian-designed cleats went up for auction, the bids grew from the initial $5,000 bid NFL Network's Steve Smith made on the set immediately after the game to into the $6,000s, then into the $7,000s and $8,000s.
When the winning bid of $8,150 came in – from 'Titansfan22' – it was in fact Henry. The winning bid was the third-highest NFL auction total for "My Cause, My Cleats," behind only cleats worn by Patriots quarterback Tom Brady and Chiefs quarterback Patrick Mahomes.
The check from the NFL arrived at Special Olympics Tennessee earlier this offseason. Germek said the money will completely fund the Special Olympics Tennessee flag football event in the fall.
"Those cleats are special to me, but not just because of the game," said Henry, who ran for a franchise-record 238 yards in the contest, including a 99-yard touchdown run that tied an NFL record. "They're special because of the connection I have with those kids, so they mean a lot to me.
"And if I can do that to help, and do something for the kids and make a donation as big as that, I wanted to do it. I am just happy to make those kids happy and put a smile on their faces, and have that relationship with Special Olympics."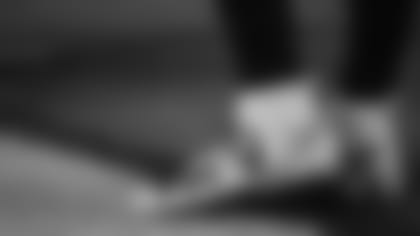 Leading up to the team's "My Cause, My Cleats" contest against the Jaguars, Henry decided his cause would be Special Olympics. As a high school student growing up in Yulee, Florida, Henry was part of a Special Olympics event each year as a volunteer, and he remembers the enthusiasm of the youngsters.
"I got a joy out of that," Henry said.
Henry invited five Special Olympic athletes to Saint Thomas Sports Park leading up to the Dec. 6, 2018, contest against the Jaguars, and they had a pizza party inside the Titans locker room while designing the cleats. Then Henry went out and turned in one of the most memorable nights in NFL history. Henry's 99-yard run tied Tony Dorsett's 99-yard run in 1983 for the Cowboys.
"Three of the five (Special Olympic athletes) were at the game when Derrick wore the shoes," Germek said. "One of them actually said it was the best day of his life. They felt like they were on the field with him, every step of the way. … Giving a donation is one thing. But for our athletes to be a part of that, and have that memory and connection, it's special."
A few weeks after that night, Henry invited a group of roughly 20 more Special Olympic athletes to the team's Dec. 22 game against the Redskins.
"I got to spend time with those kids, and getting to know them, I felt an automatic connection," Henry said. "It was like me being in high school again. And the way they expressed themselves on the cleats, they were special to them because they were their ideas, and they were special to me. I called them my "Magic cleats."
Jason Aikens, Collections curator for the Pro Football Hall of Fame, said the Hall of Fame has Dorsett's cleats on display from his run against the Vikings in 1983.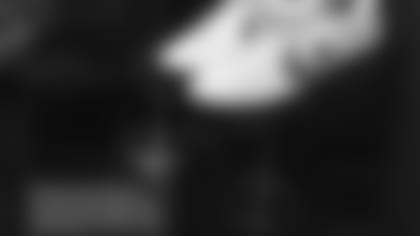 When Henry ripped off the 99-yard run in the Thursday night game against the Jaguars, he thought of Henry, and another potential display at the Hall of Fame.
"Here at work, we were all texting during the game," Aikens said. "The career rushing record is big, and career passing, scoring. But that is definitely one of the bigger ones. … That's a record that will never be broken."
The cleats, of course, belong to Henry, thanks to his winning bid.
Eventually, he plans to put them in a display case, where he'll treasure them forever.
The Titans instead sent Henry's grass-stained jersey from that night to the Hall of Fame, and it's on display in Pro Football Today room.
Germek said the Special Olympic athletes treasure their relationship with Henry, who hopes to coach one of the Special Olympic teams at the "Music City Blitz" event at Nissan Stadium at the end of the month.
"Derrick, he is all-in," Germek said of Henry's relationship with Special Olympics. "It is not a one-time thing for him. A lot of times it's like, 'Hey, let's get the photo op type thing.' That is not Derrick. Derrick has a huge heart. He's is all about the Special Olympic athletes, and he is a great role model for our athletes."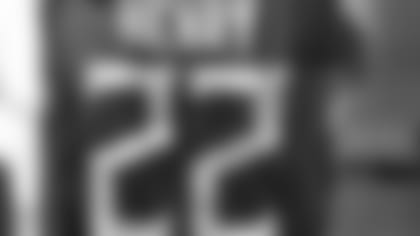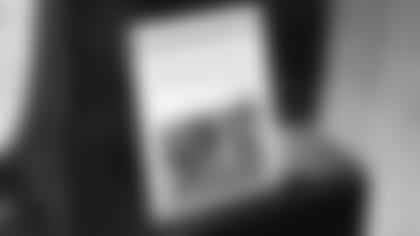 Derrick Henry surprised Special Olympics athletes with pizza and an opportunity to help design his cleats for the team's My Cause My Cleats game. (Photos: Kristen Sheft)