NASHVILLE – The Titans beat the Dolphins 34-3 on Sunday at Nissan Stadium.
Here's a look at six things that stood out from the contest.
The Titans took care of business on Sunday, and as a result they now find themselves in a great spot with a week left in the regular season – as the No.1 seed in the AFC South. In clinching the team's third playoff berth in a row – it's the first time the organization has done that since a franchise-record seven consecutive playoff appearances from 1987 to 1993 – Sunday's win also gave the franchise its first back-to-back division titles since the Houston Oilers won three AFL Eastern Division titles from 1960 to 1962. While players wore AFC South championship gear after the game, it was clear the Titans are far from satisfied. The Titans need to beat the Texans next Sunday in Houston to secure the No.1 seed in the AFC in the playoffs, before things really get serious. "Not satisfied with division champs," Titans safety Kevin Byard said. "We're trying to go win a Super Bowl for this entire city."
D'Onta Foreman Has Stepped Up
There's been a lot of talk in recent weeks about the potential return for Titans running back Derrick Henry, and getting last year's Offensive Player of the Year back would be a great lift. But running back D'Onta Foreman deserves some serious props for what he's been able to do in Henry's absence. Foreman ran for 132 yards and a touchdown on Sunday, including a 21-yard touchdown run in the second quarter. Foreman has three 100-yard games in the past five contests, and he now has 497 yards and three touchdowns on the season. After the game, Foreman talked about his good fortune of landing with the Titans, a team that rushed for 198 yards on Sunday. "I am so thankful and blessed to be in this position," Foreman said. "God is so good. … Certain situations happened that led me here, and I thankful to be here. Every time I step on that field I want to give it my all, and show that I deserve to be here." The Titans are fortunate to have Foreman.
Titans quarterback Ryan Tannehill wanted no part of the "Revenge Game" talk leading up to Sunday's game against his former team, and he sure didn't go there after the contest. I guess I'm speaking for Tannehill here, but I feel confident his mindset on Sunday was to win the game so the Titans could win the division, with little thought going into rubbing it into the team that traded him away. Tannehill didn't have an off-the-charts game against the Dolphins, but he did his job well in guiding the team to a win. Tannehill finished the game 13-of-18 for 120 yards and two touchdown passes on a sloppy track at Nissan Stadium. With the win, Tannehill improved to 29-13 (.690) as a starter in regular-season games with the Titans. He now has more regular season wins—29—than any other starting signal caller in franchise history over the player's first three years with the club. "It was a great win for us," Tannehill said. "Obviously a lot was on the line for us as a team, and I'm excited that we came out and played well. It was an important game for me, being where we are at in the season, and having the opportunity to win the division first and foremost. Just proud of the guys with the way they responded to the opportunity at hand." Also, props to the Titans offensive line for protecting him so well – Tannehill was sacked just once by the Dolphins, who entered the contest with 45 sacks.
Sunday's game provided some comedic relief when referee Shawn Smith checked his mic, and his words "Hey, Hey, Hey" went out over the loudspeakers at Nissan Stadium. Fans at the stadium said the words back to him loud enough for fans to hear it on televisions across the country. On a wet and messy day that started with a temperature at 36 degrees at kickoff (with a 31-degree wind chill), Titans fans showed up and showed out. An announced crowd of 69,091 was in a celebratory mood as the team captured the AFC South crown. And, long-time, die-hard fans had plenty of reason to feel good while seeing their loyalty pay off with another big moment to celebrate. "We love our fans," Titans head coach Mike Vrabel said. "I'm happy for our organization to be able to win a title. I'm happy for our fans. They've been great. And some of the defensive guys are even commenting, like, trying to make checks or communication. And it's getting loud. And we practiced that. We practiced the defense having to do that at home games. So that's really refreshing."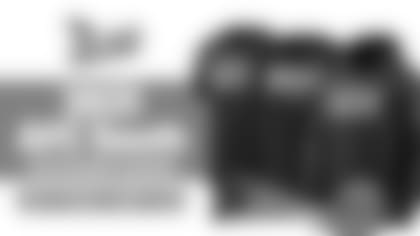 Shop AFC South Championship gear!
Browse AFC South division championship hats, shirts, collectibles and more!
Defense, Defense, Defense
The play of the defense on Sunday allowed me to unleash a #dadjoke, about the Titans playing with porpoise against the Dolphins. But hey, or make that Hey, Hey, Hey, the defense on Sunday once again paved the way for the win. The early 10-0 lead seemed almost insurmountable on a day when the team kept Miami out of the end zone while allowing just 256 yards and holding the Dolphins to just 3-of-12 (25 percent) on third down. The Titans sacked Dolphins quarterback Tua Tagovailoa four times, and they nearly intercepted him several times before linebacker David Long Jr. picked him off late. Titans cornerback Kristian Fulton broke up two passes, and Janoris Jenkins, Amani Hooker, Elijah Molden and Long had break-ups. Denico Autry, Harold Landry, Kyle Peko were all credited with sacks, and the Titans were credited with a team sack when Tagovaoloa lost control of the football on one of his fumbles. Molden recovered a fumble as the Titans swarmed all day. "Everybody (is) understanding their role, and what's at stake," Titans defensive back Kristian Fulton said. "We just want to set the tone as a defense, for the whole game."
It was a complete team effort on Sunday, and the special teams unit did its part as well. Titans kicker Randy Bullock was a perfect 2-of-2, and he's now 26-of-30 for the season. Titans defensive back Chris Jackson made a nice tackle on the opening kickoff and Dane Cruikshank and Dylan Cole were credited with special teams tackles as well. But I thought punter Brett Kern had a big impact in this game as well. Kern helped flip the field with his punting early, and he ended up putting punts down at the 2 and 7 in a game when he punted four times for a 44.3-yard average, and a 40.5-yard net, with three punts downed inside the 20, and a long of 52 yards. Titans return man Chester Rogers also did a solid job fielding punts, and his 11-yard return might not have been long, but it was nifty. This was a team effort for the Titans.