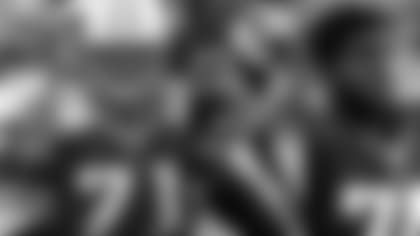 Jevon Kearse, Tank Williams, Michael Roos, Akeem Ayers and Chance Warmack are the five players during the Titans era (1999-present) to start all 16 games of their rookie seasons.
Titans right guard Chance Warmack, the 10th overall selection in the 2013 NFL Draft, started immediately and finished his rookie campaign without missing a snap.
Warmack played all 1,074 of Tennessee's offensive plays and each of the 70 special teams plays he was assigned. He joined left tackle Michael Roos, a longtime hallmark of durability and playing at a high level, as the only two Titans players to take every offensive snap and assigned special teams play in 2013. Warmack and Roos were two of 47 players across the NFL to have 100 percent participation.
He said he learned a significant amount about the league and the importance of continuing to improve his technique.
"I think my IQ level of the game got better, understanding defensive players' tendencies and studying the game and just being in the right place at the right time on certain plays," Warmack said. "You can't be aggressive all the time on certain plays because you have to be passive and more technical, so little things like that."
Warmack became the fifth player during the Titans era (1999-present) to start all 16 in his first season. He joined Roos (a second-round pick in 2005), Akeem Ayers (a second-round pick in 2011), Tank Williams (a second-round pick in 2002) and Jevon Kearse (a first-round pick in 1999) as the only Titans to do so.
The understanding of how good opponents are in the NFL will continue to motivate him, and the amount of experience he gained will give him confidence going forward.
"I have the potential to play NFL ball. I can do this," Warmack said as the season ended. "I've just got to go out there and believe in myself and keep working. Everybody's good in the NFL. You can't take anything lightly. You've got to keep pushing yourself and don't get down on yourself when you get beat because everybody is good."