**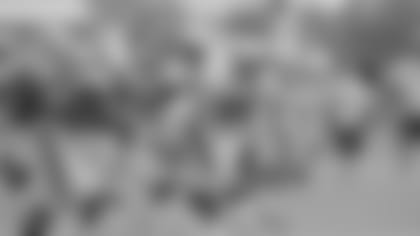 Tight end Bo scaife (80) makes a fingertip catch during Saturday's training camp practice.
Quick Hits from Camp**
• In the seven-on-seven drill, tight end Bo Scaife made a tiptoe catch in the corner of the end zone. Linebacker Will Witherspoon had great coverage, but the throw from Vince Young fell in perfectly.
• Cornerback Jason McCourty tore up the one-on-one drill, breaking up several passes and even pulling in an interception.
• Linebacker Stanford Keglar stretched out to knock down a Vince Young pass at the goal line in the seven-on-seven drill.
• During a live tackling team drill, cornerback Alterraun Verner intercepted a pass from Rusty Smith intended for Bobby Sewall.
• Linebacker Patrick Trahan hit running back Stafon Johnson in the hole, forcing a fumble.
Off the Field Q&A with Nevin McCaskill
What's your favorite thing to do in Nashville?
"I study my playbook. But I just like the whole city of Nashville – just going out and enjoying the sights."
What did you do during the offseason?
"I held my youth camp, Practicing with the Pros. I also did a lot of freelance graphic design stuff."
What's your favorite hobby off the field?
What are your plans after football?
"Probably be a personal trainer. I'd like to train kids who want to get ready for the NFL or get ready for college. And continuing graphic design."
Which of your teammates has the messiest locker?
"Kareem Brown! And they say there's a little odor coming from there, too."
"T.O. Show" or Ocho Cinco's show?
"Ocho Cinco. He's more of a character."
If you could have dinner with anyone, living or dead, who would it be?
"I'd say my uncle. He went to FAMU (Florida A&M University) and played football. He died when I was young, but I'd love to have dinner with him."* *
What's your biggest pet peeve?
(on if guys need to take Sunday to recover)
**Well, we need to recover.  That has kind of been the emphasis this week; to go hard and take whatever allotted time there is to get your body back.  We've finished exactly a week of practice and I think we're just okay.  Next week is going to be real important to us, but I think overall physically we're good, we've got some guys who are getting close to getting back on the field and they'll benefit from their rest.
(on if he has a feel for this year's defensive line with Tony Brown and Derrick Morgan being injured)
**I think we're in good shape.  We're going to make the assumption that Derrick is going to return and Tony is going to return with ample time before the season starts.  Our front is playing pretty good, Sen's (Sen'Derrick Marks) coming on, Jacob (Ford) is nicked a little bit now, but Will (Hayes), Jovan (Haye) and Jacob are all doing well.  We'll have a lot of competition, there will be some tough decisions we'll have to make there, but when it's all said and done and the dust settles, we'll have a good rotation.
(on if there are too many flags from the officials for his liking)
**I'm asking for them.  Its little things, we work really hard on the hard count and it pays off.  Unless you work on it, you don't get the results you want during the regular season on both sides of the ball.  We clearly have to get better defensively; our numbers were unacceptable last year.  But you have to work on it, and in that process you pay the price at times because there are mistakes.
(on what he's seen from Michael Griffin thus far)
**Yeah, he's been great all offseason.  His attendance has been great, his focus has been great, he's got things a little settled down and he's just a free safety right now and that's what he needs to be.
Daily Trivia Question (answer on Monday, August 9)
How many Titans were on National Championship teams in college?
Answer to yesterday's trivia question:
Which current Titans' player attended the college or university with the smallest number of students?
Nate Washington, Tiffin University (2,700 students)