**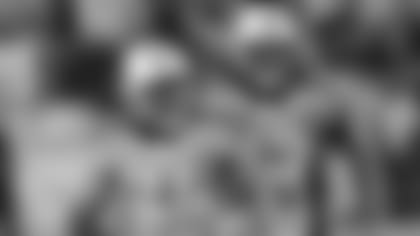 Pro Bowl safeties Chris Hope (24) and Michael Griffin (33) contribute to one of the top secondaries in the NFL.
NASHVILLE, Tenn. --** The Titans bring one of the NFL's top defenses into the 2009 season, thanks in large part to the play of their Pro Bowl secondary. Safeties Chris Hope and Michael Griffin combined for 174 tackles and 11 interceptions a year ago, each making the Pro Bowl for the first time.
"They could possibly be one of the best tandems in the NFL," defensive backs coach Marcus Robertson said. "C-Hope is an experienced professional who has been on a Super Bowl team. He and Michael have had a chance to play together for a couple seasons now and they are very cohesive as a group."
Not only do they work well together on the field, they are great friends off of it. Hope, an eight-year veteran from Florida State, has a Super Bowl ring from his 2005 season with the Pittsburgh Steelers. Griffin, a first-round pick from the University of Texas in 2007, has rapidly progressed during his first two NFL seasons. Both players have had a major impact on the Titans' highly-ranked defense.
"Over the course of the past two years, now going on year three, our relationship is getting better," Griffin said. "There's more of an understanding of our strengths and our weaknesses. We talk about what we need to work on and we motivate each other."
With each passing game comes better on-field chemistry between the two players. Off the field, the two have become good friends. The Pro Bowl safeties live in the same neighborhood, have similar interests and even work out together.
"Our relationship is continuing to grow every day," Hope said. "I help him with things that he doesn't do well and he helps me by seeing things that I could do better. It's a good give and take relationship."
Griffin, 24, has been able to learn from Hope, who is older by four years. He described their relationship like that of a big brother, little brother. Pro Bowl cornerback Cortland Finnegan agreed.
"I guess when you play in the secondary, you consider them friends first and teammates second," Finnegan said. "You hang out outside of football and you learn to communicate without ever speaking. They are two different personalities, but they work as one."
Finnegan and fellow veteran cornerback Nick Harper have enjoyed playing with two of the league's outstanding safeties. Harper described how Hope and Griffin's ability to see the entire field helps them with their reads. In many cases, Hope and Griffin are able to tip off the cornerbacks on which routes to expect in certain offensive formations and sets.
"Chris is smart. He watches film, he studies the game and he knows the game very well," Harper said, "and that's just rubbing off on Griffin."
Hope is a standout veteran whose intelligence, instincts, work ethic and dedication to learning the game have brought him to where he is today. Those same assets are contributing factors to not only his personal development and improvement, but also to that of his understudy, Griffin. The younger safety with unparalleled athleticism and ball skills continues to rise among the NFL player ranks.
"With Michael Griffin, the sky is the limit," Robertson said. "He's still learning, but he has phenomenal skills and tools, and the more he learns of the game, the better he's going to be. I've been around this game for some time and his talent and ability to be a very good player in this league is impressive."
Robertson, defensive coordinator Chuck Cecil and head coach Jeff Fisher all can see the luxury that exists by having two of the NFL's top safeties manning the secondary. Fisher, however, always believes that the room for improvement is large no matter what the circumstances, and looks for Hope and Griffin to continue that growth.
"We've got one that's got a great deal of experience and one that's getting better," Fisher said. "Chuck has worked real close with them over the past couple years. He looks at it this way -- regardless of how many years you've played in the league, you always have a chance to get better."