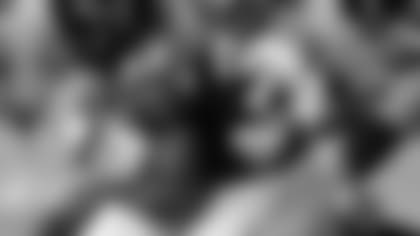 Rookie linebacker Colin McCarthy once again rose to the challenge following an injury to starter Barrett Ruud.
ATLANTA -- The clock ticked, the game hung in the balance and two Titans rookies showed composure and talent when confronted by pressure.
Quarterback Jake Locker relieved Matt Hasselbeck (sprained elbow) and led the Titans' offensive huddle, and middle linebacker Colin McCarthy relieved Barrett Ruud (groin) and did the talking in the defensive huddle.
The injuries Sunday in Atlanta forced Tennessee (5-5) to shift its short-term plans but showed potential for long-term goals. The rookies sparked their units, with Locker throwing a pair of touchdown passes to Nate Washington and McCarthy recording 10 tackles (according to press box statistics), three stops for a loss and forcing a fumble that the Titans recovered to keep their hopes alive.
"The Titans brought us here for a reason," McCarthy said. "They drafted us to come in here, be productive and make plays."
McCarthy made his first career start at Carolina a week earlier and led the Titans with 12 tackles but banged up his knee, causing him to miss practice time before Sunday's game. Ruud started Sunday but left in the second quarter, and the Titans called on McCarthy to again make the team's defensive calls.
McCarthy said he and Locker try to be confident in the game plan, so that teammates believe in them.
"We've got to be confident in ourselves, as far as getting everybody in the huddle," McCarthy said. "They look to us for that. We're in that position."
Hasselbeck injured his arm when it was struck as he attempted to throw a deep pass to Damian Williams. He said he thought he was about to deliver a touchdown strike when Atlanta defensive end Ray Edwards struck his arm.
Hasselbeck said he expects to have some "pictures" taken of his arm today to learn more about the injury. He and other Titans offensive players said they were impressed but not surprised by Locker's readiness.
"Jake came in and played great," Hasselbeck said. "He made some plays and it was good to see the receivers do a nice job."
After McCarthy forced the fumble by Michael Turner that Will Witherspoon recovered at the Tennessee 16-yard-line, Locker led the Titans on a 14-play, 84-yard drive. He converted third-and-10 with his legs on a scramble for 11 yards, converted fourth-and-17 with a 22-yard pass to Jared Cook, and delivered a strike on third-and-goal from 4 yards that only Washington could catch.
"I felt pretty comfortable with what we were doing," Locker said. "We were able to go out there and play backyard football. We got some good calls and guys ran some good routes."
Locker's second scoring pass made the score 23-17 with 3:06 remaining in the game. The Titans opted to kick the ball deep and try to force a punt to get the ball back, but were unable to force the punt by the Falcons (6-4) and exhausted their timeouts.
Titans coach Mike Munchak and players said they expect Hasselbeck to start Sunday against Tampa Bay as long as he's healthy but added that they were impressed with the way Locker played.
"I think Jake did an awesome job of coming in and doing what was expected of him, and that's playing at the level that we expect from a quarterback," Washington said.