**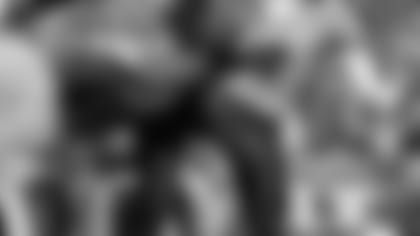 Despite a recent six-game losing streak, the Titans are still alive in the AFC playoff race.
NASHVILLE, Tenn. --** For all their troubles, trials and trauma over the past two months, the Tennessee Titans aren't done just yet.
They remain on the fringes of the AFC playoff picture after snapping a six-game skid Sunday with a 31-17 win over Houston. If the Titans' history over the past two seasons shows anything, it's that this franchise knows how to get on a roll one way or another.
Now they are pointed in the right direction, earning their first "Victory Monday" since Oct. 25.
The Titans (6-8) must win their final two games at Kansas City and Indianapolis and then hope the Colts and Jacksonville Jaguars lose out. That would put all three teams at 8-8 with Tennessee winning the tiebreaker on common opponents.
"We understand what our situation is, who needs to do what," quarterback Kerry Collins said. "Is it a long shot? Yeah, it is but that's not going to change our M.O. (We) want to come out, keep playing. Crazier things have happened but we've got to take care of our business and we did that."
The last time the Titans snapped a six-game skid, they went on a five-game winning streak last season before falling short of the postseason at 8-8.
"All we're trying to do is take 'em one game at a time," defensive end Jason Babin said. "Next week and right now, all we've got on our mind is Kansas City. One game at a time."
Coach Jeff Fisher credits the win to the offense helping out the defense. The Titans finally got going Dec. 9 when they outscored the Colts 28-9 after falling behind 21-0, and they scored on their first three drives to put away the Texans.
"I think you can see by the way this game goes, how one side affects the other," Fisher said Monday.
An offense that had ranked last in the NFL in time of possession held the ball for 27 minutes, 31 seconds against Houston, giving the defense its easiest work day since Oct. 18 in a win at Jacksonville. The Titans outgained Houston 359-323 in total offense with a 157-28 edge in the first quarter when they scored on the first three possessions.
"These past six weeks, it's been tough," tight end Jared Cook said. "But to come out and strike first and stay hot was good."
Continuity at quarterback had to help the Titans. This was the third straight start for Collins, and the second game back for receiver Kenny Britt after a strained right hamstring. Britt led the Titans with six catches for 128 yards
Three different quarterbacks started during the skid. Vince Young injured his thumb and postgame locker room tirade, and offensive coordinator Mike Heimerdinger was diagnosed with cancer.
Fisher is giving much of the praise to Heimerdinger, who has worked and called each game since starting chemotherapy for a rare form of cancer. After the win over the Texans, Fisher gave Heimerdinger the only game ball the coach gave out.
"He's dedicated himself to his job and this organization to the team and specifically the offense at a very, very difficult time," Fisher said.
"What he's going through is not easy, and it's been a while since he was diagnosed. I was waiting for the opportunity, and that was the perfect opportunity yesterday. He did a great job all week with the plan, a great job calling and we're just fortunate to have him here at the office every day."