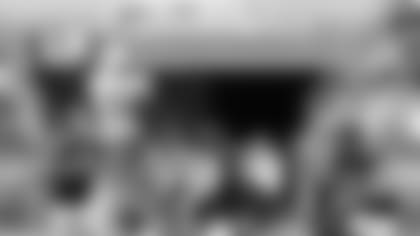 Kenny Britt was off to the best start of his career before Sunday's knee injury derailed his season.
NASHVILLE, Tenn. - Matt Hasselbeck thinks Kenny Britt might be the best player on the Tennessee roster. Now the quarterback and the rest of the Titans must see if they can keep winning without Britt the rest of this season.
Coach Mike Munchak announced Monday that Britt tore both the ACL and MCL in his right knee and will need season-ending surgery once the swelling subsides. Munchak called it unfortunate news both for Britt and the Titans.
"He was off to a great start this year as we all know, and he's a special player,'' Munchak said. "He's got a lot of work ahead of him. But he's young. We know that he'll be back next year.''
The news couldn't come at a worse time for the Titans (2-1) who are tied with Houston atop the AFC South with a two-game winning streak. The injury leaves Tennessee with four receivers, and team officials already are looking for someone to fill the spot on the roster. Munchak said they will be working out receivers Tuesday and should have a player added by practice Wednesday.
Munchak also said he wouldn't rule anything out, but he doesn't see Terrell Owens, who remains unsigned as he recovers from his own torn ACL, and Randy Moss, who retired after finishing up last season in Tennessee, as options. Justin Gage, an eight-year veteran, spent the past four seasons with the Titans before being released in the final roster cut Sept. 3.
Whoever is signed likely won't be able to help as the Titans visit Cleveland (2-1) on Sunday, then head to Pittsburgh (2-1) before their bye week.
Replacing Britt will not be easy. The first-round pick out of Rutgers in 2009 was off to the best start of his career with his 289 yards receiving ranked fifth in the NFL even though his knee buckled underneath him in the second quarter of Sunday's 17-14 win over Denver.
Hasselbeck called it horrible news for Britt. The quarterback said everyone feels bad for someone who has worked so hard and was enjoying a tremendous start to the season.
"Personally from the day I got here, he was one of the guys that I really tried to invest a lot of my time and energy into,'' Hasselbeck said. "He's probably the most talented player on this team at any position, and he could be really special. I think he's showed glimpses of that, and he was really on fire and off to a great start. So for me, all that work, all that investment is going to have to wait.''
The Titans kept only five receivers on the roster in the final cuts. Nate Washington is the most experienced and is tied for third in the NFL with 21 receptions and 12th with 258 yards passing. The other three receivers came into this season with a combined 35 career catches.
Lavelle Hawkins, a fourth-round pick in 2008, already has matched the five catches he had in 2010. Damian Williams, a third round pick in 2011 out of Southern California, caught only 16 passes as a rookie. Marc Mariani didn't catch a pass in a game last season as a rookie when he was a Pro Bowl returner but has three so far this year.
Tennessee currently is seventh in the NFL, averaging 310.7 yards passing per game with Hasselbeck off to the best start of his career in his 13th season, throwing for 932 yards. Munchak said Hasselbeck already has thrown passes to 12 different players, including 11 against Denver.
"It's going to be a group effort,'' Munchak said. "You just don't make up for losing Kenny Britt and think one guy is going to come in and fill his shoes. He's one of those special players that I don't think you really fill his shoes. A lot of guys just can't do what he does. But I think as a group we can, and that's how we have to look at it.''
That includes the tight ends Jared Cook, who occasionally lines up wide outside, Craig Stevens and Daniel Graham. Stevens had a career-long 58-yard catch against Denver, while Graham caught his first pass this season for the game-winning touchdown.
Hasselbeck said they can't magically create another Britt. He also noted practice got sloppy when Britt was out during training camp or even last week when he couldn't finish practice one day. In the fourth quarter, Hasselbeck said he thought Damian Williams was running one route, while the receiver thought he was running another.
The quarterback promised that won't happen again and that those young receivers are about to get experience. Whoever's open will be getting the ball.
"It's not going to be business as usual,'' Hasselbeck said. "It's not going to be, 'Come in on a Tuesday and go through the motions.' You're going to have to work as hard as you've ever worked, and that might not even be good enough. Like people have to step up. I mean everybody.''
NOTES: LB Gerald McRath was sent for tests on his own knee Monday after he came in still feeling some soreness. He left the game late after falling on his knee awkwardly. But Munchak said they just want to make sure McRath is OK.