**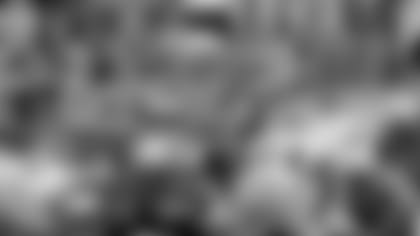 Rookie Rusty Smith finished the game at quarterback after Vince Young injured his right thumb in Sunday's loss to Washington.
NASHVILLE, Tenn. --** Vince Young is hurt and in trouble with coach Jeff Fisher for his latest meltdown. Meanwhile, Donovan McNabb is back in good standing with Mike Shanahan and the
Washington Redskins
.
McNabb was 30 of 50 for 376 yards with a touchdown pass, and Graham Gano kicked a 48-yard field goal, his fourth of the game, with 8:17 left in overtime as the Redskins beat the Tennessee Titans 19-16 in overtime Sunday.
The win kept the injury-riddled Redskins' faint playoff hopes alive as they rebounded from an ugly home loss.
Washington (5-5) snapped a two-game skid and bounced back from a 59-28 loss to Philadelphia on Monday night.
They did it by taking advantage of the Titans self-destructing so badly on their home field that fans booed repeatedly.
But after Gano's game-winning kick, all the attention turned to Young who tossed his shoulder pads and No. 10 jersey up into the stands. Young talked with Fisher, dressed quickly and walked past reporters and even brushed off a teammate who tried to talk to him before he stormed out of the stadium.
Young tweeted nearly three hours later that he was fine and "sorry to my teammates." He then tweeted "Just want to play."
Fisher said Young may need season-ending surgery for a torn flexor tendon in his right thumb. After three straight losses, Fisher selected rookie Rusty Smith to be his starting quarterback when the Titans (5-5) visit Houston on Sunday.
"He threw half his uniform in the stands. I think clearly that is no way to respond, and so we have some things that we have to sort out with him," Fisher said of Young. "He may need surgery. And if that's the case, he's done for the year."
Even if Young doesn't need surgery, he's not Fisher's starter anymore. Not after the latest actions of a quarterback who lost his job in 2008 following an injury in the season opener and a meltdown where he had family worried he might hurt himself a day later. Young got his job back last season after an 0-6 start.
"I am very disappointed. I think his teammates are disappointed," Fisher said. "You know, there is going to be frustration in losses. There is going to be times when you have to dig deep and fight and turn to one another. I don't think you run, and so I am disappointed."
Fisher wouldn't discuss what Young said to him in the locker room.
"That is between me and him and the team," Fisher said.
Titans receiver Nate Washington said they were told to keep their mouths shut.
No one knows if Young was upset over the injury, the loss or not returning to the game.
He banged his hand on a helmet late in the third quarter on a 37-yard pass to Washington. He went to the locker room, and trainers tried retaping his thumb several times and he even used a glove. He tossed the ball with Randy Moss, testing whether he could return.
One pass nearly hit the kicking net behind the bench.
Fisher said Young never came to him and told him he wanted to go back in.
"I was told he was obviously a little upset after," Fisher said.
Titans safety Michael Griffin, who played with Young in college at Texas, ran after the quarterback while wearing just his shorts with his ankles still taped. He returned to the locker room shaking his head. He refused to comment at first on Young.
"What's going on right now, that's between him and Coach Fisher. I'm behind him 110 percent. You know change has been made. That's up in the air. You never know what would've been the outcome. Rusty came in, threw a great deep ball," Griffin said.
"It doesn't matter who's playing. We all need to stick around and work together as a team."
Washington's win came on a day when at least seven Redskins went to the sideline with injuries, including Clinton Portis with an re-injured groin. The Redskins came in with three starters sidelined due to injuries, and Portis lasted only five carries before re-injuring his groin. At least seven Redskins were hurt, though some returned.
"I don't think I've ever had that many guys go down and a team stay together and keep on fighting and find a way to win," Shanahan said.
Washington wound up outgaining Tennessee 465-373. Shanahan joked he guessed they don't have to talk about McNabb's two-minute work anymore just two games after the veteran was benched at the end of a loss to Detroit.
"I think he did a great job at the half. Even though we missed (the field) goal, I think he did a heck of a job to get us into that position. He did a great job in both situations," Shanahan said.
Chris Johnson ran for 130 yards, and Young was 12 of 16 for 165 yards before he left. Fans weren't happy with the play-calling that seemed to ignore Randy Moss, the 13-year veteran making his debut on Tennessee's home field after the Titans picked him up off waivers on Nov. 3. Moss finished without a catch.
Fans booed the Titans often and heavily at times during the game. Young fumbled at the Tennessee 12 on the opening series, and the Titans settled for field goals on two other trips inside the Washington 20.
But most of the boos seemed directed at the play-calling that targeted Moss only three times, not counting a pass interference where he pushed DeAngelo Hall to make a catch. Fans at one point chanted "Randy, Randy."
Young apparently thought the booing was directed at him late in the first half when the Titans went three-and-out after Will Witherspoon's interception. He waved his arms -- as if egging them on.
NOTES: Marc Mariani had an 87-yard punt return for a touchdown, the Titans' second-longest in franchise history. ... Rob Bironas kicked three field goals and set a franchise record by making a field goal in his 20th straight game. ... The Redskins beat an AFC South team for the first time since Week 4 of 2005. They had lost four straight to the AFC South. ... This was the Redskins' third overtime game this season, and they have won two such games for the second time in team history and first since 2007.