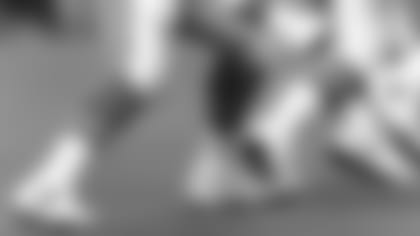 The Houston Oilers tabbed tackle Dean Steinkuhler out of Nebraska with the second pick of the 1984 draft. The pick came one year after Houston held the second spot but traded down to third with the Los Angeles Rams and moved down to ninth in a swap with the Seattle Seahawks. The Oilers selected Hall of Famer Bruce Matthewsfrom that ninth spot.
Steinkuhler's selection became the third straight year in which Houston chose an offensive lineman with its first-round pick after the Oilers tabbed Hall of Famer Mike Munchak from the eighth spot in 1982 and Matthews in '83. Houston also used its first of two second-round picks in 1983 for tackle Harvey Salem.
Steinkuhler made 77 starts in 100 games for the Oilers, eventually helping Houston emerge from multiple losing seasons to begin a streak of years with postseason appearances. Steinkuhler was a member of five of the seven Oilers teams that reached the playoffs in consecutive seasons.
UNIQUE ANNIVERSARY: Tuesday marked the 30th anniversary of the first trade the Oilers made before the 1983 NFL Draft when Houston agreed to send the Rams its second overall pick to receive the third overall pick that year and fourth-round choices in '83 and '84 from Los Angeles.
One day later Houston announced it would trade the third pick it received from Los Angeles to Seattle for the Seahawks' ninth overall pick and second and third-round picks in 1983.
Houston selected Matthews on April 26 after all the wrangling, and Matthews is one of six players drafted in the first round of 1983 to be inducted in the Hall of Fame, joining first overall pick John Elway, second overall pick Eric Dickerson, 14th overall pick Jim Kelly, 27th pick Dan Marino and 28th pick Darrell Green.
The 1983 draft is another example of how interconnected fates seem to be in the NFL.
All of Houston's maneuvering may not have happened if not for the Oilers defeating the Seahawks 23-21 in Week 2 of the 1982 season before a strike occurred. When play resumed in November, Houston lost its final seven games and finished with a 1-8 mark, which was just better than the 0-8-1 mark by the Baltimore Colts, who received the first overall pick and used it to select Elway. The Colts were forced to trade Elway after it became clear the QB did not intend to play for them and sent him to Denver.
Had Houston drafted and signed Elway, it's unlikely Matthews or Warren Moon, a QB Houston signed as a free agent in 1984, would have had the great seasons they did in their Hall of Fame careers with the Oilers.