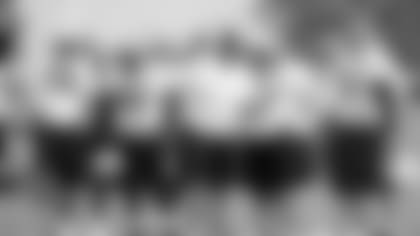 Bruce Matthews takes over as coach of an offensive line that returns intact from a year ago.
NASHVILLE, Tenn. — The Tennessee Titans always prided themselves on having a strong offensive line when Mike Munchak coached the group.
The Hall of Fame offensive lineman hired close friend Bruce Matthews, also a Hall of Fame offensive lineman, to replace him. Then the Titans re-signed left guard Leroy Harris to make sure all five starters return intact to block yet again for Chris Johnson.
Matthews says the Titans are very fortunate with three linemen who played every snap in 2010, and bringing back Harris on a two-year deal allows them to build on all the work the linemen put in last season.
"My goal is not to screw up what Munch left me with," Matthews said with a smile. "It's a very sound group."
Munchak coached the offensive line between 1997 and 2010. In that time, the Titans rank second in the NFL in fewest sacks allowed averaging 28.3 sacks per season while ranking seventh in the league averaging 124.5 yards rushing per game.
Tennessee's strong offensive line was a big reason Matt Hasselbeck decided to sign a three-year deal to join the Titans.
Yet Munchak only got to start the same five linemen in consecutive seasons twice while coaching the line. So Matthews, working with Art Valero, is starting off in an enviable position.
"The big thing you know is knowing the guys who play next to you," Matthews said. "We're very fortunate on this team. We had three guys last year that played every rep, and then we had the left guard and center position where we got some young guys who came in and stepped up ..."
Michael Roos has started every game since being drafted in the second round in 2005, the last 65 at left tackle. David Stewart has missed only one game in the past three seasons at right tackle. Jake Scott is going into his fourth season with Tennessee.
A year ago, the Titans chose to let center Kevin Mawae, the NFL Players Association president, leave as a free agent. He later retired. Eugene Amano from left guard to center while moved Harris into the starting lineup at left guard.
Tennessee stumbled to a 6-10 finish in 2010 after a 5-2 start, but the line helped Chris Johnson run for 1,364 yards a year after his 2,006-yard season.
The Titans didn't put the final piece back in place on the offensive line until last week after players had reported for the start of training camp. the Titans called Harris' agent and finally made an offer on a two-year deal about four hours after his wife had given birth to their newest child.
Amano said the move to bring back Harris was a good thing for the offensive line.
"To keep that camaraderie, keeping all of us together. We're a year under our belt, and we're a year comfortable playing with each other. I think that year that we played will help us and will build on for the future," Amano said.
The 6-foot-3, 303-pound Harris can't join his linemates on the field until Thursday night. He is eager to build on the familiarity and communication he and his teammates started building last season.
"You play faster," Harris said. "You don't have to worry about it. You're not worried about stepping on each other's feet or something like that when you have a feel for each other. Everything runs a lot smoother."
Harris also knows one area he wants to improve on over 2010 as well: cut back the negative runs. According to STATS Inc., the Titans were stuffed 51 times on 406 rushing attempts in losing 129 yards. Only Chicago and Washington had runs stuffed more often with 53 each.
"That set us up for bad situation," Harris said. "Third-and-long, it cuts your playbook down when you're second-and-15, second-and-13. We've got to cut those long runs out. I'm pretty sure we had twice as many as we had the year before. That's one of the main things to work on."
Once Harris is back on the field, the Titans are pretty happy to be able to quiz a Hall of Fame lineman for tips on how to handle different rushers in Matthews.
"To go from Mike Munchak to Bruce Matthews, we're in a good situation," Amano said. "We're pretty lucky to land Bruce as a coach."