David Yankey, Stanford, Jr.(athletically, but senior academically)
In college:** Yankey started all 42 games he played at Stanford and was twice selected as first-team All-Pac 12 (2012-13). Yankey helped Stanford rush for a school record 2,904 yards and was a first-team All-American in 2013 a year after he was named second-team All-America. Yankey played four different offensive line positions, tight end and wing back during his time at Stanford. The former teammate of Colts QB Andrew Luck played two games in 2010 before suffering a season-ending knee injury.
Early entry: Although Yankey had a year of college eligibility remaining, he announced his decision to enter the NFL Draft in January after being advised that he would likely be selected in the second or third round in May. He is scheduled to graduate this spring.
Quotable: Yankey on Stanford preparing players for the NFL: "I think it's a combination of a lot of things. We come in and they emphasize being really tough. We're going to go out and be physical every week. We're not going to let up. Having that base, and then you have the intellectual side where we're going to have a really complex playbook and we're going to expect you to understand it and be able to switch from week to week with our game plan and understand our adjustments and our kills, all that stuff."
---
Xavier Su'a-Filo, UCLA, Jr.
In college:** Su'a-Filo started all 40 games he played at UCLA and was named a second-team All-American and first-team All-Pac 12 after starting 13 games in 2013 (six at left tackle, seven at left guard). He was first-team All-Pac 12 after starting 14 games at left guard in 2012, which followed a two-year Mormon mission to the Gulf Coast (Florida, Alabama and Mississippi) between his freshman and sophomore years. Su'a-Filo started 13 games at left tackle as a freshman in 2009. He opted to forgo his final year of college eligibility and enter the NFL draft.
Unique experience: "I think my mission helped me mature as a man; not only emotionally, spiritually, but physically. It helped me in football," Su'a-Filo said. "I think going over in mission, taking two years off really helped me just develop as a football player. When I came home, it wasn't easy. I had a full offseason to work out and prepare for that season, but I think as far as health goes and my game, I have a lot of things to work on. However I do feel like my mission overall was a benefit for me, and it's helped me mature and be ready to move on to the NFL at this time."
*Quotable: *Su'a-Filo on program expectations under Bruins coach Jim Mora: "He had never coached college before, so his first year was my sophomore season. Coach Mora really treated us like men unless, you know, he had to treat us like boys. To me, him and his staff and their coaches, the environment that they created at UCLA was something that I imagined at the NFL, the next level. Very, 'perception is reality,' body language, things that you say, you know normally a college kid would do or act like, wasn't acceptable with them."
---
Gabe Jackson, Mississippi State, Sr.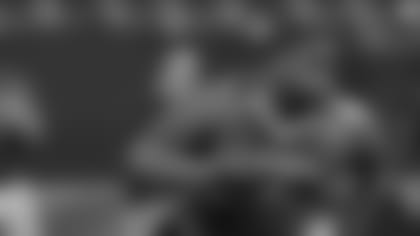 In college:Jackson started at left guard in all 52 games he played. He was named first-team All-SEC and became the first offensive lineman to win the Conerly Trophy (awarded to best college football player in Mississippi). He was second-team All-SEC in 2012 and freshman All-SEC in 2010.
Father knows best?: Jackson played high school football for his father, who eventually convinced his son to focus on offensive line instead of defensive line. He told WJTV (Jackson, Miss.), "I didn't want to switch. My dad had his opinion about it. He thought I'd be better at offensive line, and I was like, 'I want to play defensive line,' but he saw the future better than I did, so I just stuck with it. We argued about it for a while, because I was thinking he was doubting me, but he was just looking out for me. He knew the type of person, the type of player that I could be and saw that in me so I listened to him."
No sacks allowed: Jackson did not allow a sack in his final two seasons at Mississippi State. "It means a lot for my blocking ability and having a good quarterback that can get the ball out when I mess up sometimes, but it's just an accomplishment," Jackson said in the same interview.
---
Chris Watt, Notre Dame, Sr.
In college: Watt started 36 of the 49 games he played, including 10 of 10 at left guard in 2013, but suffered a knee injury. He started 13 games at left guard in 2011 and 2012 after making 13 starts at right guard in 2010. Watt's injury limited him from fully participating in the combine, but he did 29 reps in the bench press and was recently cleared to resume full training.
Good talks: Watt was not hampered during the interview process at the combine and said during his media session that he was looking forward to that part of the experience, saying, "You can be a little nervous going in, but at the end of the day you're just talking about football and they want to know who you are a little better so you've just got to be yourself."
Quotable: "I think one of the strengths I have is I know how to block. I know the angles to take to block the right guy, so even when backers are moving, I know I need to change my angle so subtly to get the backer. I'm a physical finisher, if you talk to anyone, I think they'll tell you that, and I've got a great mindset and work ethic to the game and will bring a work ethic to whatever team gets me."
---
Cyril Richardson, Baylor, Sr.
In college: Richardson became the only two-time Big 12 Offensive Lineman of the year (2012-13) and was named first-team All-American and first-team Big 12 in 2013 after starting all 13 games at left guard in 2013. He was second-team All-American, first-team All-Big 12 after starting 12 of 13 games played at left guard in 2012. Richardson switched to left tackle in 2011, starting 12 of the 13 games he played there one year after making four starts at guard as a freshman. Richardson said he played his senior season at about 345 pounds but was down to 329 at the combine and wants to play at 325 in the NFL.
Refuge: Richardson is originally from New Orleans but moved to Texas after Hurricane Katrina in 2005. He said football "took out all the stress. It was really like a rest haven, being around a bunch of great guys, doing something we all love and getting a common goal together. It was a great experience for me. And it was good for me throughout all the stuff I went through in high school."
Quotable: "I'm a road grader," Richardson said of his play. "I get things done on the line. I take over the line of scrimmage and I keep it that way."