NASHVILLE – Nashville, get ready.
The NFL Draft is closing in, and the city will soon begin to really feel it.
At the NFL owners meetings in Phoenix this week, league officials shared their plans for the 2019 NFL Draft with reporters covering the NFL from all over the country.
Peter O'Reilly, NFL Executive Vice President, Club Business & League Events, told Titans Online work will begin in full force starting next week in preparation for the April 25-27 draft.
Roughly 100 tractor-trailers are scheduled to arrive in town on April 5, when work begins. Already in Nashville, there are signs the draft is coming.
"We are incredibly excited," O'Reilly said. "Anyone who has been to Nashville and has been on lower Broadway, the draft will really take over that whole scene, where you'll be able to see the draft everywhere you turn. The honky-tonks and the bars will be energized, and the rooftops will be hopping. And that draft theater will come to life in a really unique way.
"Every draft takes on the heartbeat of the city, and this one will take on the energy of Nashville."
Starting next week, some subtle hints about the NFL Draft will give way to an onslaught of promotion, and work.
As of today, there's a traffic signal box by the Hilton on 4th Avenue, and there's another by Hard Rock downtown, wrapped with "The Future is Now" NFL Draft logo. There's also a draft logo on the Convention Center marquee.
On Friday, an NFL Draft logo was being sent to Predators to be used on the outdoor boards at Bridgestone Arena.
Starting next week, pole banners and buses will be wrapped with NFL Draft logos.
In addition to marketing, already some signs of construction are also in place in preparation for several weeks of intense work in the downtown/Nissan Stadium area. There's a barricade for load-in by the Market Street Apartments alongside 1st Avenue, and more signs of early construction visible.
The biggest impact on the city will be felt around April 15 – 10 days before the draft.
"You'll start to feel something big is coming soon," said Butch Spyridon, President/CEO Nashville Convention & Visitors Corp. "I'm tired of planning. I want to execute. I am excited about it. I feel really good."
O'Reilly said the work around Nissan Stadium – where the NFL Experience and other fan activities will be held – should be done without a big impact to traffic.
He called the stage on First and Broadway a "mammoth construction project" that will be much larger than the stage that was needed for the Titans' uniform unveil and Florida Georgia Line concert last spring. Downtown traffic will be impacted closer to the event.
Earlier this month it was announced multi-Platinum singer/songwriter Dierks Bentley will headline a free outdoor concert on the main stage on Saturday, April 27 as part of the 2019 NFL Draft. Grammy-winner Tim McGraw will be the headline for the NFL Draft on Friday, April 26 and GRAMMY-winning gospel music great CeCe Winans will sing the National Anthem to help open NFL Draft activities on Thursday, April 25.
Also, more than 20 Nashville-based acts representing diverse genres of music will perform during the three days of activities on the Draft Main Stage and at the NFL Draft Experience, a free admission football festival held outside Nissan Stadium.
O'Reilly said this year's NFL Draft will have a "house band" on stage.
"I am excited, but I am also very proud of Nashville, because I know we're going to bring it that week," Titans controlling owner Amy Adams Strunk said from the NFL owners meetings. "The draft is going to have such a new feel, a Nashville feel, and it is going to be exciting. It is going to be a big, fun party."
The 2019 NFL Draft in Nashville is expected to be the largest event in Nashville and the state of Tennessee given the anticipated attendance over three days, national networks and media coverage. A crowd of 300,000 is expected over the three days of the event.
Downtown Nashville's Lower Broadway and the area outside Nissan Stadium will host the free, public activities.
Again, no tickets are needed to attend the draft - it's free.
"I think it will be great," national NFL reporter John Clayton said. "Chicago, when they moved it there, did a fantastic job. Then they moved to Philadelphia, and they did a fantastic job. You know the hospitality in Nashville is going to be great. I think the fact everything is going to be downtown, with all the walking area, I would anticipate that it is going to be fantastic."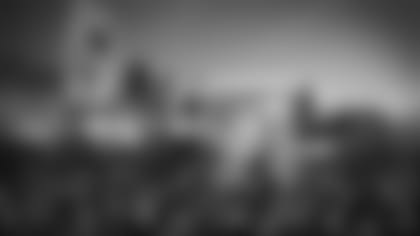 Activations at the NFL Draft Experience:
Autograph Stage with current NFL players and NFL Legends
Interactive games, Play Football clinics, and PLAY 60 Zone presented by Danimals® for the smallest NFL fans
Photo with the Vince Lombardi Trophy
NFL Shop presented by Visa at Draft with exclusive NFL merchandise
Taste of Tailgate with Nashville restaurants and Bud Light Bars
NFL Draft Experience Stage featuring 14 Nashville-based artists of all genres
Look Like a Pro: Step inside a replica NFL Draft Main Stage bearing a draft day jersey of your favorite NFL team and have your photo taken. Share your photos through your favorite social channel and Fan Mobile Pass.
PEPSI NFL Helmet Photo Opportunity: Find your favorite NFL team oversized helmet and have your photo taken. Share your photos through your favorite social channel and Fan Mobile Pass.
Combine Corner
40-Yard Dash: Race down the field against your opponents and digital NFL players on a giant 40-yard long LED wall.
Vertical Jump: Jump as high as you can and hit the corresponding flag to discover your vertical reach just like at the NFL Scouting Combine.
Fans can follow the action at NFL Draft 2019 with the Fan Mobile Pass app. The app will serve as the central hub for information and updates on the Draft Experience and concert series, and a chance to gain access to exclusive viewing areas at the NFL Draft Main Stage to watch in person as the picks unfold and Draft boards come to life. The Fan Mobile Pass app will be available in early/mid-April, and all fans who pre-register will be notified when the app is available.
Register HERE for the NFL Fan Mobile Pass.
Click HERE for additional information about the NFL Draft in Nashville.
Earlier information released by the NFL and the Nashville Convention & Visitors Corp on NFL Draft weekend:
The main NFL Draft stage will be on First and Broadway. Draft picks on the main stage will take place the evenings of April 25 (Thursday) and April 26 (Friday) and during the afternoon of April 27 (Saturday).
Schermerhorn Symphony Center will be host to Selection Square, which features the team tables where representatives from each club will make their draft selections.
The NFL Draft Experience, a three-day football festival, will be held in the parking lots and areas surrounding Nissan Stadium.
The NFL Draft Red Carpet will take place on April 25 (Thursday) at The Green at Riverfront Park.
Concerts with "high level talent" will be on the main stage on Broadway all three days, and on another stage across the Cumberland River. More acts will be announced in the coming weeks.
Admission is free. There will be limited seating areas (and some VIP areas), but the idea is most fans can stand, and walk.
The NFL and the city are expecting crowds approaching 300,000 for the weekend in an area organizers are calling the largest festival footprint ever for an NFL Draft.
"Every draft takes on the heartbeat of the city, and this one feels like it has taken on the energy of Nashville," O'Reilly said. "We are incredibly excited. All of us on our team are so excited to get on the ground and see the way fans experience the draft. Obviously a normal evening on Broadway has incredible energy and when you build the draft and the media components and the music components to it, it has the makings for a pretty special one."