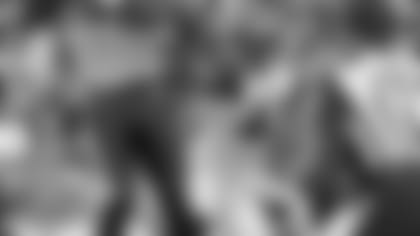 Wide receiver Damian Williams scored his third touchdown of the season on Sunday.
NASHVILLE, Tenn. -Mike Munchak and the Tennessee Titans are choosing to be optimistic midway through the season, seeing the eight remaining games as a chance to go streaking toward the playoffs.
First, they better figure out how to stop the rollercoaster ride of the first eight games.
The Titans (4-4) have lost three of four, wasting a three-game homestand with a 24-17 loss to Cincinnati in which they blew a 10-point halftime lead. Now it only gets tougher with five of their final games on the road starting Sunday with a visit to Carolina (2-6).
Munchak said Monday this loss hurts because they had been in position to win and didn't at home.
"There were still a lot of good things in that game. We have eight football games to play. A lot can happen in this league," Munchak said.
The Titans started the season 3-1, and Munchak said they're sitting here miserable at 4-4.
"We don't by any means feel sorry for ourselves. We know we've got to play better. We see what we're capable of in flashes, but it's just not consistent. And that's what's happening now. We're not consistently doing things that we can to put us in winning position," Munchak said.
It helps that the AFC's best teams are 6-2, and Houston is 6-3 in the AFC South.
"Nobody is out of reach," right guard Jake Scott said. "There's nobody running away with it. On the other side, there's not that many teams out of it completely. It's going to be very interesting in the AFC going down the next two months."
Before the Titans can make a run at even another winning streak, they need to string together consecutive drives, quarters and halves. They blew a 17-7 halftime lead by being held to only 95 yards total offense by Cincinnati in the final 30 minutes Sunday.
On the plus side, the Titans showed signs of life in the running game really for the first time all season. Chris Johnson had 55 yards on nine carries for an average of 6.1 yards per carry with a long of 20 where the three-time Pro Bowler flashed some of his trademark speed. He also had two catches for 22 yards in the first half.
Munchak said Johnson probably was excited seeing bigger holes.
But Johnson got his hands on the ball only seven more times in the second half and had just 9 more yards rushing on five carries. He never had a carry in the fourth quarter even though the Titans trailed only 21-17 when they got the ball back with 10:52 left.
Munchak credited the Bengals with keeping eight players at the line to stop Johnson, and the Titans couldn't take advantage of the stack near the line through the air. Matt Hasselbeck finished with 272 yards passing, but only 106 in the second half.
It only got worse inside the final 2 minutes with tight end Jared Cook having a sore knee. Nate Washington caught a pass and went down with a bruised hip, forcing a 10-second runoff since Tennessee had no timeouts. Lavelle Hawkins returned after having an open dislocated finger, but couldn't lateral the ball to keep the final play alive.
"It's frustrating when you don't continue to make plays," Munchak said. "We have to put ourselves in position."
The defense had its own struggles. The Titans held Cincinnati to 139 yards in the first half, then couldn't get off the field in the second half. One play summed up Tennessee's struggles when safety Michael Griffin and cornerback Jason McCourty crashed into each other trying to defend a pass to A.J. Green, knocking them to the ground for a few minutes.
The challenge gets tougher. After Carolina, the Titans visit Atlanta with a home game against Tampa Bay squeezed between another road game at Buffalo.
Dropping two home games puts the pressure on them to make those up on the road, according to Scott.
"I think we're a good enough team to do that," Scott said. "We just have to do that."
NOTES: Munchak said S Chris Hope will practice Wednesday for the first time since breaking his left forearm Oct. 2 at Cleveland. Munchak also said Cook (bruised knee), Washington and Hawkins may be limited a bit Wednesday.