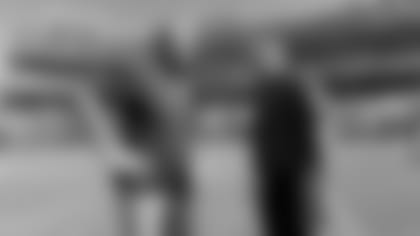 NASHVILLE, Tenn. –** Titans coach Mike Mularkey went looking for chocolate.
When he heard Colts coach Chuck Pagano talking to reporters during a conference call in an adjacent room, he went digging for a little more.
It led to a playful exchange between the head coaches, whose teams will meet on Monday Night Football.
"Hey Chuck," Mularkey said with a smile, talking into a speaker phone on Wednesday. Pagano was on the other end, nine minutes into a call with reporters. "Can you tell me Chud's top 15 plays, preferably the first two?"
Pagano laughed. The question was about offensive coordinator Rob Chudzinski's plan for Monday night.
"That's funny, I love it," Pagano replied. "I wish I knew. Yeah, I wish I knew and I'd let you in on it. He never seems to have it until the last minute."
Mularkey, with a smile, kept digging.
"So if I call you Sunday, that would be better?," Mularkey said.
"Yeah, that would work out perfect," Pagano replied.
It was at that point when Mularkey identified himself.
Teresa Walker of the Associated Press, Mickey Ryan from 104.5's "3HL" and Titans Online were at the table, along with Lindsey Brown, a member of the Titans media relations staff, on hand to transcribe the conference call. The group got a laugh as Mularkey and Pagano joked with one another.
"I know who this is," Pagano told Mularkey. "I know your voice, coach. How did you get in on this conference call? They never let me in on yours or anybody else's."
Mularkey was actually headed to the desk of Dwight Spradlin, assistant director of media relations for the Titans. Spradlin keeps a bowl of candy on his desk, which is located down the hall from Mularkey's office.
"You won't believe it, but I was back here looking for chocolate," Mularkey said, "and I heard you."
The two coaches then told one another they were looking forward to catching up at Nissan Stadium, before the game.
It was then when Pagano turned the tables on Mularkey.
"Can you let me know if 8 is going or not?," Pagano asked Mularkey, referring to Titans quarterback Marcus Mariota.
"Yeah, I will," Mularkey replied. "Sunday we'll exchange (info)."
A look back at the Titans over the years on Monday Night Football. (Photos: AP, Donn Jones)