NASHVILLE, Tenn. – Titans center Ben Jones is scheduled to appear in his 100th career game on Sunday, which is kind of a big deal since he's never missed a game in his NFL career.
Only one other active NFL lineman has a current games streak as long as Jones' streak, which speaks to the seven-year pro's durability, and toughness.
It's also a reflection his mother, a big believer in Neosporin and Super Glue.
"My mom said: If I am not carrying you to the emergency room, you better get up," Jones said with a smile. "She didn't carry me to the doctor for two years, and I had a broken leg. It's the mindset she instilled in me, and being the youngest brother, you kind of just learn to roll with the punches. I am trying to be the most stable guy for the quarterbacks so they know they have the same guy in there. If I am able to go, I am going to go."
Jones has started all 35 games at center for the Titans since joining the team as an unrestricted free agent from the Houston Texans in 2016. He also played in 64 consecutive contests to begin his career with the Texans. Only Kansas City right tackle Mitchell Schwartz (also 99) has a current games played streak as long as Jones' streak.
A former Georgia Bulldog who grew up in Alabama, Jones said his mother, Vickie, taught him all about being tough. Jones lost his father when he was just 10, in a helicopter crash.
In that same year, Jones suffered a blow to the head with a baseball bat, which caused a blood clot to develop in his brain and fractured his skull. He had brain surgery, and that's about the only thing that kept him out of athletics.
And he dealt with some "stuff."
"When I was young I cut my throat from ear-to-ear – I hit a barbwire fence on a bicycle," Jones said. "We are in Bibb County (Alabama), in the middle of nowhere. And my mom just super glued it back together. I had a baseball game that night, and she said, 'We'll handle it on Monday. She said you're talking, so your vocal cords aren't ripped, so it ain't that deep.' She put a little Neosporin on it, and the Super Glue.
"She's definitely a Southern farm woman, and she made me the man I am today."
Titans coach Mike Vrabel said he appreciates how Jones does his job.
"He loves being around his teammates, he's a great teammate," Vrabel said of Jones. "He's tough, he's smart, he gets us in the right line calls. He's always available, he seems to be at practice all the time. Again, those are good qualities. You're a good teammate, you care about the team, you put the team first and you're durable. We can fill a roster with guys like that."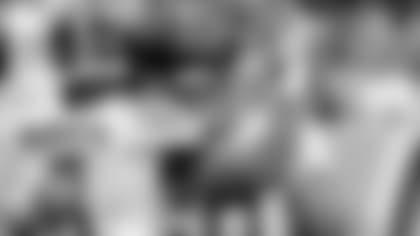 Jones knocked on wood this week when talking about the streak, something he wasn't aware of until his wife, Alex, sent him a screen shot of a Twitter post on the subject earlier in the day.
On Sunday, Jones will take the field against the Eagles, looking to block for quarterback Marcus Mariota and the team's running backs. He can't imagine not being out there.
"That's my role – I am going to play no matter what," Jones said. "If I am able to get up and walk, I am going to stay out there no matter what. That's been my mentality since I was a kid."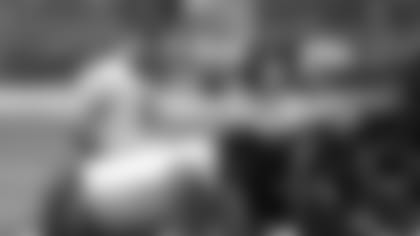 The Tennessee Titans take the field for practice on Friday, Sept. 28, 2018 at Saint Thomas Sports Park. (Photos: Gary Glenn)